MASK CRESSI CALIBRO

This mask has a tapered structure deriving directly from the highly popular Nano-mask patent. The dual integrated frame technology system allows you to join the silicone skirt to the lens frame without major interruptions of the curvature continuity. The result is a mask with an extremely hydrodynamic shape and, visibility being equal, a significantly smaller size. Mask features inclined and inverted tear-drop lenses for improve downward visibility, a Cressi's patented design (US 6272693). The field of view obtained is particularly wide, laterally and in the lower zone. The skirt, in the front part, has a structural silicone insert which increases the sealing ability of the mask and creates an exceptionally pleasant chromatic play. Easy-to-use buckles for quickly strap length adjustment.
Mask is a low volume tempered glass 2-window mask design with a double feathered edge silicone skirt. The wide split strap is equipped with easy-to-adjust buckles. The skirt and split strap combined for a perfect fit on the face. The mask lenses are made from tempered glass. Mask has an easy-to-reach nose pocket for ear equalization. The Calibro mask is available in multiple colors, with clear or mirrored lenses, is made in
Italy and comes with a protective mask box.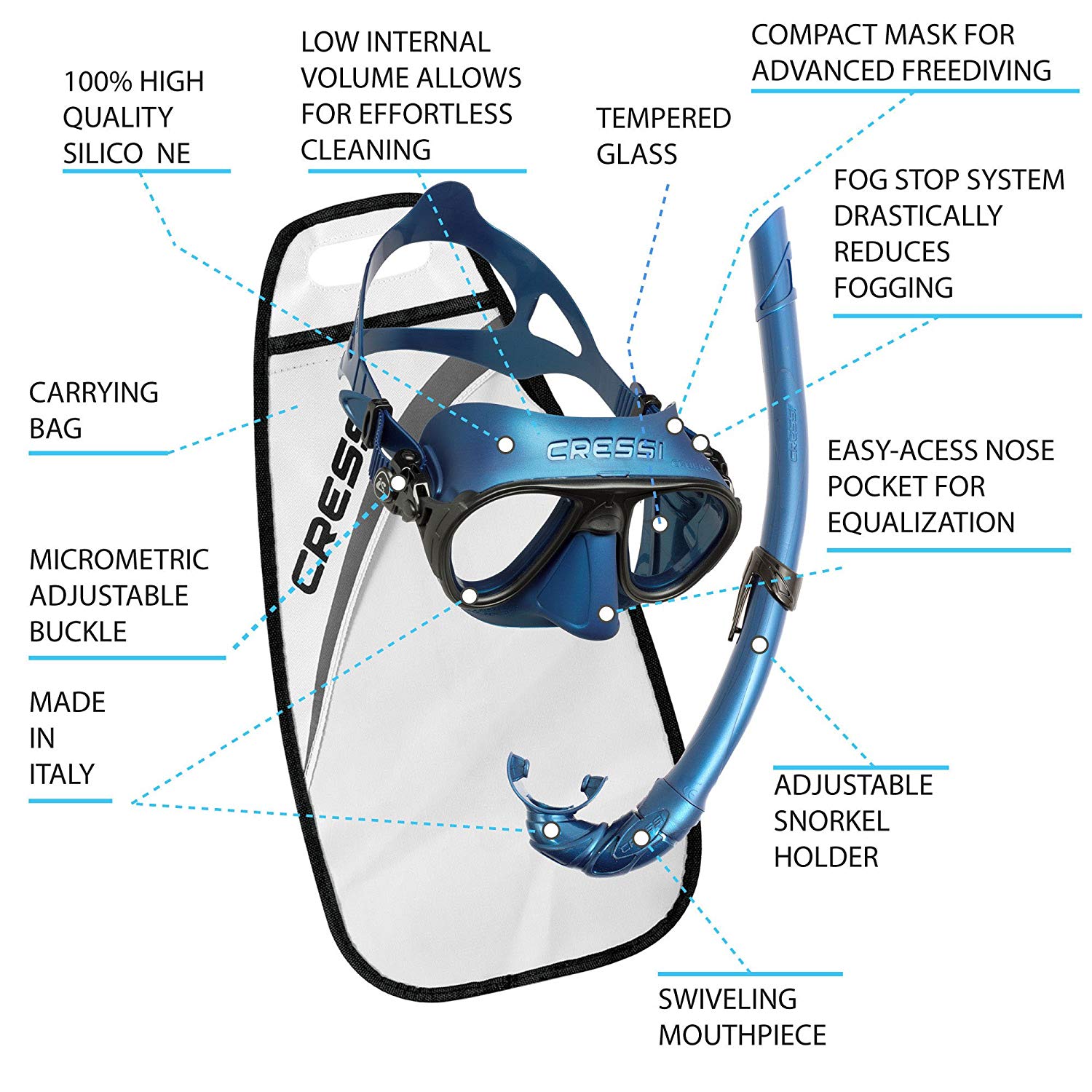 Cressi Calibro Mask Black Silicone Features:
Cressi Calibro Mask Black Silicone:

Tapered Structure Deriving Directly from Highly Popular Nano-Mask Patent

Dual Integrated Frame Technology System

Joins Silicone Skirt to Lens Frame w/o Major Interruptions of Curvature Continuity

Extremely Hydrodynamic Shape & Visibility Equal to Significantly Smaller Masks

Inclined & Inverted Tear-Drop Lenses for Improve Downward Visibility

Field of View: Wide, Laterally and In-Lower-Zone

Skirt: Front Structural Silicone Insert Increases Sealing Ability

Exceptionally Pleasant Chromatic Play

Easy-to-Use Buckles for Quick Strap Length Adjustment

Low Volume 2-Window Mask Design

Lenses: Tempered Glass

Double Feathered Edge Skirt for Great Seal on Face

Wide Silicone Rubber Split Strap Design for a Better Fit and Added Comfort

Easy-to-Reach One-Hand Nose Pocket for Ear Equalization

Available in Multiple Colors and w/Clear or Mirrored Lenses
Cressi Calibro Mask Silicone Specifications:
Window Style
2-Front
Materials
Silicone
Tempered Glass
Yes
Volume
Low
Weight [with packaging]
0.6 lb
SNORKEL CRESSI CORSICA 
The Corsica is specially designed for comfort. Its mouthpiece is made of hypoallergenic silicone with an anatomical shape that minimizes any feeling of discomfort, even after prolonged use. The snorkel tube is soft and bendable to help maintain proper positioning. Its wide diameter design supports unobstructed ease of breathing. This snorkel tube features a curve that ensures convenient placement and allows for easy clearing.
100% made in Italy

Hypoallergenic silicone mouthpiece

J-Tube design with large diameter snorkel tube

Adjustable mouthpiece

Flexible tube for easy storage and comfortable fit

Benefits of a Flexible Tube
This flexible snorkel tube allows for proper and comfortable positioning. With the Corsica, you have the freedom to rotate the silicone mouthpiece to different angles to better fit your face. The bendable capabilities of the tube make it easy for you to adjust in order to best meet your needs. The tube's material is especially flexible polyurethane and it has elastic memory after being subjected to flexion, folded or even knotted over itself for days. The tube's walls section has been studied to maintain the needed rigidity on the mask strap's pressure area to avoid damaging the air flow on this area.
Mouthpiece: Silicone vs. Plastic
Silicone mouthpieces provide a softer, flexible fit as opposed to PVC mouthpieces, which are more stiff. Choosing a snorkel with a silicone mouthpiece ensures comfort, especially with prolonged use.
J-Tube Design is Simple and Reliable
With an ergonomic design, this snorkel's J-tube shape is efficient and easy to use. The flexible tube along with its shape contours to the face while allowing for adjustments
Really comfortable nozzle, with minimized thickness on the gums area to keep a great comfort even with long usage. Rounded pins with thin basis. Assembly nozzle-tube very reliable.
LONG FIN CRESSI GARA 2000
The Gara 2000 HF is the first fin in the world made by combining three different materials, a process that Cressi perfected and patented. This process guarantees unsurpassed performance. The blade is made from a special reactive polypropylene, which is extremely light, and has a blade snap that progressively charges during the fining upward stride to react like a spring at the exact moment the stride is inverted. 
This development in fin construction gives the diver increased thrust required to keep up with their prey. A soft elastomer foot pocket anatomically wraps around the foot, surrounding it with a comfortable bite that guarantees perfect transmission of the leg-fin thrust. A solid copolymer hardens some critical zones of the foot pocket and extend along the sides of the foot pocket in two lateral stringers that go halfway down the blade, assisted by special raised bands on the bottom of the blade, these stringers function, is to regulate and harmonize the bending of the blade, at the same time protecting it from shocks and abrasions. 
The fins are extremely lightweight compared to equivalent models of rubber full foot fins. This light- weightiness reduces the inertial masses to the minimum allowing less resistance to acceleration when needed. This gives the full advantage of the effort-efficiency ratio. This fin is designed for deep skin-diving, although Scuba professionals and instructors appreciate its efficiency also. Fins are available in multiple sizes.
Cressi Gara 2000 HF Fins, Black Features:
Cressi Gara 2000 HF Fins:

Fin Used by World Class Free Divers

Used for Diving to Record Depths

Combine's Lightness, Thrust, Comfort and Durability

Soft and Comfortable Foot Pocket

Three-Material Patented Design

Snap Blade for High Efficiency

Shock and Abrasion Resistant

Cressi-Sub Quality

Available in Multiple Sizes

Double composition foot pocket: Flexible elastomer –thermo rubber – Shore 50º (grey color): it's applied on areas that require flexibility and elasticity (on the foot pocket's forefoot, the sole's interior and the instep area that is in contact with the ankle) because that influences the diver's comfort Compact elastomer Shore 90º (black color): it's flexible but not elastic. It's applied on areas that require a rubber composition, anti-slip but strong and of great resistance (on the longitudinal ribs, foot pocket's sole and foot's head strap)
Compact elastomer Shore 90º (black color): it's flexible but not elastic. It's applied on areas that require a rubber composition, anti-slip but strong and of great resistance (on the longitudinal ribs, foot pocket's sole and foot's head strap). This material links the energy transmission critical point (the instep) with the nerves in a single piece, avoiding the usual energy loss through extremely flexible components of the foot pocket that produce a heavy and slow flutter that fatigues the instep.
High-modulus propylene: this material, inherited from apnea fins, has as main feature the extremely rapid energy transmission applied and its great structural rigidity. It is applied on the blade and on the internal sandwich sole area. It is really nervous and reactive and facilitates an effective and agile flutter. It has a relationship effort-efficiency clearly superior to traditional materials. It also has a great resistance to breaks to the point that Cressi guarantees it lifelong to a sportive usage.
Cressi Gara 2000 HF Fins, Black Specifications:
Materials
Blade: Composite, Foot Pocket: Elastomer
Blade Type
Non-Vented
Open Heel/Full Foot
Full Foot
Weight [with packaging]
7-8 40-41: 4 lb,
8-9 42-43: 4.35 lb,
10-11 44-45: 4.55 lb,
12-13 46-47: 4.9 lb
Available in the Following Sizes:
7-8 = 40-41, 8-9 = 42-43, 10-11 = 44-45