MASK CRESSI LIBERTY TRISIDE
The Liberty Triside Windowed Mask side lenses are precisely fit to the main front lens for a nearly uninterrupted field of view. The result is a mask that allows maximum light and feels open as the ocean itself! All 3 lenses are made from tempered glass incased in a tough and durable polycarbonate frame with a soft 100% high-quality silicone rubber skirt.
The Liberty Triside skirt has a double feathered edge for a perfect seal on the face and the quick adjust ratcheting mask strap buckles provide a secure fit and are easy to manipulate, even while wearing gloves. The mask strap is of a split strap design for even pressure on the face to increase the seal. Mask has an easy-to-reach one-hand nose pocket for ear equalization. Mask is a medium volume design, is available in multiple color choices and comes with a hard-protective plastic mask box.
The Cressi Liberty Triside Mask is commonly used for Open Water Diving and more. One reason why the Cressi Liberty Triside Mask is popular is because of its Range of Vision.
Cressi Liberty Triside Mask Features:
Cressi Liberty Triside Mask:

3 Windowed Mask

Lenses Precisely Fit to Main Lens for Nearly Uninterrupted Field of View

Maximum Light and Feels Open as the Ocean Itself!

Tempered Glass Lenses

Tough and Durable Polycarbonate Frame

Soft 100% High-Quality Silicone Rubber Skirt

Double Feathered Edge Skirt for Perfect Seal on Face

Quick-Adjust Ratcheting Mask Strap Buckles

Buckles Provide Secure Fit, Easy to Manipulate with Gloves

Split Mask Strap Design for Increased Comfort and Fit

Easy-to-Reach One-Hand Nose Pocket for Ear Equalization

Hard Plastic Mask Box
SNORKEL Super-Dry Cressi
– Dilengkapi dengan top cover untuk 99% kekeringan apabila terkena hujan, ombak.
– Dilengkapi dengan patended angle agar pembuangan air lebih mudah.
The Cressi Supernova Dry Snorkel has an anti-splash end with a special valve that seals the tube as you dive, almost totally preventing the entrance of water when the snorkel is submerged. The lower end has a corrugated section that has a smooth internal bore which prevents trapping water inside the snorkel tube allowing excess water to quickly drain to the collection reservoir below. The corrugated section also quickly drops-away from the diver's mouth when switching from the snorkel to the Scuba regulator. 
The special water collection r with its large elliptic one-way exhaust valve makes expelling excess water quick and easy. The replaceable angled mouthpiece and corrugated tube section are both made from hypoallergenic silicone adding comfort and function. A quick release snorkel keeper and ergonomic contoured shape make this one great snorkel. Snorkel is available in multiple colors
Cressi Supernova Dry Snorkel Features:
Cressi Supernova Dry Snorkel

Anti-Splash Top

Special Valve Seals Tube when Submerged

Dry Top Design

Corrugated Smooth Bore Lower Tube, Won't Trap Water!

Excess Water Quickly Drain to Collection Reservoir

Easy Clear Purge Valve

Replaceable Angled Mouthpiece

Hypoallergenic Silicone Mouthpiece & Corrugated Tube

Quick Release Snorkel Keeper

Ergonomic Contoured Shape

Available in Multiple Color Choices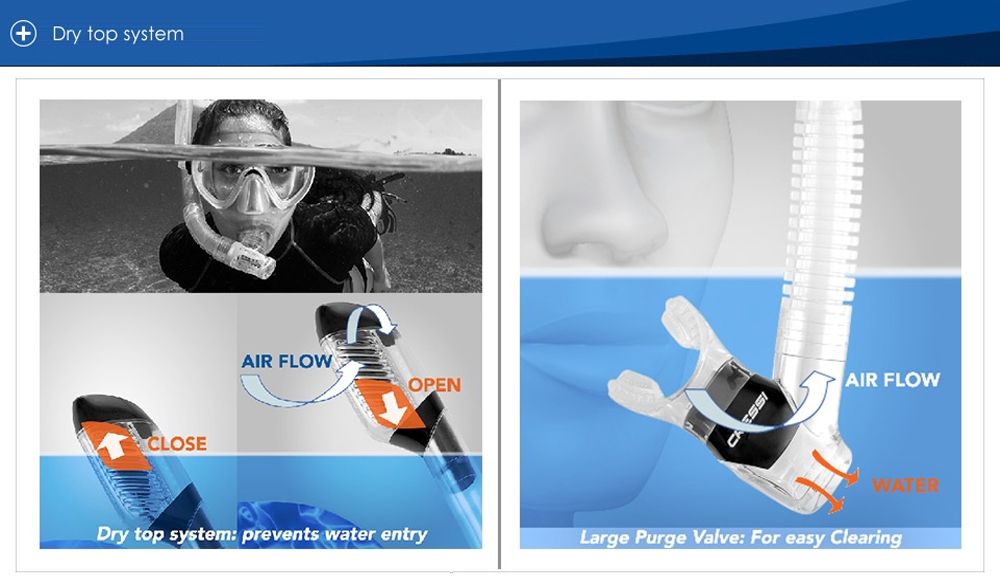 LONG FIN CRESSI MODULAR IMPLUSE
The Gara Modular system introduced by Cressi makes this a perfect choice for deep freediving and spearfishing for divers of all levels. The modular design lets the user replace / interchange blades for specific diving purposes, which make the perfect fin to grow with, as the diver can change blades as their skills increase. Dive into the depths and thrust yourself with complete safety with the Cressi Gara Modular Impulse diving fins. This impressive edition of the Gara, courtesy of the Cressi Specialized line, takes these fins to new heights of performance to give you increased swimming power and hydrodynamics.
The most revolutionary aspect of the redesign applied to the Gara Modular Impulse is a decreasing-thickness polypropylene blade – from 4 mm at the base to 2 mm at the edge – that increases the acceleration generated with less pedaling effort. A novel 29º angulation gives you a wider pedaling cone and is useful for demanding swimming moments, such as ascending to the surface or ballast-assisted descents.
The Gara Modular Impulse's fin edge design received a retouch to increase pedaling stability, thanks to two thermoplastic rubber spoilers spoilers that reduce the blade's arc. These fins' foot pocket keeps its double material construction philosophy – 75º shore thermoplastic rubber in the ribs and 65º semi-flexible rubber in the body – with an anatomical shape that wraps around your foot for reduced energy loss. Any standard Fiberglass or Carbon Fiber long blade will interchange in minutes without any modifications to either.
Divers with high insteps will also be pleased to know that the Gara Modular Impulse includes a self-adjusting band in this area to expand the foot pocket by 2 to 4 mm according to the user´s needs.
Cressi Gara Modular Impulse Fins Features:
Gara Modular Impulse Fins:

Non-Vented Blade Design

Long Blade with Foot Pocket System

Bending Angle of 29-Degrees

Perfect Choice for Deep Free Diving & Spear Fishing

Interchangeable Blade: Allows Diver to Replace Blades for Specific Diving Situations

Fin Perfect to Grow with as Diver's Skill Level Increases

Interchangeable with Cressi Long Fiberglass or Carbon Fiber Blades

Interchange in Minutes w/o Any Modifications

Self-Adjusting Multi-Compound Foot Pocket

Blade: Incredible Resistance to Any-Type of Shock, Impact, or Stress

Almost Impossible to Break Accidentally

Foot Pocket:


Comfort & Suppleness




Stiffer Compound Under Foot & Heel Where Power Transfer Takes Place




Angle of Blade Provides Ultimate in Efficiency During Kick Cycle

Less Energy to Load Blade

Comfortably-Worn w/or w/o Neoprene Socks

Lightweight & Reactive, Well-Adapted for Most Demanding-of-Free-Diving Use

Blade Material: Special Reactive Elastomer & Techno Polymers

Soft Elastomer Foot Pocket Anatomically Wraps-Around-Foot

Foot Pocket Guarantees Perfect Transmission of Leg Fin Thrust

Anti-Slip Water Rails:


Prevent Water Flow from Escaping Sideways




Focusing Propulsion Performance of Impulse

Rondine Tail Special Design Improves Fin Control & Directionality

insoles Supplied As-Pair (right and left foot)

Pre-Printed Guidelines for Custom Fit of Insoles

Available in Multiple Sizes & Colors
The blade of the Gara Modular Impulse completes the range of Cressi fins, inserting a bending angle of 29 degrees, which allows you to further increase the dynamic performance of the fin.The blade has an incredible resistance to any type of shock, impact or stress, making it almost impossible to break accidentally. ANTI-SLIP WATER RAILS PREVENT WATER FLOW FROM ESCAPING SIDEWAYS
"RONDINE" TAIL SPECIAL DESIGN IMPROVES FIN CONTROL AND DIRECTIONALITY
Gara Modular's footpocket is wider than the other gara fin models. we suggest to use it with neoprene socks in order to have a proper fit. For use without neoprene socks, we recommend to buy one smaller size.
INSOLE
INCLUDED GARA MODULAR INSOLE.
The new insole for Gara Modular fins is recommended for use with thin boots in temperate waters, because it improves the kick performance. Thesemi-rigid material of the insole is completely recycled. The insoles are supplied as a pair (right and left foot) and can be cut into their shape in three different sizes, according to pre-printed guidelines. All fin components are also supplied separately.