MASK CRESSI CALIBRO

This mask has a tapered structure deriving directly from the highly popular Nano-mask patent. The dual integrated frame technology system allows you to join the silicone skirt to the lens frame without major interruptions of the curvature continuity. The result is a mask with an extremely hydrodynamic shape and, visibility being equal, a significantly smaller size. Mask features inclined and inverted tear-drop lenses for improve downward visibility, a Cressi's patented design (US 6272693). The field of view obtained is particularly wide, laterally and in the lower zone. The skirt, in the front part, has a structural silicone insert which increases the sealing ability of the mask and creates an exceptionally pleasant chromatic play. Easy-to-use buckles for quickly strap length adjustment.
Mask is a low volume tempered glass 2-window mask design with a double feathered edge silicone skirt. The wide split strap is equipped with easy-to-adjust buckles. The skirt and split strap combined for a perfect fit on the face. The mask lenses are made from tempered glass. Mask has an easy-to-reach nose pocket for ear equalization. The Calibro mask is available in multiple colors, with clear or mirrored lenses, is made in
Italy and comes with a protective mask box.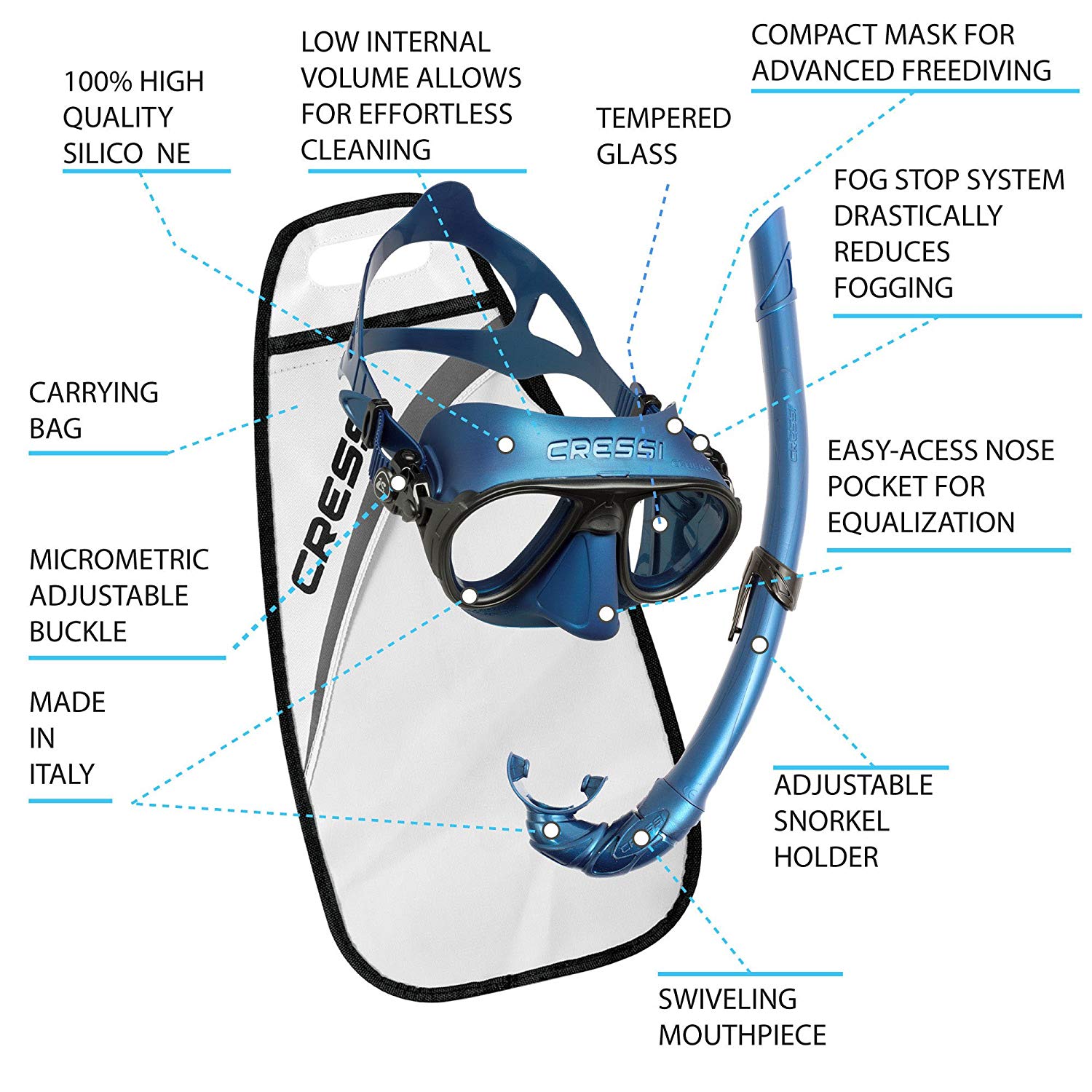 Cressi Calibro Mask Black Silicone Features:
Cressi Calibro Mask Black Silicone:

Tapered Structure Deriving Directly from Highly Popular Nano-Mask Patent

Dual Integrated Frame Technology System

Joins Silicone Skirt to Lens Frame w/o Major Interruptions of Curvature Continuity

Extremely Hydrodynamic Shape & Visibility Equal to Significantly Smaller Masks

Inclined & Inverted Tear-Drop Lenses for Improve Downward Visibility

Field of View: Wide, Laterally and In-Lower-Zone

Skirt: Front Structural Silicone Insert Increases Sealing Ability

Exceptionally Pleasant Chromatic Play

Easy-to-Use Buckles for Quick Strap Length Adjustment

Low Volume 2-Window Mask Design

Lenses: Tempered Glass

Double Feathered Edge Skirt for Great Seal on Face

Wide Silicone Rubber Split Strap Design for a Better Fit and Added Comfort

Easy-to-Reach One-Hand Nose Pocket for Ear Equalization

Available in Multiple Colors and w/Clear or Mirrored Lenses
Cressi Calibro Mask Silicone Specifications:
Window Style
2-Front
Materials
Silicone
Tempered Glass
Yes
Volume
Low
Weight [with packaging]
0.6 lb
SNORKEL CRESSI CORSICA 
The Corsica is specially designed for comfort. Its mouthpiece is made of hypoallergenic silicone with an anatomical shape that minimizes any feeling of discomfort, even after prolonged use. The snorkel tube is soft and bendable to help maintain proper positioning. Its wide diameter design supports unobstructed ease of breathing. This snorkel tube features a curve that ensures convenient placement and allows for easy clearing.
100% made in Italy

Hypoallergenic silicone mouthpiece

J-Tube design with large diameter snorkel tube

Adjustable mouthpiece

Flexible tube for easy storage and comfortable fit

Benefits of a Flexible Tube
This flexible snorkel tube allows for proper and comfortable positioning. With the Corsica, you have the freedom to rotate the silicone mouthpiece to different angles to better fit your face. The bendable capabilities of the tube make it easy for you to adjust in order to best meet your needs. The tube's material is especially flexible polyurethane and it has elastic memory after being subjected to flexion, folded or even knotted over itself for days. The tube's walls section has been studied to maintain the needed rigidity on the mask strap's pressure area to avoid damaging the air flow on this area.
Mouthpiece: Silicone vs. Plastic
Silicone mouthpieces provide a softer, flexible fit as opposed to PVC mouthpieces, which are more stiff. Choosing a snorkel with a silicone mouthpiece ensures comfort, especially with prolonged use.
J-Tube Design is Simple and Reliable
With an ergonomic design, this snorkel's J-tube shape is efficient and easy to use. The flexible tube along with its shape contours to the face while allowing for adjustments
Really comfortable nozzle, with minimized thickness on the gums area to keep a great comfort even with long usage. Rounded pins with thin basis. Assembly nozzle-tube very reliable.

LONG FIN CRESSI GARA PROFESSIONAL LD
After the great success of the Gara Professional and the Gara 3000 LD Cressi has combined the two designs and characteristics into the Gara Professional LD. The blade is made from a special elastomer polypropylene which gives a longer lasting, more fluid, softer kick that is less demanding, making it ideal for covering long distances. The use of this new plastic is less reactive than the Compoflex used in the Gara Professional. It is a progressive and controlled blade, with flexibility and gives an extremely fluid kick. Together with the exceptional lightness and non-dispersion of effort, the kick is more effective and easier than ever. As with the other Gara fins (2000HP, 3000LD and Gara Professional) the Gara Professional LD fins are made using processes that meet high standards of precision and compliance with strict technical parameters.
Foot Pocket: as with the Gara Professional fins, the new foot pocket of the Gara ProfessionalLD has been designed to fit on the bottom of the actual fin blade. This feature, together with a well-designed blade-foot pocket combination, reduces the fining effort and the dispersion of energy during fining. The shape of the foot pocket has been redesigned and improved further compared to the highly regarded foot pocket of the other Cressi Gara fins. The use of a new, more flexible elastomer, makes the foot pocket more comfortable.
Who are they for? The new Gara Professional LD are for all those divers who wish to benefit from the extraordinary performance of a long fin, without, having to use too much muscle strength, the ideal effort-productivity ratio can offer even higher performance than when using the more rigid and reactive Gara Professional. Perfect for long kicks, cold water fining, and ideal for use with Scuba the GaraProfessional LD fins will deliver! Fin is available in multiple sizes.

The Gara Professional LD is a high performance fin and requires minimum effort to load the long blades and is an excellent choice for deep freediving and spearfishing, yet are more forgiving than other long blade fins for the untrained legs. It is ideal for long distance swimming or for beginners not previously used to using a long blade fin. It can provide the power and efficiency for any experience level while deep freediving and spearing.
High performance fin that requires minimum effort to load the long blades and is an excellent choice for deep free diving and spearfishing.

Blade made from a special elastomer polypropylene which gives a longer lasting, more fluid, softer less demanding kick.

Improved anatomy of the foot pocket made in particularly soft elastomer for increase the comfort.

Union between blade and foot pocket maximizes energy dispersion and reduced effort.

Composed of soft material and features a lightweight design.

Delivering the maximum power with minimum energy through its long firm blade that runs over the foot pocket.

The fins are designed and made in Italy by Cressi.
Long Fins vs. Short Fins
Long fins provide greater forward propulsion. They allow you to travel farther, while exerting less energy. In contrast, shorter fins make it easier to change directions and allow you to kick at a faster rate.
Maximum Power, Minimum Energy
With the foot pocket located below the blade, these fins are able to provide power with little effort. Along with the long length of the blade and its lightweight design, the positioning of the foot pocket eases the dispersion of energy throughout the fin, increasing the performance of the user.
Soft elastomer for comfort
The anatomy of the foot pocket has been redesigned and, if possible, further improved compared to the already much appreciated shoe pockets of the Cressi Gara. The use of a new, particularly soft elastomer further increases comfort. The Gara Professional LD is an exceptionally soft full foot pocket style fin, which provides comfort during prolonged use on those long days in the water.
Cressi Gara Professional LD Fins Features:
Cressi Gara Professional LD Fins:

High Performance Fin Design

Blade Material: Special Elastomer Polypropylene

Longer Lasting, More Fluid, and Softer Kick

Less Demanding, Ideal for Covering Long Distances

New Plastic Less Reactive than Compoflex Used in Gara Professional

Progressive and Controlled Blade, with Flexibility

Extremely Fluid Kick

Exceptional Lightness and Non-Dispersion of Effort

Kick More Effective and Easier than Ever

Manufactured with High Standards of Precision and Compliance with Strict Technical Parameters
Foot Pocket: Fitted to Bottom of Blade


Foot Pocket Design: Reduces Fining Effort and Dispersion of Energy while FiningFoot Pocket Material: Flexible Elastomer for Comfort

Reduced Muscle Strength, Ideal Effort-Productivity Ratio

Perfect for Long Kicks, Cold Water Fining, Ideal for Scuba
Cressi Gara Professional LD Fins Specifications:
Materials Blade:
Elastomer Polypropylene
Foot Pocket:
Elastomer
Blade Type:
Non-Vented
Open Heel/Full Foot:
Full Foot
Size Chart Cressi Gara Professional LD Fins :
| | | | | | |
| --- | --- | --- | --- | --- | --- |
| | 5-6 | 7-8 | 8-9 | 10-11 | 12-13 |
| US Men's Shoe Size | 5-6 | 7-8 | 8-9 | 10-11 | 12-13 |
| US Women's Shoe Size | 6-7 | 8-9 | 11-13 | 11-13 | 13+ |
| UK | 4½-5½ | 6½-7½ | 7½-8½ | 9½-10½ | 11½-12½ |
| Euro | 38-39 | 40-41 | 42-43 | 44-45 | 46-47 |