MASK CRESSI F1
Frameless masks are loved by many divers for their low profile and ability to fold flat for easy carrying, even in a BCD pocket. Cressi's Frameless Mask design bonds a high-grade silicone double feathered edge Skirt directly to a single tempered glass lens for the ultimate in simplicity. The low internal volume allows for effortless clearing and the quick-adjust strap buckles are molded directly into the skirt for a flexible fit and reduced drag.
The easy access nose pocket can be used with one hand for proper ear equalization and the single lens design affords a wide field of vision. The Cressi Frameless Mask has a wide split mask strap design for comfort and to give even tension on the skirt for a proper seal. Mask is available in multiple color choices with the opaque version eliminating reflective light found with clear silicone mask skirts making them excellent for photography or underwater hunting.
The Cressi Frameless F1 Mask with Mask Box is commonly used for Open Water Diving, Pool, Recreation, Snorkeling and more. The Cressi Frameless F1 Mask with Mask Box is most used by customers who consider themselves to be a Advanced, Beginner, Casual/ Recreational, Professional among others. The Cressi Frameless F1 Mask with Mask Box is popular because customers like the following qualities of the Cressi Frameless F1 Mask with Mask Box: Does Not Fog, Lens Quality, Range of Vision, Snug Fit.
Cressi Frameless F1 Mask with Mask Box Features
Cressi Frameless Mask

Low-Profile Design

Folds Flat for Easy Carrying: Fit in BCD Pocket

High-Grade Silicone Skirt Bonded Directly to Lens

Single Tempered Glass Lens

Low Internal Volume for Effortless Clearing

Double Feathered Edge Skirt

Quick-Adjust Strap Buckles

Buckles Molded Directly to Skirt for Flexible Fit and Reduced Drag

Easy Access Nose Pocket for 1-Handed Ear Equalization

Wide Field of Vision

Wide Split Mask Strap for Improved Seal on Face

Available in Multiple Color Choices

Opaque Version Eliminating Reflective Light, Excellent for Photography or Underwater Hunting
SNORKEL Super-Dry Cressi
– Dilengkapi dengan top cover untuk 99% kekeringan apabila terkena hujan, ombak.
– Dilengkapi dengan patended angle agar pembuangan air lebih mudah.
The Cressi Supernova Dry Snorkel has an anti-splash end with a special valve that seals the tube as you dive, almost totally preventing the entrance of water when the snorkel is submerged. The lower end has a corrugated section that has a smooth internal bore which prevents trapping water inside the snorkel tube allowing excess water to quickly drain to the collection reservoir below. The corrugated section also quickly drops-away from the diver's mouth when switching from the snorkel to the Scuba regulator.
The special water collection r with its large elliptic one-way exhaust valve makes expelling excess water quick and easy. The replaceable angled mouthpiece and corrugated tube section are both made from hypoallergenic silicone adding comfort and function. A quick release snorkel keeper and ergonomic contoured shape make this one great snorkel. Snorkel is available in multiple colors
Cressi Supernova Dry Snorkel Features:
Cressi Supernova Dry Snorkel

Anti-Splash Top

Special Valve Seals Tube when Submerged

Dry Top Design

Corrugated Smooth Bore Lower Tube, Won't Trap Water!

Excess Water Quickly Drain to Collection Reservoir

Easy Clear Purge Valve

Replaceable Angled Mouthpiece

Hypoallergenic Silicone Mouthpiece & Corrugated Tube

Quick Release Snorkel Keeper

Ergonomic Contoured Shape

Available in Multiple Color Choices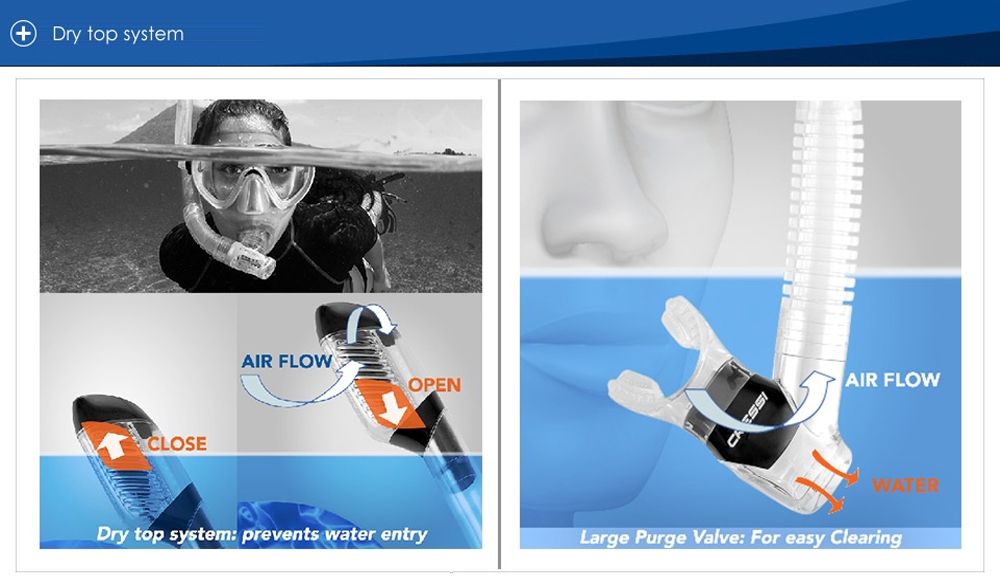 LONG FIN CRESSI GARA PROFESSIONAL LD
After the great success of the Gara Professional and the Gara 3000 LD Cressi has combined the two designs and characteristics into the Gara Professional LD. The blade is made from a special elastomer polypropylene which gives a longer lasting, more fluid, softer kick that is less demanding, making it ideal for covering long distances. The use of this new plastic is less reactive than the Compoflex used in the Gara Professional. It is a progressive and controlled blade, with flexibility and gives an extremely fluid kick. Together with the exceptional lightness and non-dispersion of effort, the kick is more effective and easier than ever. As with the other Gara fins (2000HP, 3000LD and Gara Professional) the Gara Professional LD fins are made using processes that meet high standards of precision and compliance with strict technical parameters.
Foot Pocket: as with the Gara Professional fins, the new foot pocket of the Gara ProfessionalLD has been designed to fit on the bottom of the actual fin blade. This feature, together with a well-designed blade-foot pocket combination, reduces the fining effort and the dispersion of energy during fining. The shape of the foot pocket has been redesigned and improved further compared to the highly regarded foot pocket of the other Cressi Gara fins. The use of a new, more flexible elastomer, makes the foot pocket more comfortable.
Who are they for? The new Gara Professional LD are for all those divers who wish to benefit from the extraordinary performance of a long fin, without, having to use too much muscle strength, the ideal effort-productivity ratio can offer even higher performance than when using the more rigid and reactive Gara Professional. Perfect for long kicks, cold water fining, and ideal for use with Scuba the GaraProfessional LD fins will deliver! Fin is available in multiple sizes.

The Gara Professional LD is a high performance fin and requires minimum effort to load the long blades and is an excellent choice for deep freediving and spearfishing, yet are more forgiving than other long blade fins for the untrained legs. It is ideal for long distance swimming or for beginners not previously used to using a long blade fin. It can provide the power and efficiency for any experience level while deep freediving and spearing.
High performance fin that requires minimum effort to load the long blades and is an excellent choice for deep free diving and spearfishing.

Blade made from a special elastomer polypropylene which gives a longer lasting, more fluid, softer less demanding kick.

Improved anatomy of the foot pocket made in particularly soft elastomer for increase the comfort.

Union between blade and foot pocket maximizes energy dispersion and reduced effort.

Composed of soft material and features a lightweight design.

Delivering the maximum power with minimum energy through its long firm blade that runs over the foot pocket.

The fins are designed and made in Italy by Cressi.
Long Fins vs. Short Fins
Long fins provide greater forward propulsion. They allow you to travel farther, while exerting less energy. In contrast, shorter fins make it easier to change directions and allow you to kick at a faster rate.
Maximum Power, Minimum Energy
With the foot pocket located below the blade, these fins are able to provide power with little effort. Along with the long length of the blade and its lightweight design, the positioning of the foot pocket eases the dispersion of energy throughout the fin, increasing the performance of the user.
Soft elastomer for comfort
The anatomy of the foot pocket has been redesigned and, if possible, further improved compared to the already much appreciated shoe pockets of the Cressi Gara. The use of a new, particularly soft elastomer further increases comfort. The Gara Professional LD is an exceptionally soft full foot pocket style fin, which provides comfort during prolonged use on those long days in the water.
Cressi Gara Professional LD Fins Features:
Cressi Gara Professional LD Fins:

High Performance Fin Design

Blade Material: Special Elastomer Polypropylene

Longer Lasting, More Fluid, and Softer Kick

Less Demanding, Ideal for Covering Long Distances

New Plastic Less Reactive than Compoflex Used in Gara Professional

Progressive and Controlled Blade, with Flexibility

Extremely Fluid Kick

Exceptional Lightness and Non-Dispersion of Effort

Kick More Effective and Easier than Ever

Manufactured with High Standards of Precision and Compliance with Strict Technical Parameters
Foot Pocket: Fitted to Bottom of Blade


Foot Pocket Design: Reduces Fining Effort and Dispersion of Energy while FiningFoot Pocket Material: Flexible Elastomer for Comfort

Reduced Muscle Strength, Ideal Effort-Productivity Ratio

Perfect for Long Kicks, Cold Water Fining, Ideal for Scuba
Cressi Gara Professional LD Fins Specifications:
Materials Blade:
Elastomer Polypropylene
Foot Pocket:
Elastomer
Blade Type:
Non-Vented
Open Heel/Full Foot:
Full Foot
Size Chart Cressi Gara Professional LD Fins :
| | | | | | |
| --- | --- | --- | --- | --- | --- |
| | 5-6 | 7-8 | 8-9 | 10-11 | 12-13 |
| US Men's Shoe Size | 5-6 | 7-8 | 8-9 | 10-11 | 12-13 |
| US Women's Shoe Size | 6-7 | 8-9 | 11-13 | 11-13 | 13+ |
| UK | 4½-5½ | 6½-7½ | 7½-8½ | 9½-10½ | 11½-12½ |
| Euro | 38-39 | 40-41 | 42-43 | 44-45 | 46-47 |