BCD CRESSI AQUAPRO
Kantong weight yang besar

Made in Italy

D-Ring Stainless

Padding tebal di belakang punggung untuk kenyamanan punggung ketika membawa tabung.

Di dalam kategori full inflation BCD (BCD mengembang diseluruh badan), Aquapro 5 masuk dalam kategori daya apung paling besar. Kualitas premium BCD ini telah terbukti lebih dari 5 tahun dalam jajaran BCD Cressi.

Telah melewati 4 revisi model. Model sudah termasuk 'mateng' dalam sisi keawetan.

Vertical Gravity dump-weight pocket. Hindari weight-pocket yang hilang di laut….


The Aquapro + is a moderately minded jacket style BCD, yet has all the features of higher priced buoyancy compensators. The durable 420-denier urethane laminated nylon and self-draining mesh fabric construction will give years of dependable service. The Aquapro + has two unique "gravity" ditch-able weight pockets that are attached to the zippered accessory pockets with one on either side of the BCD. The weight pockets closures are squeeze style" quick-release impact and corrosion resistant Fastex buckles. Just squeeze" the buckles and the weights are released. Each pocket can hold over 10 lbs. (4.547 kg). 
The back support is rigid for proper cylinder stability, but is fully padded for comfort. The harness assembly is an independent suspension system that allows the cylinder and the diver to keep proper stability and avoid cylinder shifting on the back, while allowing the BCD's air cell to fully inflate away from the diver not causing restriction or crushing effect as with non-ergonomic designs. Adjustable sternum strap along with both torso adjustment shoulder straps are equipped with squeeze style" quick-release buckles. 
The BCD has three over-pressure relief/dump valves with two located on the left and right shoulders and a third lower valve on the rear right of the air cell. All three can be manually dumped two with pull cords and the other with the power inflator mechanism. BCD is equipped with two stainless steel, 2″ (50 mm), D-rings on the shoulder straps, and two techno-polymer plastic, 2″ (50 mm) D-rings on the pocket lobes, with two additional snap hooks for attachment of Instruments and accessories. BCD comes in multiple sizes with lift capacities ranging from 16.9 lbs. (7.7 kg) to 36 lbs. (16.3 kg), is equipped with the Cressi's streamline Commando Power Inflator with cable activated pull dump valve and 3/8″ threaded quick disconnect hose. Shoulder overpressure relief valve with pull cord is provided for trimming of buoyancy. The inflator mechanism is environmentally sealed for greater reliability and less maintenance. BCD weighs 5.3 lbs. to 6.6 lbs. (2.4 kg to 3 kg) depending on size and is CE certified to EN 250-EN 1809 standards, and comes with an owner's manual.
Cressi Aquapro BCD Features:
Material: Self-Draining Mesh Fabric
2 External "Gravity" Wraparound Weight Pockets
Weight Capacity: 20 lbs. (9.1 kg)
2 Large Accessory Pockets with Zippers Closures
Integrated weight system. This is a very simple, durable and safe weight management system. It enables the diver to autonomously manage the weights. It is also very useful for dive centers and schools, as instructors can quickly and easily correct students' weights while diving.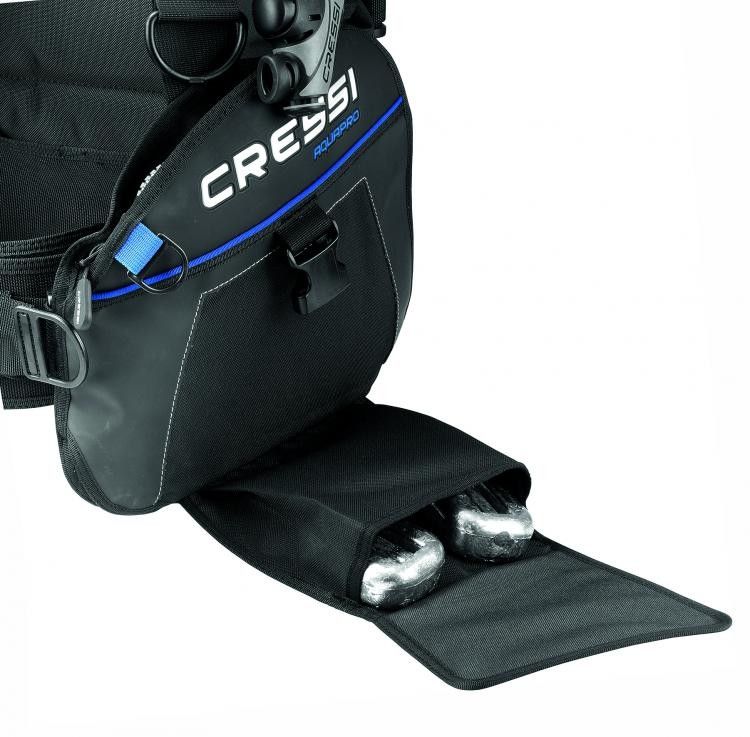 Cressi Commando Power Inflator with 3/8″ Threaded LP Quick-Disconnect Hose
Direct System Inflator 2011. Double metal filter for air inflow below the stem and cylindrical filter around the valve. Attractive and durable. Recalibrated speed of inflation now 50% greater. Anti-sand design with minimized oral inflation nozzle, wide clearance push button and deflation button with silicone washer to prevent blockage due to sand infiltration. The inflation button is integrated into the jacket to avoid unwanted inflation when stretching the inflator hose to release air. New highly durable inflator with very gradual curve. Integrated hose guide clip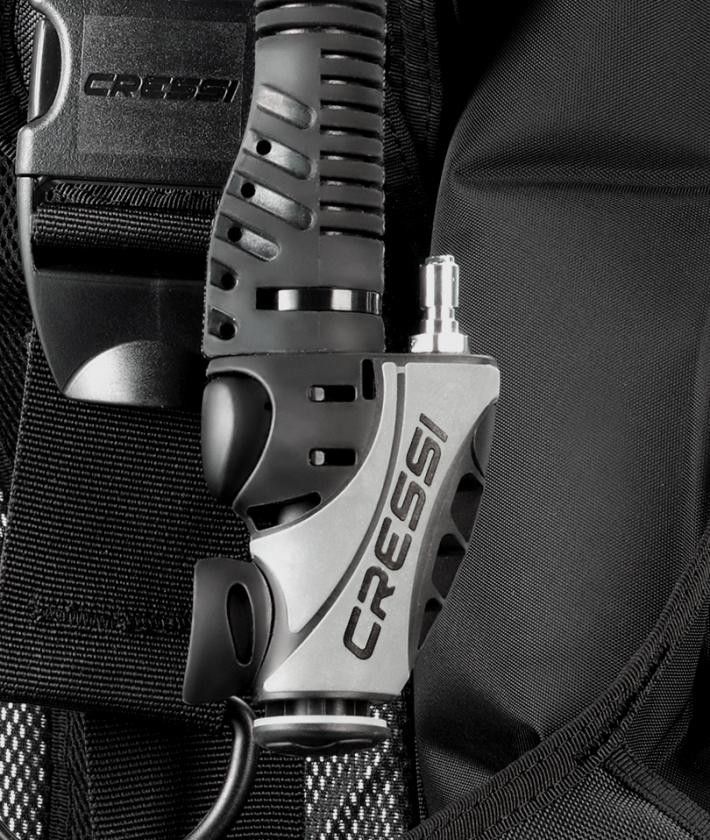 Dual 2″ (50 mm) Stainless Steel D-Rings on Shoulder Straps
Two 2″ (50 mm) Techno-Polymer Plastic D-Rings on Pocket Lobes
2 Snap Hook Rings
Torso Adjustable Quick-Release Shoulder Straps
Size shown on the shoulder pad on a rubber patch. Enables better stock management for schools and rental operations in diving centers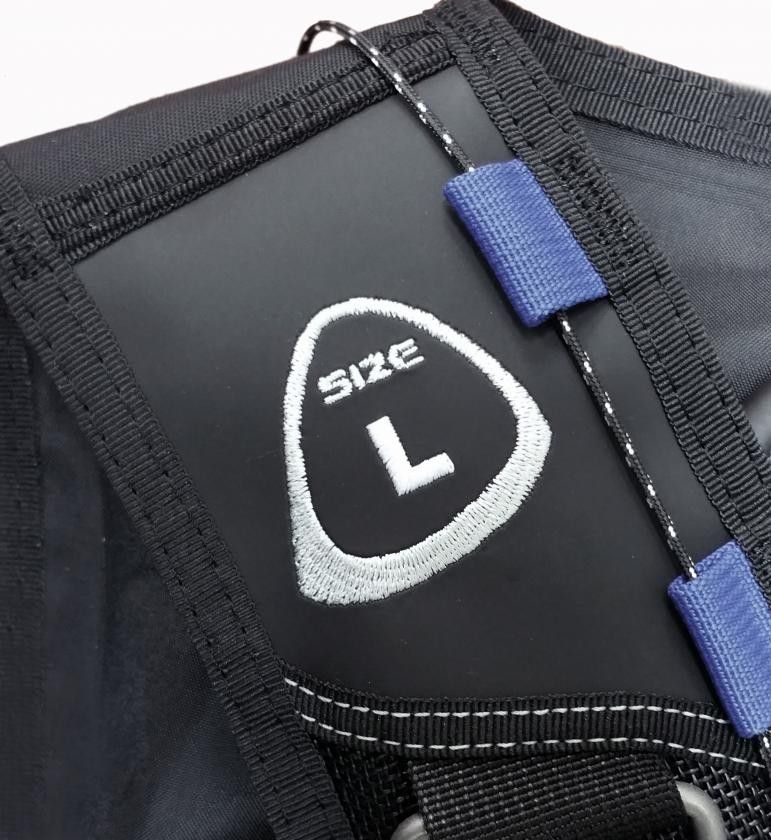 Angular stainless steel rings for easier handling
Sternum Strap with Quick-Release Buckle
Adjustable Webbing Waist Strap with Quick-Release Buckle
All Buckles Squeeze-Style" for Easy Donning and Doffing
Waist strap independent of the air bladder and cummerbund. This means the strap can be tightened while the jacket is deflated without constricting the diver's stomach when the jacket is inflated
Material: 420-Denier Urethane Laminated Nylon
Rigid, Fully Padded Back Support Panel
Harness Strap Separate from Air Cell
Back Pack as compactas possible for exceptional lightness. Ultra-durable and semi-flexible material. Thermoplastic rubber damper for enhanced tank anchoring. Double waistband strap available. Safety strap included to anchor the jacket to the valve
SIZE CHART BCD :
| | XXS | XS | S | M | L | XL |
| --- | --- | --- | --- | --- | --- | --- |
| Chest (in) | 28-33″ | 32-35″ | 35-39″ | 39-43″ | 41-45″ | 45-49″ |
| Waist (in) | 28-32″ | 30-35″ | 32-37″ | 37-41″ | 39-43″ | 43-47″ |
| Weight (lbs) | 106-132 | 121-143 | 139-172 | 165-187 | 176-220 | 243-265 |
Cressi Aquapro BCD Specifications:
BC Body
Jacket
Buoyancy Bag
16.9 lbs. (7.7 kg) to 36 lbs. (16.3 kg)
Valves
3 Relief and Overpressure Valves: 1 Top Inflator, 1 Top Shoulder, 1 Rear Lower Right
Pockets
2 Zippered Pockets
Shoulder Straps
Adjustable Torso Straps with "Squeeze-Style" Side Release Buckle
Stainless Steel Rings
2 Stainless, 2 Plastic
Waist Strap
Adjustable Waist Strap with "Squeeze-Style" Side Release Buckle, Cummerbund
Chest Buckle
Yes, Adjustable Sternum with "Squeeze-Style" Side Release Buckle
Oral Inflator
Cressi Power Inflator with Cable-Activated Pull Dump
Materials
420-Denier Urethane Laminated Nylon, Mesh Fabric
Weight Integrated
Yes
Weight Capacity
20 lbs. (9.1 kg)
Weight
5.3 lbs. to 6.6 lbs. (2.4 kg to 3 kg)
REGULATOR CRESSI AC2 XS COMPACT
The XS Compact AC2 Regulator is an exceptionally dependable non-balanced flow-by-piston designed 1'st stage regulator that is a great choice as a new divers rig, or for use as a stage bottle regulator system. This simple yet fail-safe design will deliver air even if there is a first stage failure. The 1'st stage has 1 high pressure (HP) 7/16″ threaded port and 4 low pressure (LP) 3/8″ threaded ports and is made from marine grade chromed brass for long life and durability. A conical filter is used which has greater surface area for higher air flow characteristics through the 1'st stage regulator.
The XS Compact Second-Stage housing is made of durable non-corrosive hi-tech polymers and has a dependable downstream demand valve mechanism. The flow of air is channeled to the mouthpiece by injection, creating a venturi effect enhancing the performance. The 2'nd stage comes with a flow deviator that acts on the venturi effect, with dive/pre-dive adjustment function. Large soft purge cover allows easy clearing of 2'nd stage and a comfortable silicone mouthpiece for breathing comfort. The XS Compact AC2 Regulator weighs 35 oz. (994 g) with hose and comes with an owner's manual.
TECHNICAL FEATURES 1ST STAGE
Piston design

 1 7/16" HP ports UNF

4 3/8" LP ports UNF

Operating pressure:




INT version: 230 bar | 3,336 psi

Calibration pressure:




9.8÷10 bar | 142÷146 psi

Brass body Electroless Nickel plated

High capacity conical fi lter




electroless nickel plated

Long lasting piston: AISI 316 stainless steel

Extremely easy in maintenance since IP




is adjustable from the outside

Stainless steel spring

Flow rate: 74.16 cu ft/min (2,100 l/min)

Yoke version weight: 22.4 oz / 635 g
TECHNICAL FEATURES 2ND STAGE
Downstream system

Adjustable Venturi effect

Easy maintenance

Weight without hose:




7.27 oz – 206 g

Adjustable intermediate




pressure from the out side of the




regulator due to our patented




ACs design
JACKETED HOSE
extremely light and flexible
weight: 5.4 oz – 153 g
CERTIFICATION
EN 250 2014 A>10°C
Cressi XS Compact AC2 Regulator Features:

Cressi XS Compact AC2 Regulator:

Economical Low Maintenance Regulator Design

Great Choice for New Divers Rig, or Use for Stage Bottle System

Regulator Weight: 35 oz. (994 g) with Hose

Lightweight Jacketed 3/8″ Threaded Low Pressure (LP) Hose

2'nd Stage Features:

Hi-Tech Polymer Housing

Durable Non-Corrosive Design

Reliable Downstream Demand Valve System

Large Soft Purge Cover

Venturi Dive/Pre-Dive Switch: Prevent Free-Flow when Not in Use

1'st Stage Features:

Non-Balanced Flow-By Piston

Fail-Safe Design

Marine Grade Chromed Brass Construction

4 LP Ports, 3/8″ Thread

1 HP Port, 7/16″ Thread
Cressi XS Compact AC2 2'nd Stage Regulator Features:
This regulator is made up of the new 2nd stage XS Compact, combined with the MC9 diaphragm first stage.
Its strengths lie in its extreme lightness,excellent performance, very easy maintenance and affordable purchase price.
Self-lubricating jacketed cylinder

Removable stainless steel nozzle Anti-pressure drop pneumatic spring

Sintered cup fi lter

4 low pressure outlets

1 high pressure outlets
2nd stage XS COMPACT: body in techno-polymer, with dive-pre dive adjustment.
Specifications:
This diaphragm hyper-balanced 1st stage
Self-lubricating jacketed cylinder (as.com)
Removable stainless steel nozzle
Anti-pressure drop pneumatic spring

Sintered cup fi lter

4 low pressure outlets

1 high pressure outlets
2nd stage XS COMPACT: body in techno-polymer, with dive-pre dive adjustment.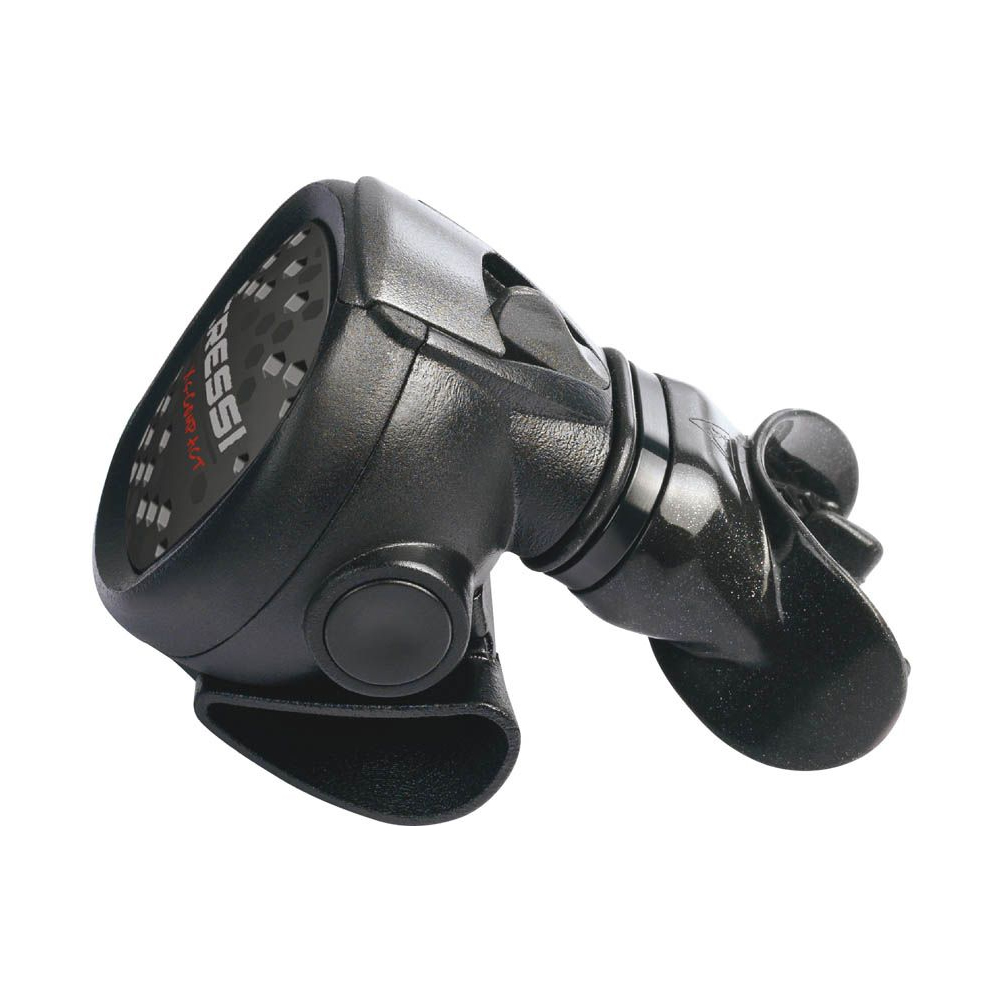 Cressi XS Compact AC2 Regulator Specifications:
1'st Stage Type
Non-Balanced Flow-By Piston
LP Ports
4 LP Ports, 3/8″ Thread
HP Ports
1 HP Port, 7/16″ Thread
Adjustable 2'nd Stage
Yes, Dive/Pre-Dive Venturi Adjustment
2'nd Stage Type
Downstream Demand Valve
Materials
First Stage: Chromed Brass, Second Stage: Polymer Plastic, Silicone Rubber
Hose Thread
3/8″
Total Weight
35 oz. (994 g) with Hose
OCTOPUS AMSCUD LOBSTER
AmScuD Lobster Octopus has been totally redesigned to provide outstanding breathing performance. The Octopus maintains dedication to rugged reliability combined with ease of maintenance. This octopus has been the overwhelming favorite for rental applications for decades because of its simple reliability. Regulator has a large diaphragm for optimal response to inhalation with a precision ground stainless-steel cam and Delrin lever for smooth effortless breathing. The valve mechanism is a dependable downstream demand valve. The regulator is equipped with a large quality silicone exhaust valve that decreases exhalation resistance for easy breathing.
The AmScuD Lobster Octopus has a high impact resistant plastic housing for rugged applications. The low-pressure seat is resilient silicone rubber for extreme reliability. The low-pressure hose has standard 3/8″ threads with a 36″ (91.4 cm) length. The Hi-Viz soft purge cover makes identification of the octopus regulator easy in an out-of-air-emergency.
AmScuD Lobster Octopus Features:
AmScuD Lobster Octopus:

Totally-Redesigned to Provide Outstanding Breathing Performance

Dedication to Rugged Reliability Combined with Ease-of-Maintenance

Favorite for Rental Applications

Simple-Reliability

Large Diaphragm for Optimal Response to Inhalation

Precision-Ground Stainless Steel Cam and Delrin Lever for Smooth Effortless Breathing

Valve Mechanism is a Dependable Downstream Demand Valve

Large Quality Silicone Exhaust Valve Decreases Exhalation Resistance

High Impact Resistant Glass-Filled Polyamide Housing for Rugged Applications

Low Pressure Seat is Resilient Silicone Rubber for Extreme Reliability

Standard 3/8″ Thread 36″ (91.4 cm) Low Pressure Hose

CONSOLE 1 AMSCUD –DEPTH GAUGE-
All AmScuD instruments give a very accurate, clear visibility readings and are made from the best quality materials. 
As such, we stand behind our products to give the utmost user experience.
Learning from our over 18 years in the industry, we have sucesfully established both design and materials that is a balanced of functionality, excellent robustness while maintaining a certain cosmetic estathic.
Did we tell you that our gauges are 100% Made in Italy? And it is backed by a full 1-year warranty.
The AmScuD submersible pressure gauge, with an internal Bourdon pressure measuring mechanism, gives you clear information on the gas contents of your cylinder.
The gauge will indicate the cylinder bottle pressure
Dial range is stated in metric standard (BAR) from zero to 400 Bar
Dial face is designed with ultra-clarity in mind by being uncluttered, with large black figures on a luminous background giving a long phosphorescent effect. We also include color-indicator for a better idea of what states you are in.
This makes viewing as easy as possible, even in poor visibility conditions.
Our gauge case is made from nickel plated brass

The dial window is made of highly shock resistant material (anti-splinter polycarbonate). 400 BAR/5,800 PSI dial gauge for your mission critical applications.

Elasto-Polimer housing to ensure reliability while maintaining its function and esthathics.

Over-pressure capsule fitted in the back of the module to prevent the screen from exploding in the unlikely event of the internal mechanism failing.

Our exclusive Dual-Recoil® system located both in depth and pressure gauge. Unlike other gauges in the market, which gauge will fail in case of internal coil is failing, our gauges are designed to have a backup coil.

NITROX compatible with Oxygen Cleaned environment, Viton O-Rings on all parts (swivel + HP port) and Christo-Lube lubricant.

30% longer phosphorecent effect.

Color coded indicator with 10-bar increments.

Improved swivel umberella design with chanelled o-ring gutter.

7/16″ HP port connection.

We designed an angle for the gauge so it is easy to view while maintaining its shape for durability (in case of drop/shock).