BCD CRESSI SOLID
The Solid BCD is a fantastic Jacket style BCD that provides plenty of lift. This durable BCD has two zippered pockets and multiple D-rings for storage and attachment of accessory items with two 1″ (25 mm) technopolymer D-rings on the pockets. The BCD has three over-pressure relief/dump valves with two located on the left and right shoulders and a third lower valve on the rear right of the air cell. All three can be manually dumped two with pull cords and the other with the power inflator mechanism. If used at dive facilities a size indicator is highly visible on the right shoulder.
BCD adjustable sternum strap along with both 2″ (50 mm) torso adjustment straps and waist strap are all equipped with squeeze-style side-release buckles for easy donning and doffing. The light-weight back support is rigid for proper cylinder stability but is fully padded for comfort and the ridged backpack is equipped with a grab handle for easy transport and gear donning assist. BCD is built to last made from 500D Cordura (exterior part) and 420D nylon (interior). The Cressi Solid BCD come with a 3/8″ threaded quick-disconnect low-pressure hose and owner's manual.
Cressi Solid BCD Features:
Light-Weight Rigid Back Support for Proper Cylinder Stability
Fully Padded Back Plate for Comfort
Construction: 500D Cordura (exterior part) and 420D Nylon (interior)
Ridged Backpack Equipped w/Grab Handle for Easy Transport and Gear Donning Assist
Lean backpack with reduced thickness to the maximum to lighten it. Very resistant and semi-flexible material. Shock absorber in thermoplastic rubber for better fixing of the tank. It is possible to use double tank strap. Includes safety strap for fastening the bcd to the tank valve.
Reinforcement in the neck to avoid possible tears due to falls of tanks when the bcd and regulator are mounted.
Cordura 500 Denier. Cordura provides greater resistance to erosion due to long-term friction and prolong the duration of the thermo welding as it is harder than Nylon. This feature is especially important in diving centers where the inflating of the bcd is repetitive and frequent up to the limit of its capacity.

Large, Easily-Seen Size Markings on Shoulder
Size shown on right shoulder pad.
Size shown on the shoulder pad. It allows a better management of the stock of school equipment and rental in diving centers.
Elastic chest strap with integrated whistle.
2″ (50 mm) Torso Adjustable Shoulder Straps
D rings located at the shoulders and two more front side rings.
Buoyancy Control:
3-Exhaust/Overpressure Relief Valves
2-Vlaves with Pull Dump Handle (Right Shoulder/Lower Rear)
Cressi's Power Inflator with Cable Activated Pull Dump
3/8″ Threaded Low Pressure Quick-Disconnect Hose
Inflator with double air filtering system under the connecting stem of the hose and around the valve. Easily disassembled for small cleaning operations, even at the beach (sand infiltrations, etc). Rubber hose with clamp to fix the inflator hose.
Dual Zippered Pockets
Two 1″ (25 mm) Technopolymer D-Rings On Pockets for Accessory Attachment
Integrated compartments for fixing the pressure gauge and the Octopus, very useful especially for diving centers.
Adjustable Sternum Strap
Adjustable Waist Strap with Cummerbund Pad for Comfort
All Straps Equipped w/Squeeze-Style Side-Release Buckles
Quick-and-Easy Donning and Doffing
SIZE CHART BCD :
| | XXS | XS | S | M | L | XL |
| --- | --- | --- | --- | --- | --- | --- |
| Chest (in) | 28-33″ | 32-35″ | 35-39″ | 39-43″ | 41-45″ | 45-49″ |
| Waist (in) | 28-32″ | 30-35″ | 32-37″ | 37-41″ | 39-43″ | 43-47″ |
| Weight (lbs) | 106-132 | 121-143 | 139-172 | 165-187 | 176-220 | 243-265 |
Cressi Solid BCD Specifications:
Body
Jacket
Buoyancy Bag
Not Specified by Manufacturer
Valves
3-Dump/Overpressure Relief Valves
Pockets
2-Zippered
Shoulder Straps
Adjustable Torso Straps w/Squeeze-Style Side Release Buckles
Stainless Steel Rings
No, Plastic
Waist Strap
Adjustable Waist Strap w/Squeeze-Style Side Release Buckle and Cummerbund Pad
Chest Buckle
Yes, Adjustable Sternum w/Squeeze-Style Side Release Buckle
Oral Inflator
Cressi Power Inflator w/Cable-Activated Pull Dump
BCD Materials
500D Cordura (exterior part) and 420D Nylon (interior)
REGULATOR CRESSI AC2 XS COMPACT
The XS Compact AC2 Regulator is an exceptionally dependable non-balanced flow-by-piston designed 1'st stage regulator that is a great choice as a new divers rig, or for use as a stage bottle regulator system. This simple yet fail-safe design will deliver air even if there is a first stage failure. The 1'st stage has 1 high pressure (HP) 7/16″ threaded port and 4 low pressure (LP) 3/8″ threaded ports and is made from marine grade chromed brass for long life and durability. A conical filter is used which has greater surface area for higher air flow characteristics through the 1'st stage regulator.
The XS Compact Second-Stage housing is made of durable non-corrosive hi-tech polymers and has a dependable downstream demand valve mechanism. The flow of air is channeled to the mouthpiece by injection, creating a venturi effect enhancing the performance. The 2'nd stage comes with a flow deviator that acts on the venturi effect, with dive/pre-dive adjustment function. Large soft purge cover allows easy clearing of 2'nd stage and a comfortable silicone mouthpiece for breathing comfort. The XS Compact AC2 Regulator weighs 35 oz. (994 g) with hose and comes with an owner's manual.
TECHNICAL FEATURES 1ST STAGE
Piston design

 1 7/16" HP ports UNF

4 3/8" LP ports UNF

Operating pressure:




INT version: 230 bar | 3,336 psi

Calibration pressure:




9.8÷10 bar | 142÷146 psi

Brass body Electroless Nickel plated

High capacity conical fi lter




electroless nickel plated

Long lasting piston: AISI 316 stainless steel

Extremely easy in maintenance since IP




is adjustable from the outside

Stainless steel spring

Flow rate: 74.16 cu ft/min (2,100 l/min)

Yoke version weight: 22.4 oz / 635 g
TECHNICAL FEATURES 2ND STAGE
Downstream system

Adjustable Venturi effect

Easy maintenance

Weight without hose:




7.27 oz – 206 g

Adjustable intermediate




pressure from the out side of the




regulator due to our patented




ACs design
JACKETED HOSE
extremely light and flexible
weight: 5.4 oz – 153 g
CERTIFICATION
EN 250 2014 A>10°C
Cressi XS Compact AC2 Regulator Features:

Cressi XS Compact AC2 Regulator:

Economical Low Maintenance Regulator Design

Great Choice for New Divers Rig, or Use for Stage Bottle System

Regulator Weight: 35 oz. (994 g) with Hose

Lightweight Jacketed 3/8″ Threaded Low Pressure (LP) Hose

2'nd Stage Features:

Hi-Tech Polymer Housing

Durable Non-Corrosive Design

Reliable Downstream Demand Valve System

Large Soft Purge Cover

Venturi Dive/Pre-Dive Switch: Prevent Free-Flow when Not in Use

1'st Stage Features:

Non-Balanced Flow-By Piston

Fail-Safe Design

Marine Grade Chromed Brass Construction

4 LP Ports, 3/8″ Thread

1 HP Port, 7/16″ Thread
Cressi XS Compact AC2 2'nd Stage Regulator Features:
This regulator is made up of the new 2nd stage XS Compact, combined with the MC9 diaphragm first stage.
Its strengths lie in its extreme lightness,excellent performance, very easy maintenance and affordable purchase price.
Self-lubricating jacketed cylinder

Removable stainless steel nozzle Anti-pressure drop pneumatic spring

Sintered cup fi lter

4 low pressure outlets

1 high pressure outlets
2nd stage XS COMPACT: body in techno-polymer, with dive-pre dive adjustment.
Specifications:
This diaphragm hyper-balanced 1st stage
Self-lubricating jacketed cylinder (as.com)
Removable stainless steel nozzle
Anti-pressure drop pneumatic spring

Sintered cup fi lter

4 low pressure outlets

1 high pressure outlets
2nd stage XS COMPACT: body in techno-polymer, with dive-pre dive adjustment.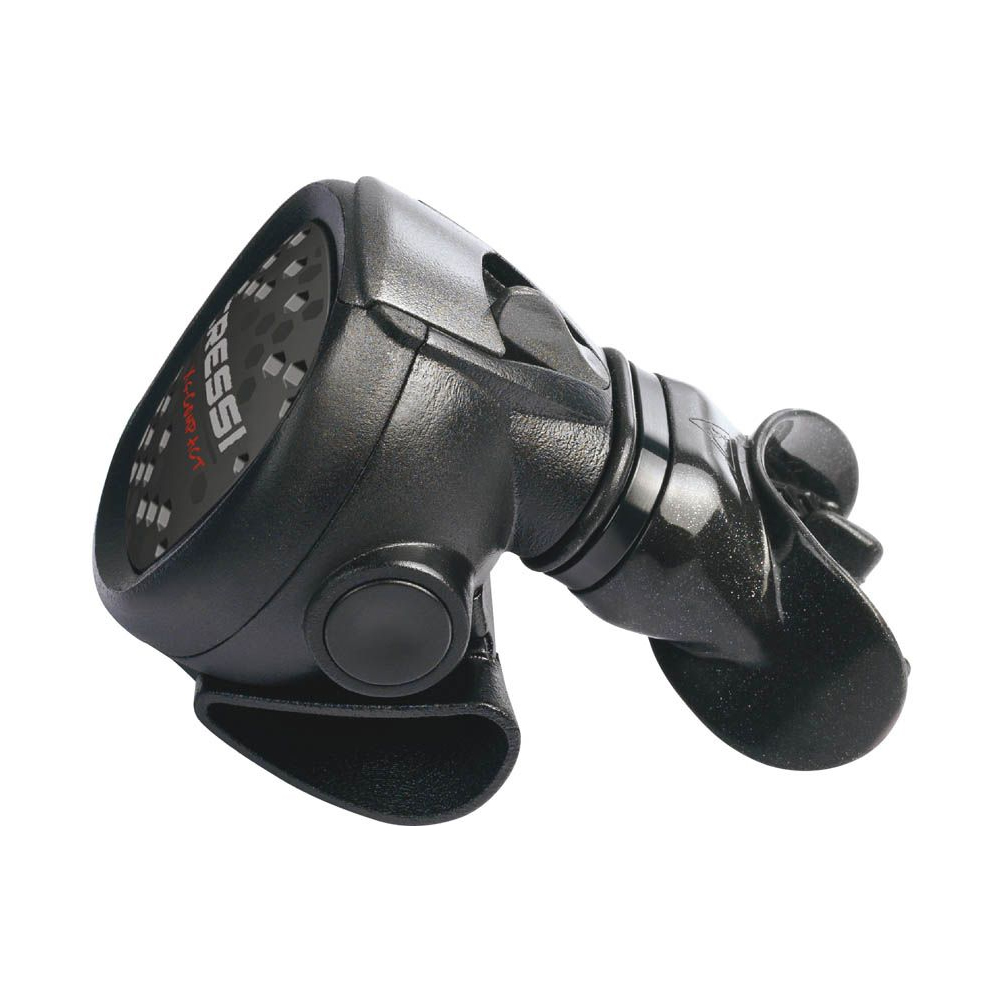 Cressi XS Compact AC2 Regulator Specifications:
1'st Stage Type
Non-Balanced Flow-By Piston
LP Ports
4 LP Ports, 3/8″ Thread
HP Ports
1 HP Port, 7/16″ Thread
Adjustable 2'nd Stage
Yes, Dive/Pre-Dive Venturi Adjustment
2'nd Stage Type
Downstream Demand Valve
Materials
First Stage: Chromed Brass, Second Stage: Polymer Plastic, Silicone Rubber
Hose Thread
3/8″
Total Weight
35 oz. (994 g) with Hose
OCTOPUS AMSCUD LOBSTER
AmScuD Lobster Octopus has been totally redesigned to provide outstanding breathing performance. The Octopus maintains dedication to rugged reliability combined with ease of maintenance. This octopus has been the overwhelming favorite for rental applications for decades because of its simple reliability. Regulator has a large diaphragm for optimal response to inhalation with a precision ground stainless-steel cam and Delrin lever for smooth effortless breathing. The valve mechanism is a dependable downstream demand valve. The regulator is equipped with a large quality silicone exhaust valve that decreases exhalation resistance for easy breathing.
The AmScuD Lobster Octopus has a high impact resistant plastic housing for rugged applications. The low-pressure seat is resilient silicone rubber for extreme reliability. The low-pressure hose has standard 3/8″ threads with a 36″ (91.4 cm) length. The Hi-Viz soft purge cover makes identification of the octopus regulator easy in an out-of-air-emergency.
AmScuD Lobster Octopus Features:
AmScuD Lobster Octopus:

Totally-Redesigned to Provide Outstanding Breathing Performance

Dedication to Rugged Reliability Combined with Ease-of-Maintenance

Favorite for Rental Applications

Simple-Reliability

Large Diaphragm for Optimal Response to Inhalation

Precision-Ground Stainless Steel Cam and Delrin Lever for Smooth Effortless Breathing

Valve Mechanism is a Dependable Downstream Demand Valve

Large Quality Silicone Exhaust Valve Decreases Exhalation Resistance

High Impact Resistant Glass-Filled Polyamide Housing for Rugged Applications

Low Pressure Seat is Resilient Silicone Rubber for Extreme Reliability

Standard 3/8″ Thread 36″ (91.4 cm) Low Pressure Hose

CONSOLE 2 AMSCUD -GAUGE -PRESSURE + DEPTH GAUGE-
All AmScuD instruments give a very accurate, clear visibility readings and are made from the best quality materials.
As such, we stand behind our products to give the utmost user experience.
Learning from our over 18 years in the industry, we have sucesfully established both design and materials that is a balanced of functionality, excellent robustness while maintaining a certain cosmetic estathic.
Did we tell you that our gauges are 100% Made in Italy? And it is backed by a full 1-year warranty.
The AmScuD submersible pressure gauge combined with depth gauge and compass, with an internal Bourdon pressure measuring mechanism, gives you clear information on the gas contents of your cylinder.
Dial range is stated in metric standard (BAR) from zero to 400 Bar while the depth gauge will show a METER unit with 1 meter increments.
Dial face is designed with ultra-clarity in mind by being uncluttered, with large black figures on a luminous background giving a long phosphorescent effect. We also include color-indicator for a better idea of what states you are in.
This makes viewing as easy as possible, even in poor visibility conditions.
Our gauge case is made from nickel plated brass

The dial window is made of highly shock resistant material (anti-splinter polycarbonate). 400 BAR/5,800 PSI dial gauge for your mission critical applications.

Elasto-Polimer housing to ensure reliability while maintaining its function and esthathics.

Over-pressure capsule fitted in the back of the module to prevent the screen from exploding in the unlikely event of the internal mechanism failing.

Our exclusive Dual-Recoil® system located both in depth and pressure gauge. Unlike other gauges in the market, which gauge will fail in case of internal coil is failing, our gauges are designed to have a backup coil.

NITROX compatible with Oxygen Cleaned environment, Viton O-Rings on all parts (swivel + HP port) and Christo-Lube lubricant.

30% longer phosphorecent effect.

Color coded indicator with 10-bar increments (pressure) and 1-meter increments (depth)

Improved swivel umberella design with chanelled o-ring gutter.

7/16″ HP port connection.

We designed an angle for the gauge so it is easy to view while maintaining its shape for durability (in case of drop/shock).