Cressi Duke Dry Full-Face Mask

Face Snorkeling Mask Cressi Duke Dry Full Mask
The Cressi Duke Dry Full-Face Mask is the snorkeling visor that allows you to explore the underwater world from the surface. Duke offers a natural breathing experience due to the absence of any valve (patent pending), and a fog-free vision obtained by the lateral deflector mechanism (patent pending). A lateral air channel system, for inhaling and exhaling, drastically eliminates any breathing effort thanks to a reduced airflow length circulation (patent pending). The face skirt is made of soft hypoallergenic silicone that ensure comfort and a perfect seal. The snorkel top has a floating valve that closes the tube when submerged avoiding entry of water. The two x-cross straps are easy to adjust for a perfect adaption to your head. Frame and visor made of polycarbonate. The Duke is entirely designed and developed in Italy by Cressi.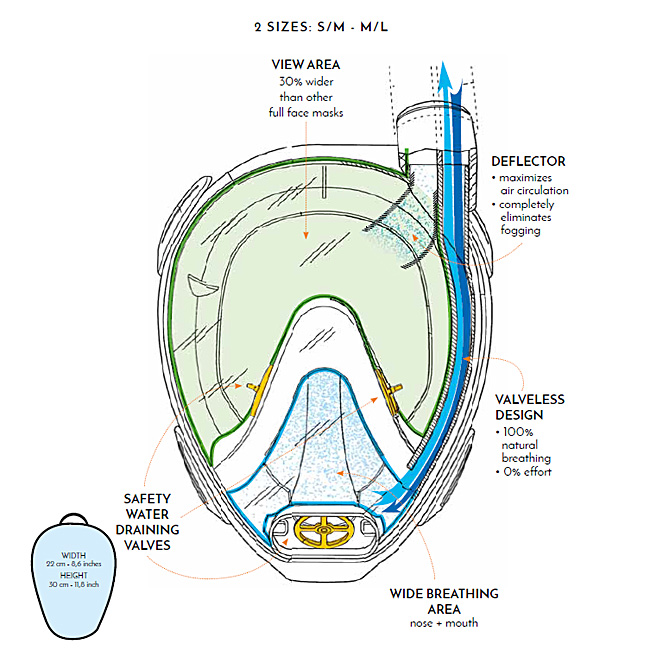 Cressi Duke Dry Full-Face Mask Features
Cressi Duke Dry Full-Face Mask:

Snorkeling Visor Allows You to Explore Underwater World From-the-Surface

Natural Breathing Experience

Fog-Free Vision Obtained by Lateral Deflector Mechanism (patent pending)

Inhaling & Exhaling, Drastically Eliminates Breathing Effort

Reduced Airflow Length Circulation (patent pending)

Dry Snorkel Top Design: Floating Valve Closes Tube When Submerged Avoiding Entry of Water

Frame & Lens Made Of Polycarbonate 

Entirely Designed & Developed in Italy by Cressi 

Two X-Cross Head Straps: Easy to Adjust for Perfect Adaption to Head

Ensure Comfort & Perfect Seal

Face Skirt Made of Soft Hypoallergenic Silicone


SHORTY CRESSI MED X
This Wetsuit/Shorty can be used for UNISEX
When you need a Little-More-Warmth, the Med X Shorty delivers with Excellent Core-Warming Capability and an Anatomical Fit that's Easy-to-Swim-In. Shorty Suit is made from Nylon II Neoprene with High-Stretch Ultra-Span Inserts on the Shoulders-and-Under-Arms. Suit has a Heavy-Duty YKK Back Zipper. To add to the Suits Warmth a Skin-In Collar Seal with an Adjustable hook and loop Closure and Skin-In Seals on the Legs-and-Arms along with an Under-Zipper Flap All-Decreases Water Exchange. 
The Cressi Shorty Med is the Perfect-Solution for Swimming, Snorkeling, the Pool and all Water Sports where Light-Protection from the Cold, Wind, Sun or Water Spray is required. It's also for those who want to maintain the Freedom-of-Movement that a thin suit offers, or for layering under a thicker suit for added thermal protection. Suit is available in Multiple Sizes and is covered
The Cressi Med X Shorty is commonly used for Boating, Diving, Paddling, Wakeboarding, Waterskiing and more. The Cressi Med X Shorty is most used by customers who consider themselves to be a Casual user, Professional among others. The Cressi Med X Shorty is popular because customers like the following qualities of the Cressi Med X Shorty: Breathable, Comfortable, Dries Quickly, Durable, Easy To Put On And Off, Warm.
Cressi Med X Shorty Features 
Ideal for Warm, Tropical Waters

All Water Sports Suit Protection

Excellent for Protection Against-Gear-Abrasion and UV Exposure

Excellent Core-Warming Capability

Anatomical Fit that's Easy-to-Swim-In

Great for Layering Under Thicker Suit

2.5mm, Nylon II Neoprene with High-Stretch Ultra-Span Inserts

Flat neoprene on the chest area to obtain more elasticity

Heavy-Duty YKK Back Zipper

Skin-In Seals and Zipper Flap:

Collar Seal with Adjustable hook and loop Closure

Legs-and-Arms Ski-In along with Under-Zipper Flap

Skin-In Seals and Flap: Decreases-Water-Exchange

Seams: Sewn-for-Strength-and-Durability

YKK® 8 pitch dorsal zip with Velcro® closing.

Available in Multiple Sizes

Size XS/1

Size S/2

Size M/3

Size L/4

Size XL/5

Size XXL/6