MASK AmScuD X-FLEX

A X-FLEX favorite, the Frameless II Mask features a comfortable low profile lightweight frameless mask design. The Frameless  Mask has a 100% silicone rubber double feathered edge skirt and a wide split strap design which combined for a perfect seal on the divers face. The single front tempered CE approved glass lens provides an exceptional field of vision. This low volume mask has an easy to reach one handed nose pocket for ear equalization and the low internal volume makes it easy to clear. The push button buckle assemblies make adjustments and positioning the mask on the face easy.
X-FLEX AMSCUD Mask

Single Lens Mask

Wide Field of Vision

100% Silicone Double Feathered Edge Skirt

Wide Split Strap Design

Skirt & Strap Combine for Excellent Face Seal

Large Easy-to-Reach Nose Pocket for Ear Equalization

Tempered CE Approved Glass Lens

Low Volume Design

Frameless Design, Easily Fits in BCD Pocket

Low Profile Lightweight

Push Button Buckle for Easy Strap Adjustments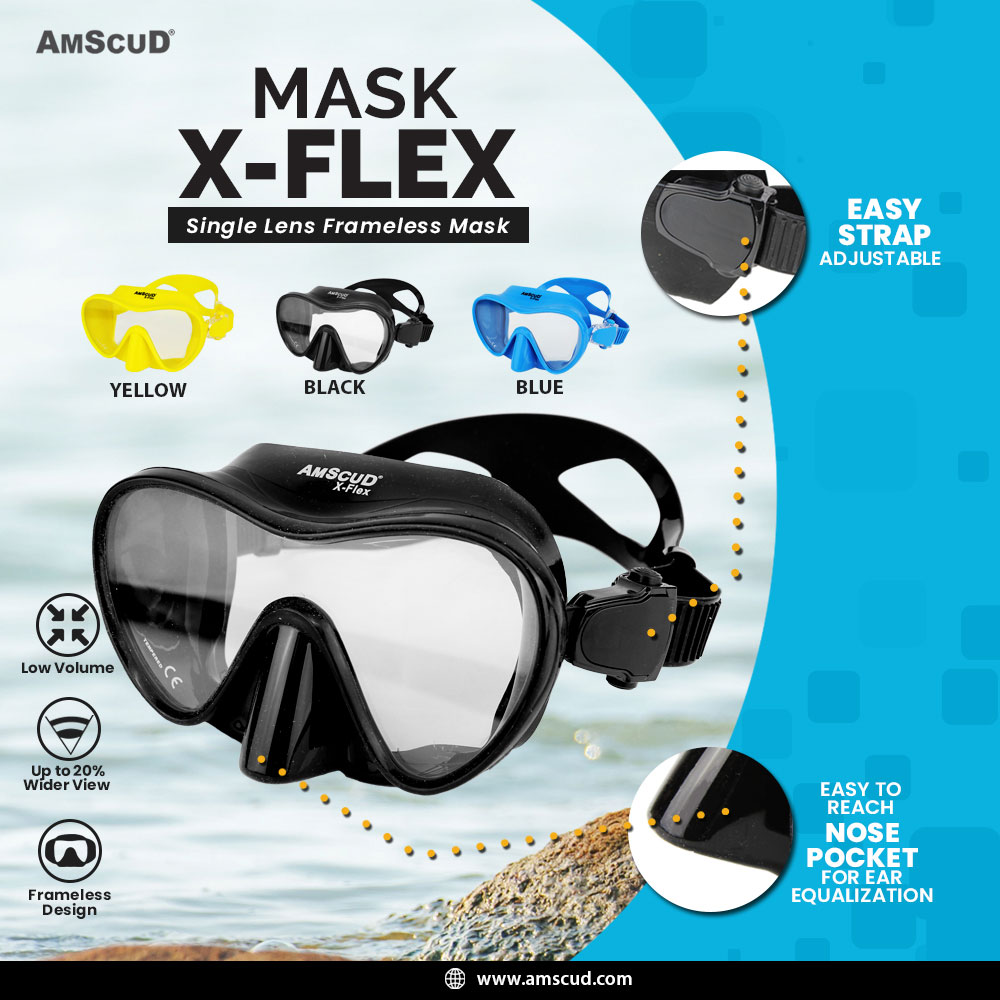 SNORKEL AmScuD X-FLEX
This is one totally dry snorkel for snorkeling. The X-FLEX Dry Snorkel byAMSCUD has a unique dry top that closes the tube off when you submerge keeping water from entering the breathing tube while you explore the reefs below. Once you return to the surface the tube re-opens allowing you water-free breathing. No choking on water makes snorkeling fun and easy. This feature makes this the perfect snorkel for the novice to the experienced snorkeler. 
If you use the snorkel when Scuba Diving you will also love the low-profile streamline design, one-way self-draining purge valve and smooth bore silicone flex tube which give you effortless clearing of the snorkel at the surface. The flex tube also allows the mouthpiece to drop away from the divers face when switching from the snorkel to the Scuba regulator, making the Sedona Elite the perfect companion on all your diving adventures. 
Do you tend to chew" on your mouthpiece, not to worry the curved mouthpiece is replaceable and the unique Quick-Release snorkel keeper with its push button release allows you to easily remove your snorkel from the mask for proper storage. The X-FLEX Dry Snorkel is available in 3 color choices of Black, Blue, Yellow.
X-FLEX Dry Snorkel Elite Dry Snorkel

Totally Dry Snorkel

Patented Top Prevents Water from Entering

Perfect for the Novice to the Experienced Snorkeler

Smooth Bore Silicone Flex Tube

One-Way Purge Valve for Effortless Clearing

Great Snorkel for Scuba Diving

Comfortable Curved Mouthpiece Design

Mouthpiece is Replaceable

Quick-Release Snorkel Keeper

Contoured for Hydrodynamics

3 Color Choices of Black, Blue, Yellow.
BOOTIES AmScuD NAVI
Excellent booties for tropical or colder water temperature
Advanced Design Booties for Everyone who love underwater activities
5mm double glued and blind stitch neoprene construction for better durability

Non corrosive YKK zipper ensures the zipper will stay closed securely during underwater or  upwater

Flexible rubber toe and heel caps guard against abrasion and also provide extra protection
The AMSCUD 5 mm NAVI Dive Boots feature super traction hard injected molded soles and an upper rubber protection layer designed to flex and mold with the shape of your foot. The toe and heel guard provide for extra support and comfort. The AMSCUD 5 mm NAVI Dive Boots is made from nylon/jersey neoprene for strength, comfort and the jersey interior add warmth. A beefy large tooth YKK-zipper closure with neoprene backing allows easy entry and a great fit. Boot is black in color and available in multiple sizes.
The AMSCUD 5 mm Navi Dive Boots, Black Features:
AMSCUD 5 mm Navi Dive Boots

Material: 5 mm Neoprene / Nylon Jersey

Jersey Interior Adds Warmth

Super Traction Hard Injected Molded Soles

Upper Rubber Protection Layer to Flex and Mold with Shape of Foot

Toe and Heel Guard for Extra Support and Comfort

Beefy Large Tooth YKK-Zipper Closure with Neoprene Backing

Easy Entry and Great Fit

Color: Black
Booties Navi sangat cocok untuk penggunaan dengan fin open heel. Perlindungan pada bagian bawah kaki (sol) hingga ke punggung kaki menjamin kaki anda tidak merasa letih karena profil keras dari fin open heel. Booties ini cocok untuk digunakan pada fin open heel merek apapun juga.
Bagian lunak pada kiri kanan booties menjamin kaki anda tidak tertekan apabila menggunakan ukuran lebih kecil (contoh: kaki agak pendek gunakan ukuran S, namun lebar kaki ukuran M).
FIN AmScuD CARP
Contemporary Designed Open Heel Fin in AmScuD Line
The Carp Fin is a precision blend of ergonomics, hydrodynamics and materials technology created for ultimate comfort, efficiency and performance. The Carp blade's flexible center area creates a massive water channel by utilizing the entire surface area of the blade and foot pocket accelerating water over the blade.
The engineered channels and side rails direct water flow off the tips of the fin without allowing water to "spill" from the sides of the blade for uncompromising power and improved efficiency.
A series of high performance vents reduce stress while while accelerating water over the blade.
A generous, yet streamlined foot pocket fits a wide range of boots styles while significantly reducing drag.
Fins are extremely lightweight for increased performance and ease of travel, and come equipped with an easy adjust quick-release buckle fin strap assemblies.
Fins are suitable for novice to advanced divers as well as resorts/rental market.
AMSCUD CARP Open-Heel Fins Features :
XS/S 35-38 RED (RD)
M/L  41-44 BLUE (BL)
L/XL 44-47 BLACK (BK)
Foot Pocket Fits Wide Range of Boot Styles

Generous, Yet Streamlined Foot Pocket Significantly Reducing Drag

Easy Adjust Quick-Release Buckles

Anti-slip Foot Pocket

Oversized Blade Produces Increased Thrust and Propulsion

Extremely Lightweight for Increased Performance and Ease of Travel

High Performance Vents Reduce Stress

Flexible Center Channel Accelerates Water Over Blade for Improved Efficiency

Water Spill Design