MASK CRESSI METIS
The new Cressi Metis Spearfishing Mask is a 2-window mask that is designed for advanced free-diving and spearfishing.
The mask is designed to offer an extremely hydrodynamic and compact shape to help divers cut through the water and aid movements in small spaces.
The internal volume is minimal and does not require intentional equalizing.
Mask is equipped with Cressi's easy adjust strap double button buckles and has a wide anatomical silicone rubber split style designed head strap for even dispersion of pressure for increased fit and comfort. Mask has an easy to reach one hand nose pocket for ear equalization which can be utilized even when wearing thick gloves.
The double feathered edge silicone skirt works in concert with the split strap for an excellent seal on the face.
The tempered glass lenses are available clear mirrored or yellow mirrored. The mirrored lenses prevent the fish from making eye contact with the diver when on the hunt.
If the fish can't make eye contact chances of getting closer are increased making for a better shot and kill.
The yellow mirrored lenses also provide protection against glare when on the surface making this one great visual experience for the new to the most experienced divers. Mask skirt is available in multiple colors and the mask comes with a protective mask box.
Lenses: Mirrored vs. Clear
While mirrored lenses are great for hiding your eyes from fish, they also help in filtering out light. They are ideal for a sunny day, but not when it is overcast. Clear lenses lack camouflage, but provide a lucid window to your underwater surroundings.
Benefits of Silicone
When it comes to masks, silicone material is long lasting and more comfortable than the traditional PVC. Capable of adapting to various face shapes, silicone provides a personalized fit and ensures a perfect seal.
Designed for Ultimate Comfort
Lightweight and durable, Cressi's Metis mask is designed to provide a comfortable, precise fit. Made with premium quality silicone, this mask can conveniently accommodate a variety of facial shapes.
Cressi Metis Spearfishing Mask Features:
Cressi Metis Spearfishing Mask:

Designed for Advanced Free-Diving and Spear-Fishing

Extremely Hydrodynamic and Compact Shape

Helps Divers Cut-Thru-Water & Aid-Movements in Small Spaces

Internal Volume: Minimal, Doesn't Require Intentional Equalizing

Double Feathered Edge Silicone Skirt

Wide Anatomical Silicone Rubber Split Style Mask Strap

Strap and Skirt Combined for Excellent Seal-On-Face

Easy-to-Reach One-Hand Nose Pocket for Ear Equalization

Dual Push-Button Buckles for Easy Adjustments

Get Closer to Prey w/o Spooking Fish

Protective Mask Box

Available in Multiple Color
SNORKEL Super-Dry Cressi
– Dilengkapi dengan top cover untuk 99% kekeringan apabila terkena hujan, ombak.
– Dilengkapi dengan patended angle agar pembuangan air lebih mudah.
The Cressi Supernova Dry Snorkel has an anti-splash end with a special valve that seals the tube as you dive, almost totally preventing the entrance of water when the snorkel is submerged. The lower end has a corrugated section that has a smooth internal bore which prevents trapping water inside the snorkel tube allowing excess water to quickly drain to the collection reservoir below. The corrugated section also quickly drops-away from the diver's mouth when switching from the snorkel to the Scuba regulator. 
The special water collection r with its large elliptic one-way exhaust valve makes expelling excess water quick and easy. The replaceable angled mouthpiece and corrugated tube section are both made from hypoallergenic silicone adding comfort and function. A quick release snorkel keeper and ergonomic contoured shape make this one great snorkel. Snorkel is available in multiple colors
Cressi Supernova Dry Snorkel Features:
Cressi Supernova Dry Snorkel

Anti-Splash Top

Special Valve Seals Tube when Submerged

Dry Top Design

Corrugated Smooth Bore Lower Tube, Won't Trap Water!

Excess Water Quickly Drain to Collection Reservoir

Easy Clear Purge Valve

Replaceable Angled Mouthpiece

Hypoallergenic Silicone Mouthpiece & Corrugated Tube

Quick Release Snorkel Keeper

Ergonomic Contoured Shape

Available in Multiple Color Choices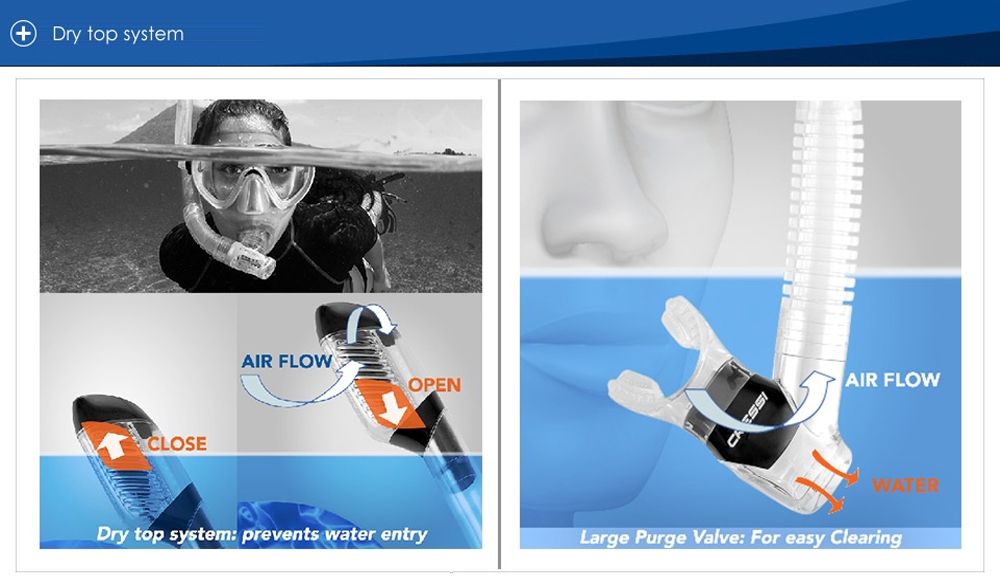 BOOTIES CRESSI LOW 3MM
The Cressi Low Boots Dive Slipper is a 3mm short top boot made from super elastic nylon 2 neoprene for the best comfort with a sole built to provide extra comfort. These ultra-durable boots are built-to-last with a vulcanized rubber toe and heel cap with ribbed rubber sole. The slippers entry edge is rolled and sewn for strength and all seams are sewn for added strength and durability. 3mm Cressi Low Boots Dive Slippers are available in multiple sizes and are black in color.
Cressi 3mm Low Boots Dive Slipper Features:
Cressi 3mm Low Boots Dive Slipper

3mm Short Boot

Super Elastic Nylon 2 Neoprene

Best-Comfort

Sole Built-to-Provide Extra Comfort

Durable Boots: Built-to-Last w/Vulcanized Rubber Toe and Heel Cap

Ribbed Rubber Sole for Great Traction

Slippers Entry-Edge is Rolled and Sewn for Strength

Seams: Sewn for Added Durability

Color: Black
Short Boots – 3 mm
– Super elastic neoprene for best comfort
– Sole built to provide extra comfort
– Ultra durable
Booties Low Cressi dapat digunakan untuk fin open heel. Boot ini malah nyaman karena untuk yang memiliki tulang kaki yang besar, booties tinggi dapat terlalu ketat dan tidak nyaman. Booties Low akan memberikan kenyamanan karena lebih elastis. Pada saat yang bersamaan, fin strap dapat duduk pada karet di belakang booties dengan sempurna. 
Wetsuit kadang membuat bagian batang kaki lebih sempit karena sudah memiliki 3mm booties + wetsuit 3mm. Di booties Cressi Low Boots..tidak ada lagi sempit di bagian tulang kaki karena terlalu tebal. Booties low-profile sehingga berhenti di angkle kaki. 
Available in Multiple Sizes
No. 0 = 36 – 37 
No. 1 = 38 – 39 
No. 2 = 40 – 41 
No. 3 = 42 – 43 
No. 4= 43 – 44
No. 5 = 44 – 45
FIN CRESSI PRO LIGHT
Pro Light is more powerful, and is easy to use than any fin on the market. The unique polypropylene blade material provides a variable flex that adjusts during the kicking cycle. The blade is extremely flexible and has snap requiring less kicking effort. The side stringers that extend all along the blade and two flaps situated along the end of the blade itself make the fin very directional. 
Cressi-sub was the first company to recognize the performance value of the foot pocket. The Pro Light's foot pocket is made of a comfortable elastomer material and is computer designed to give ideal transmission of leg-fin thrust the blade becomes a true extension of your leg. The blade originates from the upper part of the foot pocket, with a 20% increase in useful surface area compared to a traditional fin of the same length. The unique foot pocket design keeps the diver's heel from extending over the end of the foot pocket. This transfers the kicking load to the diver's heel, rather than the middle of the foot and eliminates foot fatigue and cramping. Pro light's foot pocket is extra wide with soft expansion sides for extreme comfort. Fin is equipped with impact and corrosion resistant quick-release buckles with quality rubber straps. 
These high-performance features are packaged in a fin that weighs 35% less than conventional fins. Pro Light out maneuvers split fin technology, is as attractive as it is effective and costs less than most of the diving fins on the market. The Pro Light is ideal for all levels of experience. Fins are available in multiple sizes and colors.
Cressi Pro Light Fins Features:
Cressi Pro Light Fins:

Ultra-Lightweight and Reactive Blade

Strong Polypropylene Blade Material

Soft Comfortable Elastomer Rubber Foot Pocket

Computer Designed Foot Pocket

Blade Originates from Upper Part of Foot Pocket

Foot Pocket/Blade:




20% Increase of Blade Surface Area




35% Less-Weight than Conventional Fins

Out Maneuvers Split Fin Technology

Impact and Corrosion Resistant Quick-Release Buckles

Quality Rubber Straps

Ideal for All Levels of Experience

Available in Multiple Sizes and Colors
Cressi Pro Light Fins Specifications:
Materials
Foot Pocket: Elastomer Rubber, Blade: Techno-Polymer Polypropylene
Blade Type
Non-Vented
Open Heel/Full Foot
Open Heel
| | XS/S | S/M | M/L | L/XL | XXL |
| --- | --- | --- | --- | --- | --- |
| US Men's Shoe Size | 5-7 | 7-9 | 8-10 | 10-13 | 14 |
| US Women's Shoe Size | 6-8 | 8-10 | 10-12 | 12-13 | 14 |
| Euro Shoe Size | 38-40 | 40-42 | 41-43 | 43-46 | 47 |