MASK CRESSI PANORAMIC 4 
The popular four-lens design of the Panoramic Mask gives divers and snorkelers a spacious open feeling and provides excellent peripheral vision. High-quality construction begins with a rugged polycarbonate frame and includes a soft silicone rubber double feathered edged skirt and strap and the four lenses are tempered glass. Specifically crafted for divers who need a wider mask, the Panorama combines excellent field of view in a multi-lens design with reasonable internal volume for better mask clearing and a lower profile in the water.
All lenses are tempered glass for the best clarity and lenses are joined in a special way to minimize the visible seams. An excellent choice for diving and snorkeling, the Panorama provides both improved vision and comfort over previous multi-lens masks. The silicone rubber mask strap is a wide split strap design for even dispersion of pressure on the face for increased fit and comfort and is attached to the mask with easy-adjust ratchet buckles.
Mask has an easy-to-reach one-hand nose pocket for ear equalization which can be utilized even when wearing thick gloves. Mask is available in multiple color choices.
The Cressi Panorama Mask is commonly used for Open Water Diving, Pool, Recreation, Snorkeling and more. The Cressi Panorama Mask is most used by customers who consider themselves to be a Advanced, Casual/ Recreational among others. The Cressi Panorama Mask is popular because customers like the following qualities of the Cressi Panorama Mask: Does Not Fog, Lens Quality, Range of Vision, Snug Fit.
Cressi Pano 4 Mask Features:
Cressi Panorama Mask:

Popular Four-Lens Design

Spacious Open Feeling and Provides Excellent Peripheral Vision

High-Quality Construction

Rugged Polycarbonate Frame

Soft Silicone Rubber Double Feathered Edged Skirt

Wide Silicone Rubber Split Strap Design

Four Lenses are Tempered Glass

Specifically Crafted for Divers Needing a Wider Mask

Excellent Field of View

Reasonable Internal Volume for Better Mask Clearing and Lower Profile in Water

Lenses Joined in Special Way to Minimize the Visible Seams

Excellent Choice for Diving and Snorkeling

Easy-Adjust Ratchet Buckles

Available in Multiple Color Choices

Easy-to-Reach One-Hand Nose Pocket for Ear Equalization
SNORKEL Super-Dry Cressi
– Dilengkapi dengan top cover untuk 99% kekeringan apabila terkena hujan, ombak.
– Dilengkapi dengan patended angle agar pembuangan air lebih mudah.
The Cressi Supernova Dry Snorkel has an anti-splash end with a special valve that seals the tube as you dive, almost totally preventing the entrance of water when the snorkel is submerged. The lower end has a corrugated section that has a smooth internal bore which prevents trapping water inside the snorkel tube allowing excess water to quickly drain to the collection reservoir below. The corrugated section also quickly drops-away from the diver's mouth when switching from the snorkel to the Scuba regulator. 
The special water collection r with its large elliptic one-way exhaust valve makes expelling excess water quick and easy. The replaceable angled mouthpiece and corrugated tube section are both made from hypoallergenic silicone adding comfort and function. A quick release snorkel keeper and ergonomic contoured shape make this one great snorkel. Snorkel is available in multiple colors
Cressi Supernova Dry Snorkel Features:
Cressi Supernova Dry Snorkel

Anti-Splash Top

Special Valve Seals Tube when Submerged

Dry Top Design

Corrugated Smooth Bore Lower Tube, Won't Trap Water!

Excess Water Quickly Drain to Collection Reservoir

Easy Clear Purge Valve

Replaceable Angled Mouthpiece

Hypoallergenic Silicone Mouthpiece & Corrugated Tube

Quick Release Snorkel Keeper

Ergonomic Contoured Shape

Available in Multiple Color Choices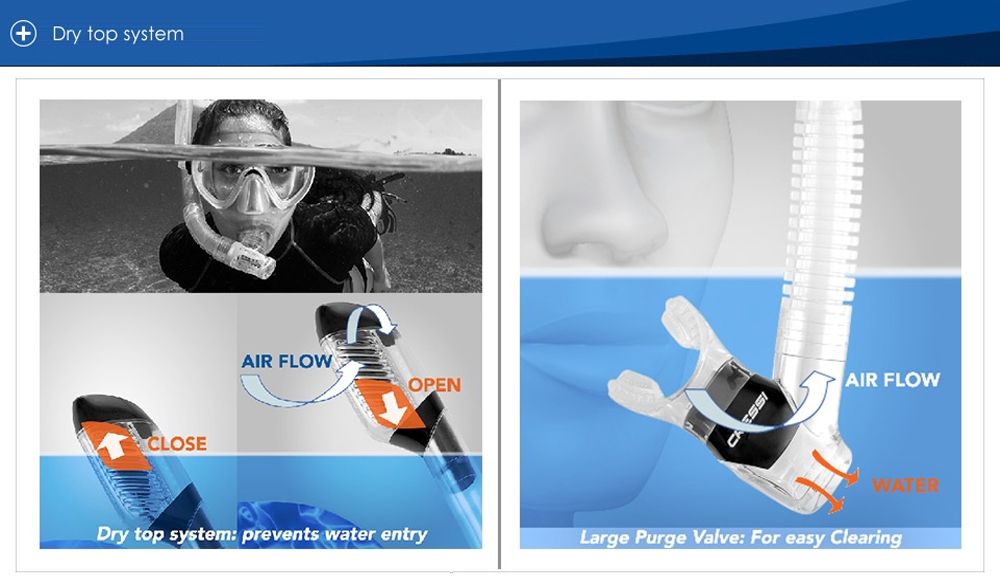 The Cressi Isla 3mm Boots are a durable nylon 2 neoprene dive boot with a built-in fin strap holder, a ribbed and durable rubber sole for a comfortable and sure-foot grip on slippery surfaces. To provide extra comfort and easy donning and doffing the neoprene rubber used is a super elastic neoprene. The 3mm thickness of boot provides toughness while maintaining warmth. Boots are equipped with strong and durable zippers with sealing flap behind zipper to prevent water seepage and a toe and heel cap for added strength in high wear areas. All seams are glued-and-sewn and the boots top edge is elastic taped and sewn. Boots are available in multiple sizes, and are black in color.

Cressi Isla 3mm Boots Features:
Cressi Isla 3mm Boots, Black

Durable Nylon 2 Neoprene Dive Boot

Built-In Fin Strap Holder

Ribbed and Durable Rubber Sole

Comfortable and Sure-Foot Grip on Slippery Surfaces

Super Elastic Neoprene: Extra Comfort, Easy Donning and Doffing

3mm Thickness

Boot Provides Toughness while Maintaining Warmth

Strong and Durable Zipper Closures

Toe and Heel Cap for Added Strength in High Wear Areas

All Seams: Glued-and-Sewn

Top Edge is Elastic Taped and Sewn

Available in Multiple Sizes
MATERIAL NYLON 2 NEOPRENE
THICKNESS 3MM
SEAMS GLUED-AND-SEWN
CLOSURE ZIPPER

FIN CRESSI REACTION EBS
Reaction with Elastic Bungee System (EBS) is the most recent Cressi open heel adjustable strap fin which has been developed after the Rondine. The Reaction is an innovative fin in look and performance. The Reaction is molded using the exclusive and patented Cressi system with 3 materials. The three materials consist of a comfortable thermo-rubber (elastomer) anatomic, computer-designed foot pocket. The foot pocket encompasses the foot assuring transmission of the leg-to-fin thrust without loss of energy, adding efficiency to the fining action.
The second material is the revolutionary new dual density (techno polymer) polypropylene which forms the blade, and in conjunction with the third silicone based material creates a channeling effect. The channeling effect is the characteristic of the fin that enables a high level of energy to be transferred in both up and down strokes of the kick pattern. The blade originates from the upper part of the foot pocket, with a 20% increase in useful surface area compared to a traditional fin of the same length. The blade also has a differentiated thickness and gets thinner towards the edge to guarantee greater and more uniform bending.
The side stringers are made from two different materials that alternate with each other and overlap in different zones to obtain a structure with controlled flexibility in the different areas of the blade. A new heel strap design, exclusive to Cressi the Elastic Bungee System (EBS) makes use of a round bungee cord band that accommodates all foot sizes for a perfect fit. The EBS strap features an anti corrosive rubber coated bungee, and an extra-large heel grab loop. This allows for donning and doffing even with thick diving gloves. The best feature of the Bungee design is that it will always stay conformed to your foot no matter your depth by counteracting the neoprene compression of your boots. The EBS strap is guaranteed to give you unparalleled comfort and forget-about-it-adjusting.
To all these excellent features, Reaction adds a new, longer, more flexible and lighter blade that provides excellent thrust with minimum muscle fatigue and the smallest expenditure of energy. The Reaction Fin Blade measure 23″ to 27.6″ (58.4 cm to 70.1 cm) in length and weigh 26.5 oz. to 40.6 oz. (751.3 g to 1,151 g) depending on size and are available in multiple sizes.
Cressi Reaction Open Heel Fins with Bungee Straps Features:
Cressi Reaction Open Heel Fins:

Non-Vented Fin Design

Revolutionary Blade Three-Material Construction

Foot Pocket: Thermo-Rubber Elastomer

Blade: Techno-Polymer Polypropylene

Channels: Silicone Based Material

Patented Foot Pocket Design Increases Blade Area by 20%

Dual Density Techno Polymer Blade Provides Power

Silicone Based Blade Inserts Provides Channeling

Easy, Nearly Effortless Kick

Snap Blade for High Efficiency

Shock and Abrasion Resistant

Soft and Comfortable Foot Pocket

Combine's Lightness, Thrust, Comfort and Durability

Elastic Bungee System (EBS):




Easy to Use and No Adjustments Needed




Large Grab Tab Loop, Easy Donning and Doffing




Grab Tab Loop; Works Well with Heavy Gloves




Extremely Comfortable, Depth Compensating Design




Forget-About-It-Adjusting




Construction; Rubber Bungee and Plastic Buckles

Blade Dimensions: (L x W) 23″ to 27.6″ (58.4 cm to 70 cm), Size Dependent

Weight: 26.5 oz. to 40.6 oz. (751 g to 1,151 g), Size Dependent

The EBS elastic bungee system is easy to put on and ensure a comfortable fastening for the foot.
Computer-designed foot pocket made with anti-slip material. Open heel foot pocket fins with elastic bungee strap for scuba diving. The Reaction EBS uses the exclusive Cressi (patented) molding technology in three materials, ensuring unmatched performance.
Polypropylene blade really reactive, flexible that start directly from the back of the foot pocket.
The lightweight blade develop a remarkable propulsion with minimal muscular fatigue, enabling to safety face even in a critical underwater situation.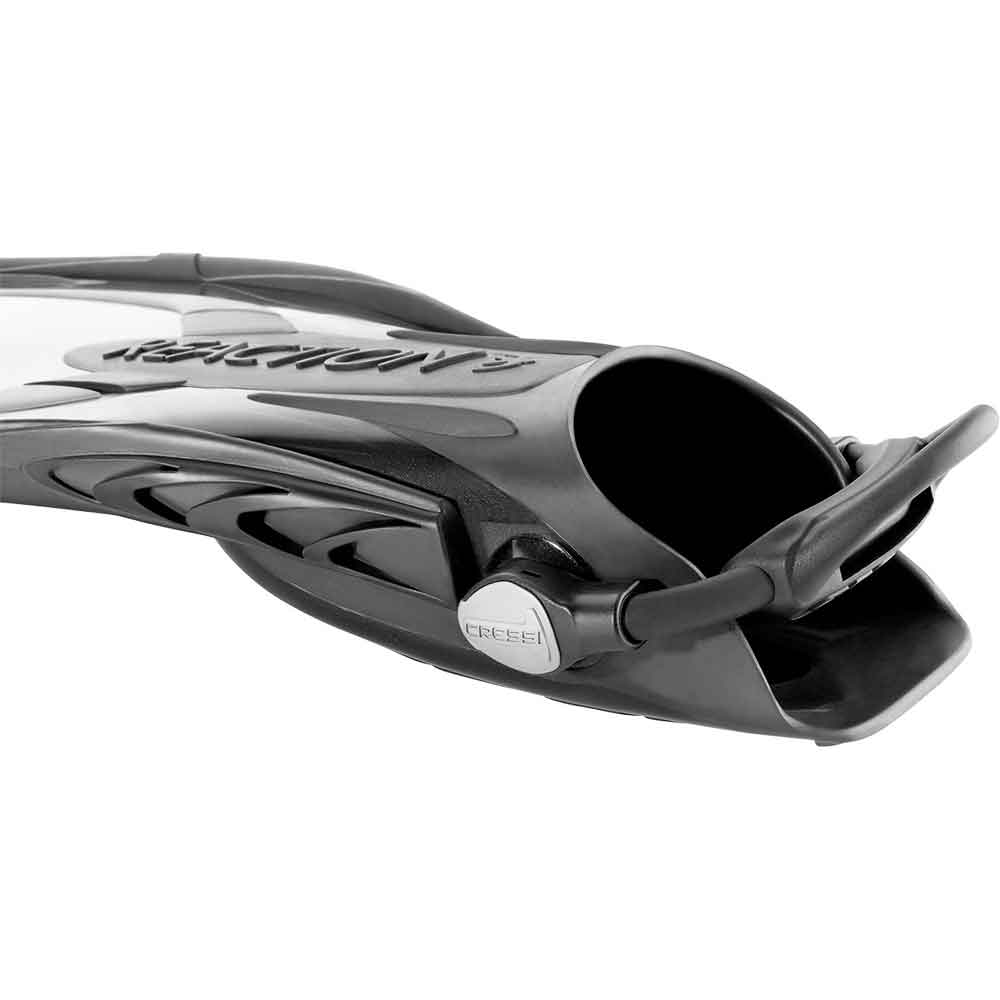 Cressi Reaction Open Heel Fins with Bungee Straps Specifications:
Material
Foot Pocket: Thermo-Rubber Elastomer, Blade: Techno-Polymer Polypropylene, Channels: Silicone Based Material
Blade Type
Non-Vented
Open Heel/Full Foot
Open Heel
| | XS/S | S/M | M/L | L/XL | XXL |
| --- | --- | --- | --- | --- | --- |
| US Men's Shoe Size | 5-7 | 7-9 | 8-10 | 10-13 | 14 |
| US Women's Shoe Size | 6-8 | 8-10 | 10-12 | 12-13 | 14 |
| Euro Shoe Size | 38-40 | 40-42 | 41-43 | 43-46 | 47 |