Face Snorkeling Mask Cressi Duke Dry Full Mask
The Cressi Duke Dry Full-Face Mask is the snorkeling visor that allows you to explore the underwater world from the surface. Duke offers a natural breathing experience due to the absence of any valve (patent pending), and a fog-free vision obtained by the lateral deflector mechanism (patent pending). A lateral air channel system, for inhaling and exhaling, drastically eliminates any breathing effort thanks to a reduced airflow length circulation (patent pending). The face skirt is made of soft hypoallergenic silicone that ensure comfort and a perfect seal. The snorkel top has a floating valve that closes the tube when submerged avoiding entry of water. The two x-cross straps are easy to adjust for a perfect adaption to your head. Frame and visor made of polycarbonate. The Duke is entirely designed and developed in Italy by Cressi.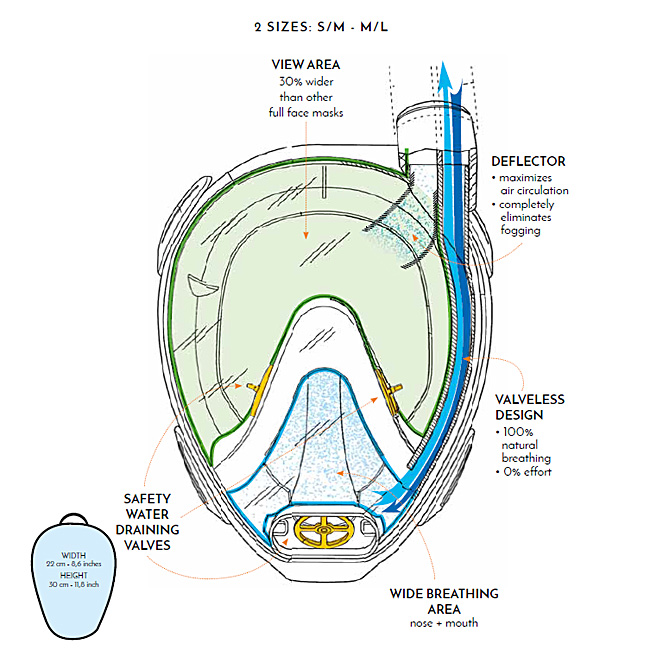 Cressi Duke Dry Full-Face Mask Features
Cressi Duke Dry Full-Face Mask:

Snorkeling Visor Allows You to Explore Underwater World From-the-Surface

Natural Breathing Experience

Fog-Free Vision Obtained by Lateral Deflector Mechanism (patent pending)

Inhaling & Exhaling, Drastically Eliminates Breathing Effort

Reduced Airflow Length Circulation (patent pending)
Dry Snorkel Top Design: Floating Valve Closes Tube When Submerged Avoiding Entry of Water

Frame & Lens Made Of Polycarbonate 

Entirely Designed & Developed in Italy by Cressi 
Two X-Cross Head Straps: Easy to Adjust for Perfect Adaption to Head

Ensure Comfort & Perfect Seal

Face Skirt Made of Soft Hypoallergenic Silicone
Rash Guard Cressi CoolSkin Long Sleeve BLUE
This RashGuard can be used for UNISEX
We have updated our 2017 version of the vintage blue rashguard long sleeve. Our rashguards are built with a material that provides UV protection of 50+. The seams, sewn with flatlock stitching, won't leave marks on the skin. Perfect to wear underneath your suit and ideal for all kinds of watersports.
NEW! CoolSkin² layer — Dont worry about getting a heat rash during your tropical sunbathing. Our new CoolSkin² will get you free rash and keep it cool like you are just out of water.
For use as a thermal layer and/or UV and rash protection 50+ SPF- Protects you from sun rays
Smooth on your skin. Doesnt leave any marking after prolong usage.
Lightweight and durable
Can be worn by itself in warm water or under a wetsuit for added warmth
Water repellant fabric
Suitable for snorkling, diving and on-surface watersport (eg: surfing, sailing, riding jetski)
Rash guards can also be used for swimming pool session, and obviously undergarment (after wetsuit).
Color Rashguard: Blue-White
Available in Multiple Sizes
Size XXS/0
Size XS/1
Size S/2
Size M/3
Size L/4 
Size XL/5
ShortPants Cressi Duratec 1.5mm
A unique concept to be worn over all types of suits. Carefully made in 1.5mm Duratec® material with drawstring waist and reinforced seat for durable wear.
Cordura lanyard for super durability with YKK lock-zip to ensure tightness overtime
Double-lock stitch for superior strength throughout your dives
These 1.5mm neoprene Duratec® pants can be worn alone, under a suit, or paired with Hybrid-T for a great warm water combo
Superior heat resistant for watersports as well.
Quick-Dry Duratec material
Celana pendek neoprene Cressi yang terbuat dari 1.5mm Duratec Neoprene. Tipe neoprene ini lebih kuat dari neoprene biasa. Selain itu, sifatnya yang lebih tipis namun memiliki kekuatan dalam pemakaian yang lebih baik dari neorepen biasa.
Semua jahitan sudah menggunakan double-stitch lock agar jahitan tidak kalah karena kekuatan neoprene
Celana sangat lentur dan nyaman. Celana yang terlalu tebal 3mm kadan membuat susah gerakan dalam air. Shortpant Cressi sangat nyaman digunakan di dalam dan diatas air.
Celana akan sangat mudah kering karena bahan Quick-Dry Duratec
Celana juga dengan mudah dilipat di dalam koper atau drybag anda mengikuti kain biasa karena bahan sangat lentur namun hangat.
Note:
No. 5 –Ukuran pinggang hingga 38inch *97cm*
No. 6 –Ukuran pinggang hingga 40inch *102cm*
Available in Multiple Sizes
Size XS/1
Size S/2 
Size M/3 
Size L/4
Size XL/5
Size XXL/6