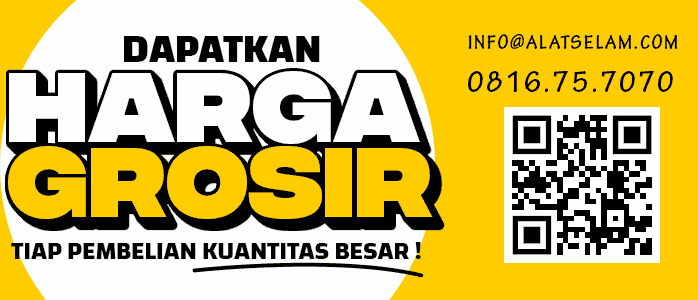 ULTRASTRETCH™ Neoprene
Jangan tertipu dengan kata2 1mm. Wetsuit dengan ketebalan 1mm sudah lebih dari cukup untuk penyelam <35 tahun yang tidak membutuhkan wetsuit yang tebal dan ribet ketika menyelam di perairan Indonesia. Wetsuit One dapat digunakan sendiri sebagai wetsuit utama. Atau, dapat digunakan sebagai 'dalaman' sehingga lebih hangat.
Keunggulan wetsuit dengan tebal 1mm:
– Kadang anda tidak butuh ketebalan hingga 3mm. Wetsuit 3mm akan menjadi 'ribet' apabila anda diatas air dengan badang yang kering
– Dengan wetsuit 1mm, wetsuit dapat lebih awet karena anda tidak memaksakan pergerakan badan
– Gerak badan lebih flexible baik diluar maupun di dalam air
– Dapat digunakan sebagai pelapis dalam dari wetsuit luar yang lebih tebal tanpa harus menambah ukuran wetsuit luar. Contoh: Apabila anda sudah ada wetsuit 3mm ukuran M, anda hanya perlu membeli Wetsuit One dengan ukuran yang sama tanpa harus menambah ukuran wetsuit yang sudah ada.
The Cressi 1mm Shorty is Excellent for Protection Against-Gear-Abrasion and UV Exposure. When you need a little More-Warmth, the 1mm Shorty delivers with Excellent Core-Warming Capability and an Anatomical Fit that's Easy-to-Swim-In. Shorty Suit is made from very thin 1mm, Nylon II Neoprene. Suit has a Heavy-Duty YKK Back Zipper. To add to the Suits Warmth Skin-In Collar Seal with an Adjustable hook and loop Closure Decreases-Water-Exchange. The Suits Seams are Sewn-for-Strength-and-Durability.
The Cressi Shorty One is the Perfect-Solution for Swimming, Snorkeling, the Pool and all Water Sports where Light-Protection from the Cold, Wind, Sun or Water Spray is required. It's also for those who want to maintain the Freedom-of-Movement that a thin suit offers, or for layering under a thicker suit for added thermal protection. Suit is available in Multiple Sizes and is covered by a 12 month limited warranty.
The Cressi 1mm Shorty Men's is commonly used for Diving and more. The Cressi 1mm Shorty Men's is most used by customers who consider themselves to be a Casual user among others. The Cressi 1mm Shorty Men's is popular because customers like the following qualities of the Cressi 1mm Shorty Men's: Breathable, Comfortable, Dries Quickly, Easy To Put On And Off.
Cressi 1mm Shorty  Features:
Ideal for Very Warm, Tropical Waters

All Water Sports Suit Protection

Excellent for Protection Against-Gear-Abrasion and UV Exposure

Excellent Core-Warming Capability

Anatomical Fit that's Easy-to-Swim-In

Great for Layering Under Thicker Suit

1mm, Nylon II Neoprene

Heavy-Duty YKK Back Zipper

Skin-In Collar Seal with Adjustable hook and loop Closure Decreases-Water-Exchange

Seams: Sewn-for-Strength-and-Durability

All Water Sports: Light-Protection from Cold, Wind, Sun or Water Spray

Freedom-of-Movement

Available in Multiple Sizes

1 Year Limited Warranty
Color BLACK Available in Multiple Sizes
Size XS/1 
Size S/2