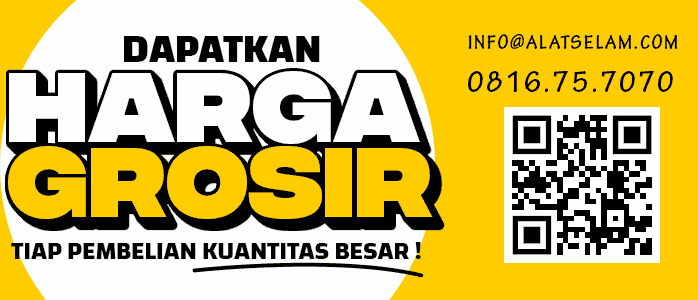 Kelebihan 2016 Limited Edition:
1. Bahan Ultraspan. Bahan ini lebih lentur dibandingkan wetsuit kami yang lain.
2. Model ini digunakan oleh Umberto Pelizari dalam misi lomba2 free-diving.
3. Jahitan 'Stitch-lock'. Apa tuh? Jahitan tidak bisa terlepas karena dijahit menyilang sehingga apabila sampaipun robek, maka semua bahan akan ikut robek..(lebih sulit merobek seluruh bahan daripada hanya jahitan).
4. Semua wetsuit kami dibuat khusus dengan ZIPPER (resleting) pada tangan dan kaki. Ini memudahkan anda untuk menggunakan dan melepas wetsuit. Fitur ini hanya ada di market Indonesia.
The entire suit is glued and sewn with non-through stitching to guarantee minimum water infiltration and decidedly superior thermal qualities.
The seals at the wrists and ankles are made with a new Aquastop cuff that foresees an insert in single-lined neoprene with very efficient anti-filtration action.
Rear YKK zip fastening with Aquastop zip lining.
Adjustable fastening at the neck in single-lined neoprene.
Pre-shaped legs to guarantee a much easier kick.
Who it is for: Summer Limited Edition 2016 is the ideal suit for tropical and mild waters, where it is an excellent choice for both free and scuba diving.
Wetsuit Cressi Summer PINK Features:
All in one wetsuit for temperate waters

Made of 3mm thick neoprene

Seams glued and stitched for insulation

Aquastop under zipper and water tight neck seal

Aquastop seal under zipper to prevent water infiltration

One-piece suit with long arms and legs

3.0mm Ultraspan neoprene

Fully glued and sewn with non-through stitching

Pre-shaped legs

Rear YKK zip fastening with zip lining.

Aquastop cuff in smooth neoprene at the wrists and ankles.

Equipped with YKK Nylon zippers on both wrist and ankle. Exclusive to Indonesia market!

Single-lined neoprene seal at the neck.
Available in Multiple Sizes
Size XXS/0
Size XS/1
Size S/2