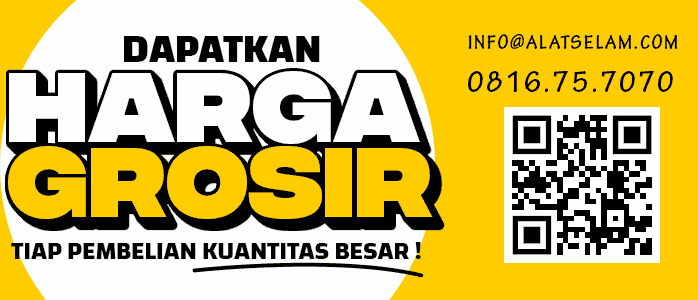 ALL TIME BEST SELLING fin! Lebih dari 9000 pasang fin terjual selama kurun waktu 2002-2011 dengan defect rate dibawah 1%!!!!
– Fin sangat kuat dan reliable. Biasa digunakan untuk dive rental dan dive resort
– Apabila untuk penggunakan pribadi, kami sarankan membeli fin dengan kelas diatas fin ini untuk alasan kenyamanan
– Fin powerful dapat digunakan snorkling maupun scuba
– Pocket kaki yang sangat kuat (awet dan tahan banting)
– Fin blade sangat kuat (tidak mudah patah atau retak)
AMSCUD SPORT Full Foot Fin is a soft and comfortable full foot fin with a semi-rigid blade for excellent propulsion. Constructed with the finest THERMOPLASTIC for long life and durability, yet boasting soft comfortable foot pockets, which can be worn for long periods of time without chaffing the foot. If the fin falls off no problem, it floats in salt water for easy recovery.
Fins have a vivid, permanent sizing marked on top of foot pocket for easy identification, is black in color and is available in multiple sizes. Fins have an overall dimension of (L x W) of 14″ x 5.5″ (35.6 x 14 cm) in smaller sizes and 20″ x 7.75″ (50.8 x 19.7 cm) in larger sizes. The Deep See Sea Star Adult Full Foot are a non-vented fin design.
Pedoman ukuran fin vs ukuran telapak kaki:
Ukuran 34-36 — Panjang telapak kaki 21cm
Ukuran 36-38 — panjang telapak kaki 22cm
Ukuran 38-40 — Panjang telapak kaki 22,5-23cm
Ukuran 40-42 — panjang telapak kaki 24-24,5cm
Ukuran 42-44 — Panjang telapak kaki 25,5-26cm
Ukuran 44-46 — Panjang telapak kaki 27,5-28cm
*Ukuran tergantung profile kaki user, kami mohon pada saat pemesanan disertakan tinggi punggung telapak kaki anda.*
AMSCUD SPORT Full Foot Fins Features:
AMSCUD SPORT Full Foot Fins:

Soft and Comfortable Full Foot Fin

Semi-Rigid Blade for Excellent Propulsion

Finest THERMOPLASTIC for Long-Life and Durability

Soft Comfortable Foot Pockets

Can be Worn for Long Periods of Time w/o Chaffing Foot

Floats-in-Salt Water for Easy Recover

Vivid, Permanent Sizing Marked on Top-of-Foot Pocket for Easy Identification