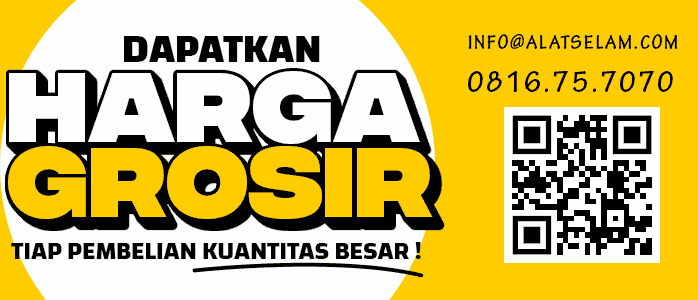 Underwater Reel equipped with auto-stop to prevent a forward reeling action.
– Desain yang sederhana sehingga kekuatan secara keseluruhan lebih durable dibandingkan yang terdapat reel.
– Bearing plastik (lebih kuat terhadap korosi) ringan dan kuat
– Turtle-Housing™ melindungi benang kusut di dalam pocket anda atau terpotong ketika disimpan dalam pocket.
– Reel Handle
– Brass snap hook
– Accessories hanger
In the early days of cave diving, reels were not available to buy off the shelf. Divers used anything they could, including empty electrical wire spools. When exploring, divers would pay out the line and if they didn't empty the spool it would be left in the cave for the next dive. The Finger Spool is most often used as a gap reel or for short distance exploration. Small and low-profile, a spool fits nicely out of the way in a pocket or clipped-off to a D-ring. The holes in the side allow for clipping in a double-ended snap anywhere along the perimeter of the spool to keep the line tight when not in use.
Innovative as the name implies is what Innovative Scuba Concepts has created with these finger spools. Most all finger spools are easy to pay-out line by placing your thumb and index finger in the spools center hole. By holding them this way you can allow the line two rotate the spool between your fingers as the pals-out. The problem is rewinding the line back onto the spool. Innovative Scuba's popular finger spools are now available with hinged hand winders built in! Simply lift the hinged tabs and begin winding! The finger spools are available with 150′, 100′, or 65′ (45.7m, 30.5m or 20m) of nylon line. The spools are made from impact resistant plastic and come equipped with a double-ended spring-loaded slide brass snap clip.
AMSCUD Underwater reel finger spool
knob w/snap 999969 Features
AMSCUD Scuba Finger Spool with Hand Winder:

Used-As-Gap Reel-or-For-Short-Distance Exploration

Small and Low-Profile

Fit in BCD Pocket or Clipped-Off to D-Ring

Holes In Side: Clipping in Double-Ended Snap to Keep Line-Tight

Durable Corrosion Resistant Brass Double-Ender Bolt Snap

Hinged Hand Winders Built In!

Simply Lift Hinged Tabs & Begin Winding!

Available w/150′, 100′, or 65′ (45.7m, 30.5m or 20m) Nylon Line

Spools Made from Impact Resistant Plastic

Double-Ended Snap Clips: Spring-Loaded Slide Design

Color: Black