The Patrol BC is an impressively light weight, rear inflation BC that is anatomically designed for maximum comfort and durability. The special air cell compression strap guarantees extra quick deflation and volume control. The ultralight rigid back plate with its integrated carrying handle ensures optimal stability. The Patrol also features Cressi's Flat-Lock-Aid integrated weight system that makes it easy to release the pockets. There are 3 over pressure relief valves/dump valves: one on the upper part of the inflator hose, one valve on the right-hand side of the shoulder and a third on the lower right-hand side of the air cell. The inflator dump/valve is cable activated by pulling on the power inflator mechanism and the shoulder and lower valves have a pull cord.
Features include Flat-Lock-Aid Integrated Weight Pockets with 20 lbs. (9 kg) weight releasable capacity, optional tank band Trim Weight Pockets (see SKU: CSBTWP) a light ridged back plate with soft padded back, and 1-roll-up cargo pocket. The Patrol also features plastic D-rings to help reduce weight and the shoulder and waist harness are fully adjustable to one full size up or down from the stated size. Rear inflation design with a durable 420-Denier nylon air cell with bungee cords to provide a low profile and rapid deflation of air cell. The BCD harness system uses traditional squeeze-style" side-release buckles and adjustable straps on the shoulders, chest and waist for precise adjustment and fit. BCD comes equipped with Cressi's streamline Commando Power Inflator with 3/8″ threaded quick-disconnect hose. The inflator mechanism is environmentally sealed for greater reliability and less maintenance. The Cressi Ace BCD provides a lift capacity from 29.2 lbs. to 50.6 lbs. (13.3 kg to 22.9 kg), weighs from 6.7 lbs. to 7.5 lbs. (3 kg to 3.4 kg) depending on size and comes with an owner's manual.
Cressi Patrol BCD Features:
Anatomically Designed for Maximum Comfort and Durability 
Harness System: Traditional "Squeeze-Style" Side-Release Buckles
The harness, with pattern of the axillary shoulder pads, is completely independent of the inflatable area (100% dorsal), this combination provides great comfort and freedom of movement.
Adjustable Straps on Shoulders, Chest and Waist for Precise-Adjustment-and-Fit
Axillary straps with 40mm buckles.
3/8″ Threaded Quick-Disconnect Hose
Cressi's Streamline Commando Power Inflator with Cable Activated Pull Dump Valve
Bungee Cords: Provide Low-Profile and Rapid Deflation of Air Cell
3-Exhaust Valves for Easier Buoyancy Adjustments
New low profile upper vacuum valve with non-return valve that prevents the accidental entrance of water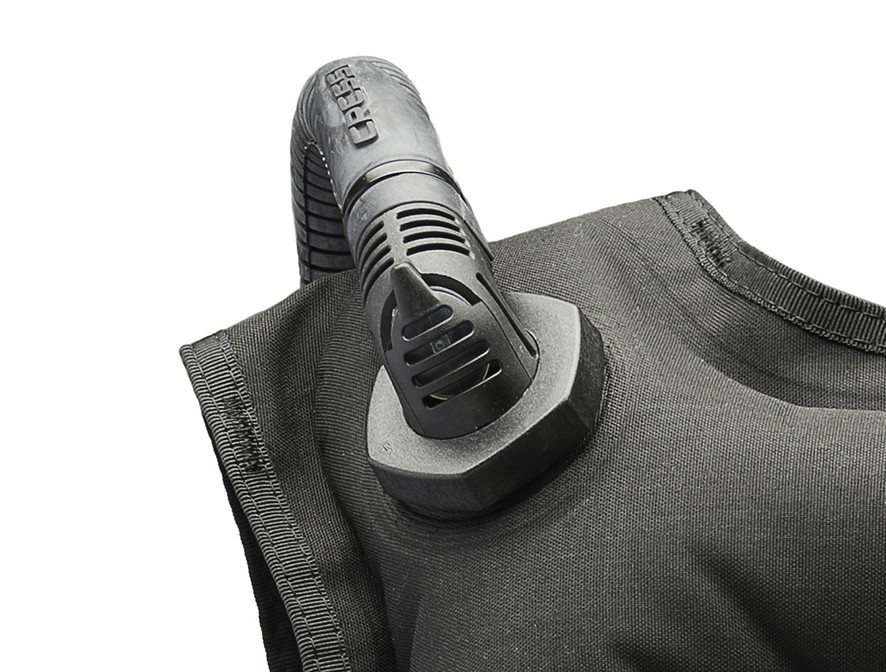 New anchoring flap for the inflator hose in thermoplastic rubber with embossed logo.
Direct System Inflator: Double metal filter in the air entrance under the stem and cylindrical shape around the valve. Very strong body and attractive design. Inflation rate recalibrated, 50% higher (traditional bcd of size M in 4 seconds at 1 atm). Anti-sand design with minimized mouth inflator nozzle. Push button with wide clearances with respect to its seat to avoid the blocking action of the sand grains. Vacuum button with sealing using a silicone washer. Push button integrated in profile to avoid unwanted inflation when pulling the hose to empty. New very resistant hose of ​​very progressive curvature. Guide clamp-integrated hose.
Three vacuum overpressure valves.
High Lift Capacity Rear Inflation: Means Extra Freedom of Movement/Buoyancy
Anatomically Designed for Maximum Comfort and Durability
Rear Inflation Design with Durable 420-Denier Nylon Air Cell
Impressively Light Weight, High Lift Capacity, Rear Inflation BC
Retaining elastics of the dorsal air chamber. This jacket combines a lightweight and flexible fabric with a high lifting capacity. The elastics keep the bladder collected and avoid air displacement during the dive that would cause instability.
Flat-Lock-Aid Integrated Weight Pockets
20 lbs. (9 kg) Weight Releasable Capacity
Optional Tank Band Trim Weight Pockets (see SKU: CSBTWP)
Integrated weight system L.A.S.: horizontal insertion/releasing system of the weight pockets located in the front part of the jacket. Following the Cressi idea that the management of the ballast should be able to do it in an automatic and intuitive way, even wearing the bcd and in bad conditions (in flotation, with rough seas, etc.), the ease of insertion of the pockets it's been studied significantly. These fit perfectly in their seats and also a "D" ring located in the mouth of the access facilitates fabric tension and the direct entry of the bag.
1-Roll-Up Cargo Pocket
Multiple Plastic D-Rings for Accessory Attachment
Roll-up pocket and have a many D-Rings.
Lift Capacities: 


X-SMALL & SMALL : 29.2 lbs. (13.3 kg) 




MEDIUM : 42.7 lbs. (19.4 kg) 




LARGE & X-LARGE : 50.6 lbs. (22.9 kg)

Weight: 


X-SMALL & SMALL : 5.7 lbs. (2.6 kg) 




MEDIUM : 6 lbs. (2.75 kg) 




LARGE & X-LARGE :  6.4 lbs. (2.9 kg)
SIZE CHART BCD :
| | XXS | XS | S | M | L | XL |
| --- | --- | --- | --- | --- | --- | --- |
| Chest (in) | 28-33″ | 32-35″ | 35-39″ | 39-43″ | 41-45″ | 45-49″ |
| Waist (in) | 28-32″ | 30-35″ | 32-37″ | 37-41″ | 39-43″ | 43-47″ |
| Weight (lbs) | 106-132 | 121-143 | 139-172 | 165-187 | 176-220 | 243-265 |
Cressi Patrol BCD Specifications:
BC Body
Back Inflator
Bouyancy Bag 
XS & SM; 29.2 lbs. (13.3 kg), MD; 42.7 lbs. (19.4 kg), LG & XL; 50.6 lbs. (22.9 kg)
Valves
3-Overpressure Relief/Dump Valves
Pockets
1-Roll Down Cargo
Shoulder Straps 
Torso Adjustable w/"Squeeze-Style Side-Release Buckles
Stainless Steel Rings
No, Multiple Plastic
Waist Strap
Yes, Adjustable w/"Squeeze-Style Side-Release Buckle
Chest Buckle
Yes, Adjustable w/"Squeeze-Style Side-Release Buckle
Oral Inflator
Cressi Commando Power Inflator
Materials
Internally Urethane Laminated 420-Denier Nylon
Weight Integrated
Yes
Weight Capacity
Releasable: 20 lbs. (9 kg), Non-Releasable (Optional): 10 lbs. (4.5 kg), see SKU: CSBTWP
Weight
XS& S : 5.7 lbs. (2.6 kg), M : 6 lbs. (2.75 kg), L & XL : 6.4 lbs. (2.9 kg)