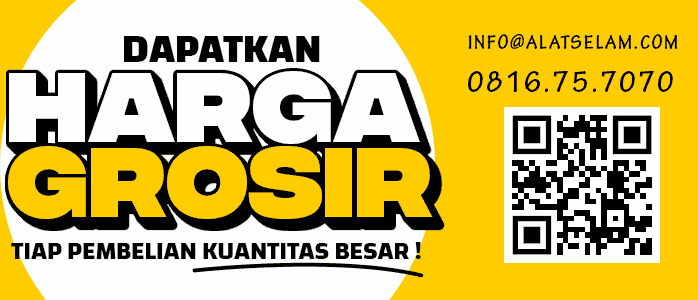 Mask Cressi Focus
If you are looking for a mask that has been in a product line for years and has proven itself to be a universal and quality mask then look no further. The Cressi Focus is the Traditional Battle Horse of the Cressi range and one of the most popular masks in the world. Lightweight-and-Compact, it has a Soft 100% Hypoallergenic Liquid Silicone Skirt, complete with Double Feathered Edge Seal that provides an Excellent Fit and High Level of Comfort even with prolonged use. A Low Volume Mask with Minimum Eye-Lens Distance ensures Excellent Field of View in all directions. 
A Two Tempered Glass Lens Mask that is also available in an optical version (see accessories above or SKU: CSBMLF15). Mask has Swivel easy Adjust Strap Buckles. The Silicone Mask Strap is a Wide Split Strap Design for even dispersion for increased Fit and Comfort. The Focus Mask has an Easy-to-Reach One-Hand Nose Pocket for Ear Equalization which can be utilized even when wearing thick gloves. To protect your mask when not in use the Focus comes with a hard-plastic protective mask box. Mask is available multiple colors. 
Cressi Focus Mask Features:
Cressi Focus Mask:

Battle Horse of Cressi Mask Line

100% Hypoallergenic Liquid Silicone Skirt

Lightweight and Compact Design

Double Feathered Edged Skirt for Comfort & Fit

Wide Field of View

Tempered Glass Lenses

Swivel Easy Adjust Buckles

Wide Silicone Split Mask Strap

Low Internal Volume

Optical Lenses Available (see accessories above or SKU: CSBMLF15)

Protective Hard Mask Box for Storage

Available in Multiple Colors

Cressi Focus Mask Spectifications:
Window Style
2 Front
Materials
Skirt & Strap: Hypoallergenic Silicone Rubber
Tempered Glass
Yes
Volume
Low
Mask Box
Yes
Weight [with packaging]
1.25 lb
Optical Lens / Lensa Minus Mask Cressi Focus 
Tersedia dalam ukuran MINUS 2.00 hingga MINUS 8.00. Note: Cara pemilihan lensa minus: Selalu kurangi angka minus dari pemeriksaan dokter anda. Contoh: Apabila anda minus 3.00, maka gunakan lensa minus 2.00.
Note:
1. Lensa kiri dan kanan simetris. Jadi tidak perlu dipilih kiri/kanan.
2. Pemasangan bisa dilakukan pada kami apabila ada request dari anda. Ketika checkout, bubuhkan note untuk minta dipasangkan. Juga berikan petunjuk ukuran negatif pada mata kiri dan kanan anda
3. Lensa ini HANYA bisa digunakan pada masker Cressi FOCUS
Tired of not being able to see well underwater? Can't read your computer or gauges? Maybe you not sure what F-Stop you are setting your camera on? If these are problems for you when diving you need to get a set of Diopter lenses for your dive mask. See things clear underwater with this Cressi Negative Diopter for your Cressi Focus Mask. Easy to install and WOW! You can now see everything better than before. Lenses are made of Tempered Glass and are available from -1.0 to -8.0 in 0.5 Diopter increments for left or right side lens..
The Cressi Corrective Lens for Focus Mask is commonly used for Open Water Diving, Recreation, Snorkeling and more. One reason why the Cressi Corrective Lens for Focus Mask is popular is because of its Lens Quality.
Technical Specification:
Easy to Install

Range: -1.0 to -8.0-Diopter

Increments: 0.5

Right and Left Side Lenses

Increase Your Vision
Tersedia Dalam Ukuran
-2.0
-2.5
-3.0
-4.0
-5.0
-6.0
-7.0
-8.0
P.S. Karena cara pembukaan masker yang mengharuskan untuk mencungkil masker, ada kemungkinan mask terdapat bekas cungkilan. Apabila ini terjadi, tidak akan mempengaruhi performance atau kemampuan mask sedikitpun. Ketika anda meminta kami memasangkan mask, term ini dianggap sudah dibaca dan disetujui.
SNORKEL Super-Dry Cressi
– Dilengkapi dengan top cover untuk 99% kekeringan apabila terkena hujan, ombak.
– Dilengkapi dengan patended angle agar pembuangan air lebih mudah.
The Cressi Supernova Dry Snorkel has an anti-splash end with a special valve that seals the tube as you dive, almost totally preventing the entrance of water when the snorkel is submerged. The lower end has a corrugated section that has a smooth internal bore which prevents trapping water inside the snorkel tube allowing excess water to quickly drain to the collection reservoir below. The corrugated section also quickly drops-away from the diver's mouth when switching from the snorkel to the Scuba regulator. 
The special water collection r with its large elliptic one-way exhaust valve makes expelling excess water quick and easy. The replaceable angled mouthpiece and corrugated tube section are both made from hypoallergenic silicone adding comfort and function. A quick release snorkel keeper and ergonomic contoured shape make this one great snorkel. Snorkel is available in multiple colors
Cressi Supernova Dry Snorkel Features:
Cressi Supernova Dry Snorkel

Anti-Splash Top

Special Valve Seals Tube when Submerged

Dry Top Design

Corrugated Smooth Bore Lower Tube, Won't Trap Water!

Excess Water Quickly Drain to Collection Reservoir

Easy Clear Purge Valve

Replaceable Angled Mouthpiece

Hypoallergenic Silicone Mouthpiece & Corrugated Tube

Quick Release Snorkel Keeper

Ergonomic Contoured Shape

Available in Multiple Color Choices