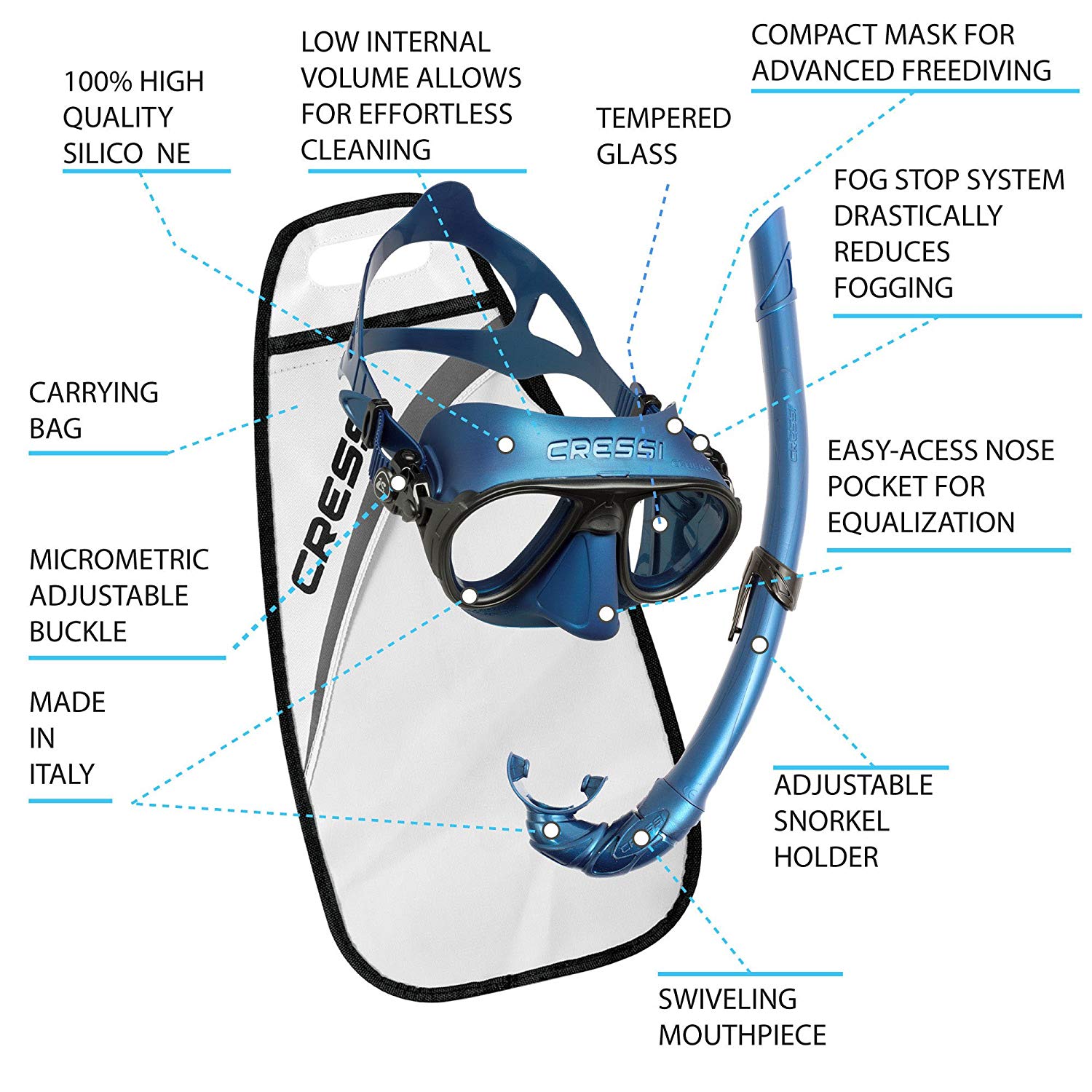 MASK CRESSI CALIBRO

This mask has a tapered structure deriving directly from the highly popular Nano-mask patent. The dual integrated frame technology system allows you to join the silicone skirt to the lens frame without major interruptions of the curvature continuity. The result is a mask with an extremely hydrodynamic shape and, visibility being equal, a significantly smaller size. Mask features inclined and inverted tear-drop lenses for improve downward visibility, a Cressi's patented design (US 6272693). The field of view obtained is particularly wide, laterally and in the lower zone. The skirt, in the front part, has a structural silicone insert which increases the sealing ability of the mask and creates an exceptionally pleasant chromatic play. Easy-to-use buckles for quickly strap length adjustment.
Mask is a low volume tempered glass 2-window mask design with a double feathered edge silicone skirt. The wide split strap is equipped with easy-to-adjust buckles. The skirt and split strap combined for a perfect fit on the face. The mask lenses are made from tempered glass. Mask has an easy-to-reach nose pocket for ear equalization. The Calibro mask is available in multiple colors, with clear or mirrored lenses, is made in Italy and comes with a protective mask box.
Cressi Calibro Mask Black Silicone Features:
Cressi Calibro Mask Black Silicone:

Tapered Structure Deriving Directly from Highly Popular Nano-Mask Patent

Dual Integrated Frame Technology System

Joins Silicone Skirt to Lens Frame w/o Major Interruptions of Curvature Continuity

Extremely Hydrodynamic Shape & Visibility Equal to Significantly Smaller Masks

Inclined & Inverted Tear-Drop Lenses for Improve Downward Visibility

Field of View: Wide, Laterally and In-Lower-Zone

Skirt: Front Structural Silicone Insert Increases Sealing Ability

Exceptionally Pleasant Chromatic Play

Easy-to-Use Buckles for Quick Strap Length Adjustment

Low Volume 2-Window Mask Design

Lenses: Tempered Glass

Double Feathered Edge Skirt for Great Seal on Face

Wide Silicone Rubber Split Strap Design for a Better Fit and Added Comfort

Easy-to-Reach One-Hand Nose Pocket for Ear Equalization

Available in Multiple Colors and w/Clear or Mirrored Lenses
Cressi Calibro Mask Silicone Specifications:
Window Style
2-Front
Materials
Silicone
Tempered Glass
Yes
Volume
Low
Weight [with packaging]
0.6 lb
SNORKEL CRESSI CORSICA 
The Corsica is specially designed for comfort. Its mouthpiece is made of hypoallergenic silicone with an anatomical shape that minimizes any feeling of discomfort, even after prolonged use. The snorkel tube is soft and bendable to help maintain proper positioning. Its wide diameter design supports unobstructed ease of breathing. This snorkel tube features a curve that ensures convenient placement and allows for easy clearing.
100% made in Italy

Hypoallergenic silicone mouthpiece

J-Tube design with large diameter snorkel tube

Adjustable mouthpiece

Flexible tube for easy storage and comfortable fit

Benefits of a Flexible Tube
This flexible snorkel tube allows for proper and comfortable positioning. With the Corsica, you have the freedom to rotate the silicone mouthpiece to different angles to better fit your face. The bendable capabilities of the tube make it easy for you to adjust in order to best meet your needs. The tube's material is especially flexible polyurethane and it has elastic memory after being subjected to flexion, folded or even knotted over itself for days. The tube's walls section has been studied to maintain the needed rigidity on the mask strap's pressure area to avoid damaging the air flow on this area.
Mouthpiece: Silicone vs. Plastic
Silicone mouthpieces provide a softer, flexible fit as opposed to PVC mouthpieces, which are more stiff. Choosing a snorkel with a silicone mouthpiece ensures comfort, especially with prolonged use.
J-Tube Design is Simple and Reliable
With an ergonomic design, this snorkel's J-tube shape is efficient and easy to use. The flexible tube along with its shape contours to the face while allowing for adjustments
Really comfortable nozzle, with minimized thickness on the gums area to keep a great comfort even with long usage. Rounded pins with thin basis. Assembly nozzle-tube very reliable.