.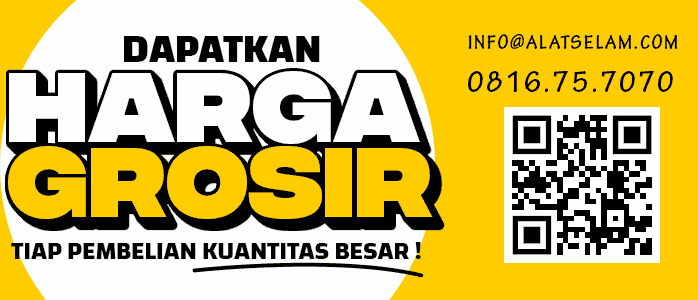 – PENGIRIMAN TIDAK DAPAT MENUNGGAKAN JNE, SICEPAT, J&T, TIKI.
– PENGIRIMAN VIA UDARA/DARAT PAKAI EKSPEDISI LAIN DAN PENGIRIMAN DARAT/UDARA KELUAR KOTA/PULAU HANYA BISA TABUNG "KOSONG" .
– PENGIRIMAN JABODETABEK BISA MENGGUNAKAN GO-SEND/GRAB-EXPRESS 
UNTUK LEBIH LENGKAP, ANDA DAPAT HUBUNGI CS KAMI! 
Tabung yang populer di kalangan masyarakat asia karena kekuatan alluminium di negara tropis seperti Indonesia. Kekuatan yang terbukti lebih dari 10 tahun di pasaran.
Tabung kami dilengkapi dengan Thermo Valve (Made in Japan). Anda memiliki opsi untuk memilih kepala tabung YOKE (INT) atau DIN (Eropa).
Features:
Durable, Long-lasting, Safe Scuba cylinders

Our cylinder is made of Proprietary 6061 alloy, which is a balanced aluminum-magnesium-silicon blend.

All Cylinders are cycle-tested over 100,000 times at service pressure to ensure the best endurance and reliability throughout the usage of the cylinder.

Testing pressure up to 2.5 times service or working pressure.

Made in USA, manufactured to US DOT standard (Department of Transport)

Corrosion-resistant interior and exterior with Thick, damage-resistant walls.

Working pressure 3300psi while most existing cylinders has 3000psi working pressure*. That's 10% higher then other cylinders.

Each cylinder comes with certificate of material and DOT requirement standard.

Choice of Standard and Neutral-Balance cylinder.
Nitrox ready** : Semua tabung kami siap untuk menggunakan Nitrox hingga 40%**.
| | |
| --- | --- |
| Service Pressure  |  : 3000 psi / 207 BAR |
| Air Capacity |  : 63.0 ft³ / 1784.2 Liter |
| Diameter |  : 7.25″ (inch) / 18.41 cm |
| Lenght w/o Valve |  : 21.7″ (inch) / 55 cm |
| Empty Weight |  : 26.7 lbs / 12.1 kg |
| Water Volume |  : 549 in³ / 9 Liter |
| Weight w/o Valve |  : 19.9 lbs / 9.03 kg |
| Buoyancy at Sea (Full) |  : -2.2 lbs / -0.98 kg |
| Buoyancy at Sea (Half) |  : 0.2 lbs / 0.09 kg |
| Buoyancy at Sea (Empty) |  : 2.6 lbs / 1.16 kg |
| | |
| --- | --- |
| Thread Size |  : 0.750-14 NPSM |