DRAKE TITANIUM is an advanced apnea computer designed, developed and produced 100% in Italy. Its construction is completely modular and is extremely rugged and reliable as it shares its base with the tried and tested Newton diving computer. The Cressi Drake is a revolutionary diving computer that not only gives information about deep diving, but with its special four programs it can also assist the diver in dynamic breath hold diving, static breath hold diving and underwater fishing. In fact, in its operating system the diver can choose between these four programs: The Pro program is particularly suitable for diving purists and extreme divers. It provides, among other information, the descent speed, ascent speed and total speed, duration of descent and ascent, Time Ratio" between immersion time and the surface time (constantly updated), medium data and the useful function of Recommended Recovery Time for safety, set by the user for the prevention of Taravana. The Free program provides easy reading of and access to data. It is suitable for sea-running and underwater fishing and provides the necessary information on the most visible part of the display. By limiting the accessory data that characterize the program, Pro helps the diver to focus on the more practical aspects of the discipline. The Dynamic program is for those who are training or practice the discipline horizontally. It has a special tank counter and has the ability to memorize training tables with times expressed in increments or decrements. The Static program totally controls static breath hold diving, both for training and for performance.
This Cressi Computer also makes a great casual timepiece for everyday use. The computer is at home in the office as it is underwater. The watch function can be set for a 12/24-hour time format with minutes and seconds. The Drake Titanium has a dual time function, daily alarm function, a calendar function, precision chronograph with split time function and lap time. Computer has backlighting for easy reading in low light or night conditions, history and logged dive function that is PC compatible. The computers units of measure can be set for imperial (feet/°F) or metric (meters/°C). The computers maximum depth readout is 394′ (120 meters), is equipped with a user replaceable 3 volt CR2430 battery and comes with an owner's manual.
Cressi Dive Computer Drake Features:
Super-flat profile (maximum height 15.8 mm) with a total diameter of 48 mm and a completely rounded, hydrodynamic design that prevents potential snagging. Even the wristband anchor maintains the low profile of the case. Weighs only 75 grams.
Stainless steel, titanium and anti-shock ABS case. This allows for lightweight construction resistant to impact and wear
Scratch-resistant mineral crystal extremely durable and protected by a rounded stainless steel crown. Bumpon adhesive protector, flexible and completely transparent available
Integrated low-profile buttons. The four low-profile buttons have minimized clearance to ensure that the o-ring seal is watertight during perpendicular use and to prevent small particles or grains of sand from entering that could impact performance
Titanium base for lightness and to prevent galvanic currents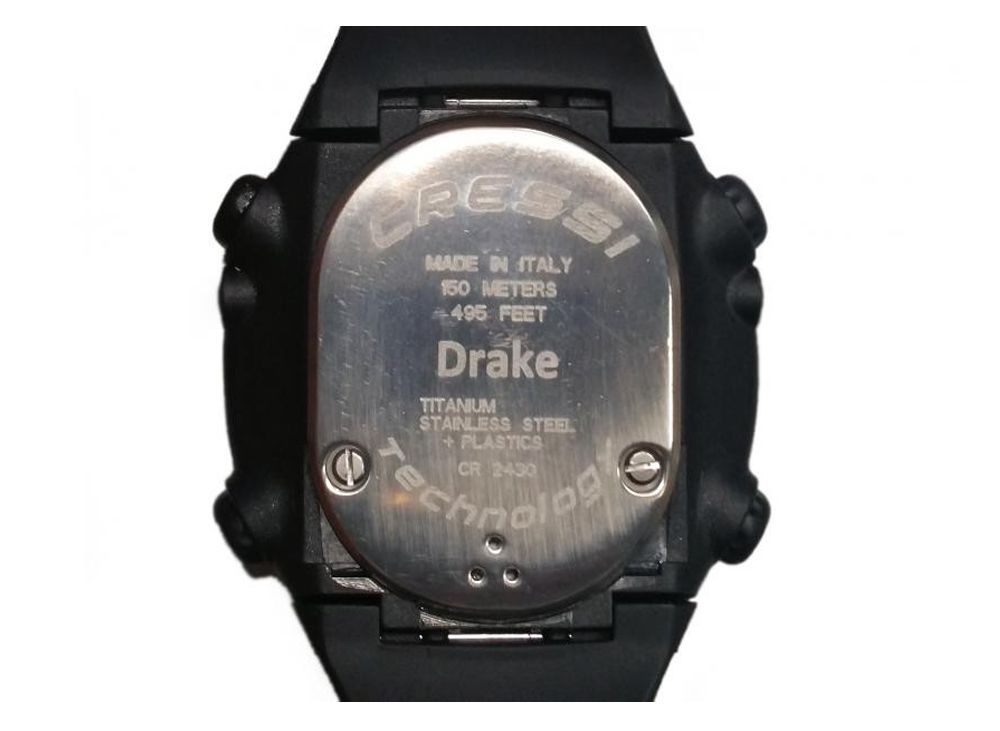 Summary table of the 4 apnea modes
GENERAL CHARACTERISTICS:
Four Functional Modes: STATIC, DYNAMIC, FREE and PRO

9 memories per mode to program 9 different alarm configurations. Complete alarm settings configuration: times, depths, the number of descents or pool series

Acoustic and visual alarms, fully controllable

REPS extension for STATIC and DINAMIC programs to create and store normal or incremental training tables

Precision stopwatch with split time and lap time functions

Salt water and fresh water settings

The batter can be changed by the user

LOG BOOK by session

Three History functions containing static, dynamic and deep apnea logged data

Ability to configure sampling time

An exchange of the metric measuring unit (meters and °C) for the imperial system unit (ft- °F) can be done by the user

PC/Mac interface with general information and dive profile (optional)
OUTSTANDING FUNCTIONS:
BATTERY CHANGE IS AT USER'S DISCRETION: Changing the battery in the new Cressi Drake apnea computer is simple and can be done by the user. Remove the two screws fastening the reverse side cover, the feed system attached to the same cover comes out easily. It is recommended that the o-ring be changed with every battery change (CR2430). Battery kits and o-rings are available at all Cressi distributors.
RECOMMENDED RECOVERY TIME: The Free and Pro modes offer a new and interesting function, important for the prevention of accidents and decompression sickness as well as for deep underwater fishing, called Recommended Recovery Time. Drake is able to calculate the surface rest time recommended before beginning another dive, taking into account the number of descents, depth, and apnea time, and allowing an alarm to be set that marks this time.
9 ALARM SETTINGS BY DISCIPLINE: In all apnea modes: Static, Dynamic, and Free and Pro modes the alarms are adjustable and offer 9 different configurations that allow multiple trainings to be completed and recorded. Among these alarms (audio and visual) the following are worth mentioning:
– Recommended recovery time alarms, according to dive times of descents made during the day
– Dive number alarms
– Dive time alarms
– Recovery time alarms
– Repetitive depth alarm (for example: every 5 meters)
– 3 determined depth alarms (example: 15 – 25 – 40 meters)
PC or MAC CONNECTION: Additionally, a complete LogBook with modern management software for PC (Window/Mac) is included that will allow apnea logs to be extracted. Descent information can be reviewed in detail and dive graphics can be analyzed.

Drake features an intelligent display that always shows the most important information from each mode in the center of the screen.