BCD Cressi X-Elite

X-Elite presents interesting news compared to its predecessor Back Jac.
The X-Elite Jacket is an impressively light high-buoyancy rear-mounted BC, anatomically designed for maximum comfort and wearability.
A very successful model that combines the advantages of the back air cell with the versatility of traditional jackets because, in addition to the built-in ballasting system, it has two zipper pockets of considerable capacity.
It is an interesting proposal of 100% dorsal volume, with a robust construction but light at the same time (3,250 kg size M) and with little volume of transport.
The slinging system completely independent from the bag, now also in the shoulder area, guarantees the absolute stability of the vest on the diver and completely frees the chest, armpit and abdominal area from the oppression due to the expansion of the bag towards the dorsal area and around the bottle.
Shoulder straps with anti-scratch profile for use with light suits. Abdominal area with low-profile lobes and large zipped pockets.
The dorsal air chamber offers the maximum lifting capacity of the entire Cressi range (19 kg size M) but with an external storage volume that is always contained, thanks to the elastic containment tensioners that have the additional mission of facilitating emptying manoeuvres.
The new LAS (Lock Aid System) 2.0 ballasting system is now more integrated into the profile of the sling and its thickness is thinner. This system, in the Cressi tradition, guarantees maximum ease of insertion and removal of the ballast in complete safety against accidental loss, as its anchors incorporate a spring effect (patented) in anticipation of accidental hooking. Its management is extremely ergonomic and intuitive even without looking. Two weight-holder compartments anchored in the cylinder band, very useful for defining the finish of the diver. It combines five different fabrics to achieve suitability depending on the needs of each area of the vest.
X-Elite is very light and semi-flexible to perform its function without adding weight or volume to the set. Fully lined with a comfortable neutral floating padding made of closed-cell material that prevents the accumulation of water or air and, therefore, reduces the inherent buoyancy of the sling and facilitates quick drying.
Cressi X-Elite BCD Features:
 Development of rear-mounted air cell
The 100% dorsal air chamber has the best buoyancy of the entire Cressi range, while remaining compact, thanks to the elastic containment straps that also help with drainage
Air cell material: 420 denier nylon
Integrated Cressi Flat-lock Aid weight System
The LAS (2.0) weight system integrated into the vest drastically reduces the total volume of the apparatus, making it much flatter, lighter and more discreet. New rubber grip assembled directly on the pocket. LAS makes managing the weight automatic and intuitive, even when wearing the vest or under poor conditions (when floating, in rough water, etc.). The pockets fit perfectly into their places. The "D" ring located at the opening eases the stress on the fabric and facilitates direct insertion. Spring closure (15 mm long) in case of any accidental snags. Loosens in two steps: compensation, then release. Reinforced pockets with a rigid plate for easy glide. Available in all sizes, from XS to XL, and identical on the right and left sides. Capacity of up to 4.5 kg each with flexible weight
Scratch-resistant shoulder pads for use with lightweight wet suits
2 rear ballast pouches

Weight pockets in line with the tank. They are very useful to determine the diver's tilt
3 pressure relief valves
50 mm quick-release buckled shoulder straps.
Now, the harness system is completely independent from the air bladder in the shoulder pad area too, giving the vest absolute stability on the diver's body, completely freeing the chest, armpit and abdominal areas from pressure due to the expansion of the bladder against the back and around the tank
Four 50mm aluminium D-rings on the shoulder straps.
Four 25 mm stainless steel D-rings (2 on the pockets and 2 on the lower part of the harness)

Next generation anatomical inflator with hose retainer.
New low contour top release valve with check valve to prevent accidental water infiltration
Direct System Inflator: Metal filter for air inflow below the stem and cylindrical filter around the valve. Attractive and durable. Recalibrated speed of inflation, 50% higher. "Anti-sand" design with smaller oral inflation nozzle. Push button with wide opening compared to its casing to prevent it from becoming blocked by grains of sand. Watertight deflation button with exterior washer. New highly durable inflator with very gradual curve. Includes hose clamp
Pockets with zippers and bindings on the side lobes
SIZE CHART BCD :
| | XXS | XS | S | M | L | XL |
| --- | --- | --- | --- | --- | --- | --- |
| Chest (in) | 28-33″ | 32-35″ | 35-39″ | 39-43″ | 41-45″ | 45-49″ |
| Waist (in) | 28-32″ | 30-35″ | 32-37″ | 37-41″ | 39-43″ | 43-47″ |
| Weight (lbs) | 106-132 | 121-143 | 139-172 | 165-187 | 176-220 | 243-265 |
Regulator Cressi T10 SC CROMO GALAXY
CERTIFICATION EN250/2014 FOR COLD WATER
The T10-SEAL CHAMBER 1st stage is environmentally sealed, protecting it against icing in cold water and against contamination from particulate matter in silty conditions. When paired with the
Master second stage, which includes an internal heat exchanger, this regulator is an excellent choice for divers exploring the most extreme cold water environments.
1st stage: T10-SC Cromo
2nd stage: Galaxy
T10 SC Cromo/Galaxy INT, hose included: 1,075 gr
T10 SC Cromo/Galaxy DIN, hose included: 957 gr
Very high performance regulator, same mechanics as the T10/Master but without the double stage regulator. Ideal for seasoned or professional divers who need extremely high performing equipment that is both simple and resistant, without any of the usual accessories that may get damaged.
1st STAGE
Hyper-compensated diaphragm mechanism in line with a number of optimized elements for maximum reliability, durability and reduced maintenance costs. The mechanism's hyper-compensation guarantees a light increase in the intermediate pressure as the pressure in the tank decreases. Therefore the regulator delivers the maximum level of performance in the final phases of the dive, which are undoubtedly the most critical. Completely waterproof base, isolating the mobile mechanism from the exterior environment. The thickness of the walls has been optimized to greatly reduce its total size and weight (490 g in the DIN version). A satin chrome coating protects the 1st stage from shocks and erosion. The polyurethane valve, very mechanically resistant, both to oils and to hyperoxic mixtures. HP saddle in AISI316 stainless steel.
The saddle composition, much harder than that of the traditional fixed brass ones, prolongs its life. It makes it more resistant to the deformation caused by metal micro particles that can infiltrate from the tank. In addition to that, in case of deterioration it can be substituted during maintenance. Advanced research on internal air circulation and an exclusive distribution chamber that channels the air volume directly to the LP ports has reduced the minimum pressure drop levels in labored breathing (0.5 BAR), guaranteeing high performance in any situation. Conical filter, especially effective with its flange design. Large effective filtration surface, as the base and sides of the cylinder work with a surface of 280 mm2. Inserted with no circlip necessary, as it remains anchored thanks to the valve connection nut. 2 HP and 4 LP ports Isolation and SC (Sealed Chamber) anti-freeze kit.
Completely isolates the diaphragm and the spring from contact with the water, making it ideal for use in extremely low temperatures because it reduces the risk of freezing in extreme conditions.
NOTE: The isolation kit does not stop humidity from entering the 1st stage from the tank and through the filter or potential water infiltration due to poor handling of the 2nd stage when cleaning or in case of air leakage from the tank. New ultra flexible hose covered in thermoplastic rubber to guarantee resistance to erosion.
2nd STAGE
Over-sized intake diaphragm for smoother breathing, the best of its kind: 2810 mm2, 12% more than the high range models offered by competitors. Contact plate with Teflon coated cam to reduce friction.
The box has a hinged opening, no tools needed.
Ultralight high range 2nd stage with a mixture of semi-flexible sound-absorbing engineering plastics. Smaller size, 7.5 x 6 cm, only 5% more than the Ellipse and the lightest of all compensator models on the market at just 182 g.
Deflector Dive-Predive without metal parts to personalize the Venturi effect.
Wide angle pivot cam, enhanced to precisely transmit the inhalation effort with minimum friction with the diaphragm disc. Cam-disc diaphragm-valve mechanism with unprecedented reduced friction.
Cold-heat exchanger located inside the second stage to prevent the air from freezing when diving in cold waters.
Exhalation effort particularly reduced without having to reduce the thickness of the diaphragm.
The design of the membrane retention system directs the 100% channeled flow towards the nozzles of the bow, taking advantage of a strong Venturi effect. Also, it works to direct the bubbles away from the diver's field of vision.
Embedded membrane to avoid water infiltration in case of brisk turns or jumps to enter the water.
Technical Features 1st stage:
Hyper-balanced diaphragm (Watertight chamber on T10-SC)

2 HP 7/16 UNF ports

4 MP 3/8 UNF ports

Operating pressure: 300 BAR (4350 PSI) DIN Version, 232 BAR (3365 PSI) International version

Calibration pressure: 10 BAR

High-capacity conical filter in chemically nickel-plated spherical bronze

Removable nozzle in AISI 316 steel

Hyper-balancing system

Anti-pressure drop pneumatic spring

Stainless steel calibration spring with micropeening treatment

Low-friction technopolymer slider shaft

Body protection in polyurethane thermoplastic

Quantity of air supplied: 4500 l/min

Weight, INT version: 720 g | 25.4 oz

Weight, DIN version: 602 g | 21.2 oz
Technical Features 2nd stage:
Pneumatically balanced

Adjustable Venturi valve

Patented elliptic diaphragm 

Patented reduced friction lever

No-injector air release system

Internal heat exchange system

Cam-lock cap lock

Anti-noise component made of engineering plastic

Detachable lip made of engineering plastic

Removable mechanical parts

Weight without the hose: 182 g | 6.4 oz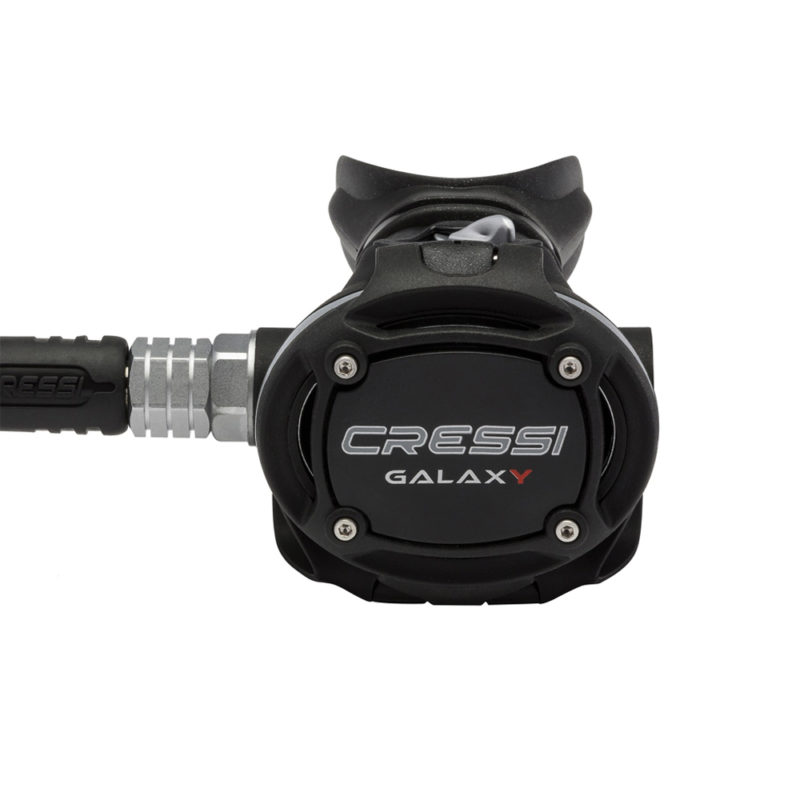 Combination performance
Average Cracking effort 3.5 mBAR

Average breathing effort 0.6 J/l
Jacketed hose extremely light and flexible weight: 153 g
Certification EN250/2014 for cold water
The T10-SC Cromo 1st stage is environmentally sealed, protecting it against icing in cold water and against contamination from particulate matter in silty conditions. When paired with the Master second stage, which includes an internal heat exchanger, this regulator is an excellent choice for divers exploring the most extreme cold water environments.
Octopus Cressi XS Compact
The XS Compact Second-Stage housing is made of durable non-corrosive hi-tech polymers, and has a dependable downstream demand valve mechanism with a lever that has a low coefficient of friction. The flow of air is channeled to the mouthpiece by injection, creating a venturi effect enhancing the performance. The 2'nd stage comes with a flow deviator that acts on the Venturi effect, with dive/pre-dive adjustment function. Large soft purge cover allows easy clearing of 2'nd stage and a comfortable silicone mouthpiece. The XS Compact Regulator weighs 4.76 oz. (135 g) without the hose, comes with a long 39″ (100 cm) 3/8″ hose, and owners manual. Octopus is in compliance with EN 250:2014 standard.
Cressi XS Compact Octopus Features:
Cressi XS Compact Octopus

Reliable Downstream Demand Valve

Large Soft Purge Cover

Venturi Dive/Pre-Dive Switch: Prevent Free-Flow when Not in Use

Yellow Front Cover for Easy Identification in an Out-of-Air-Emergency

Housing: Durable Non-Corrosive Hi-Tech Polymers

Comfortable Mouthpiece

Weight: w/o Hose 4.76 oz. (135 g)

Hose Length: 39″ (100 cm)

3/8″ Thread Hose

Owner's Manual
Cressi XS Compact Octopus Specifications:
Adjustable 2'nd Stage
Yes, Venturi Pre-Dive/Dive Switch
2'nd Stage Type
Downstream Demand Valve
Materials
Housing; Polymers, Diaphragm and Mouthpiece; Silicone
Hose Thread
3/8″
Hose Length
39″ (100 cm)
Total Weight
4.76 oz. (135 g), w/o Hose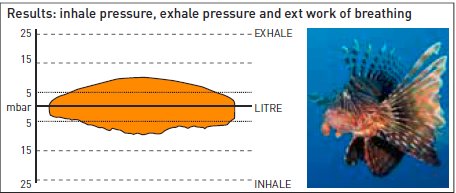 Console AmScuD XP2
All AmScuD instruments give a very accurate, clear visibility readings and are made from the best quality materials. 
As such, we stand behind our products to give the utmost user experience.
Learning from our over 18 years in the industry, we have sucesfully established both design and materials that is a balanced of functionality, excellent robustness while maintaining a certain cosmetic estathic.
Did we tell you that our gauges are 100% Made in Italy? And it is backed by a full 1-year warranty.
The AmScuD submersible pressure gauge combined with depth gauge and compass, with an internal Bourdon pressure measuring mechanism, gives you clear information on the gas contents of your cylinder.
Dial range is stated in metric standard (BAR) from zero to 400 Bar while the depth gauge will show a METER unit with 1 meter increments.
Dial face is designed with ultra-clarity in mind by being uncluttered, with large black figures on a luminous background giving a long phosphorescent effect. We also include color-indicator for a better idea of what states you are in.
This makes viewing as easy as possible, even in poor visibility conditions.
Our gauge case is made from nickel plated brass

The dial window is made of highly shock resistant material (anti-splinter polycarbonate). 400 BAR/5,800 PSI dial gauge for your mission critical applications.

Elasto-Polimer housing to ensure reliability while maintaining its function and esthathics.

Over-pressure capsule fitted in the back of the module to prevent the screen from exploding in the unlikely event of the internal mechanism failing.

Our exclusive Dual-Recoil® system located both in depth and pressure gauge. Unlike other gauges in the market, which gauge will fail in case of internal coil is failing, our gauges are designed to have a backup coil.

NITROX compatible with Oxygen Cleaned environment, Viton O-Rings on all parts (swivel + HP port) and Christo-Lube lubricant.

30% longer phosphorecent effect.

Color coded indicator with 10-bar increments (pressure) and 1-meter increments (depth)

Improved swivel umberella design with chanelled o-ring gutter.

7/16″ HP port connection.

We designed an angle for the gauge so it is easy to view while maintaining its shape for durability (in case of drop/shock).