The Cressi Minorca Dive Slipper is a 3mm short top boot made from super elastic nylon 2 neoprene for the best comfort with a sole built to provide extra comfort. These ultra-durable boots are built-to-last with a vulcanized rubber toe and heel cap with ribbed rubber sole. The slippers entry edge is rolled and sewn for strength and all seams are sewn for added strength and durability. 3mm Minorca Dive Slippers are available in multiple sizes and are black in color.
Cressi 3mm Minorca Dive Slipper Features
Cressi 3mm Minorca Dive Slipper

3mm Short Boot

Super Elastic Nylon 2 Neoprene

Best-Comfort

Sole Built-to-Provide Extra Comfort

Durable Boots: Built-to-Last w/Vulcanized Rubber Toe and Heel Cap

Ribbed Rubber Sole for Great Traction

Slippers Entry-Edge is Rolled and Sewn for Strength

Seams: Sewn for Added Durability

Available in Multiple Sizes

Color: Black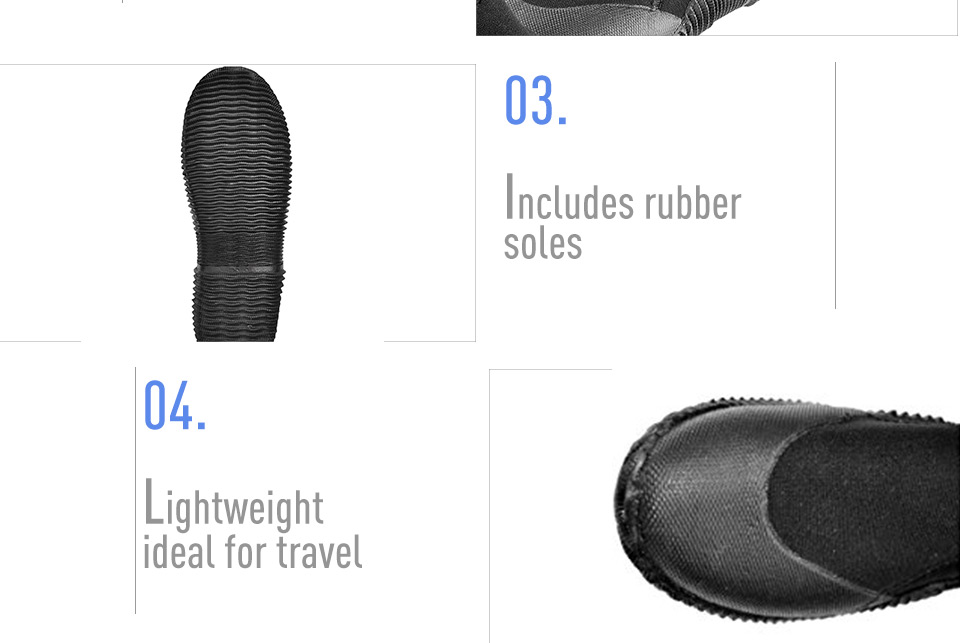 Short Boots – 3 mm
– Super elastic neoprene for best comfort
– Sole built to provide extra comfort
– Ultra durable
Booties minorca dapat digunakan untuk fin open heel. Boot ini malah nyaman karena untuk yang memiliki tulang kaki yang besar, booties tinggi dapat terlalu ketat dan tidak nyaman. Booties Minorca akan memberikan kenyamanan karena lebih elastis. Pada saat yang bersamaan, fin strap dapat duduk pada karet di belakang booties dengan sempurna. Lihat gambar dibawah untuk detil
Wetsuit kadang membuat bagian batang kaki lebih sempit karena sudah ad 3mm booties + wetsuit 3mm. Di booties Minorca..tidak ada lagi sempit di bagian tulang kaki karena terlalu tebal. Booties low-profile sehingga berhenti di angkle kaki.