Mask Cressi F1
Frameless masks are loved by many divers for their low profile and ability to fold flat for easy carrying, even in a BCD pocket. Cressi's Frameless Mask design bonds a high-grade silicone double feathered edge Skirt directly to a single tempered glass lens for the ultimate in simplicity. The low internal volume allows for effortless clearing and the quick-adjust strap buckles are molded directly into the skirt for a flexible fit and reduced drag.
The easy access nose pocket can be used with one hand for proper ear equalization and the single lens design affords a wide field of vision. The Cressi Frameless Mask has a wide split mask strap design for comfort and to give even tension on the skirt for a proper seal. Mask is available in multiple color choices with the opaque version eliminating reflective light found with clear silicone mask skirts making them excellent for photography or underwater hunting.
The Cressi Frameless F1 Mask with Mask Box is commonly used for Open Water Diving, Pool, Recreation, Snorkeling and more. The Cressi Frameless F1 Mask with Mask Box is most used by customers who consider themselves to be a Advanced, Beginner, Casual/ Recreational, Professional among others. The Cressi Frameless F1 Mask with Mask Box is popular because customers like the following qualities of the Cressi Frameless F1 Mask with Mask Box: Does Not Fog, Lens Quality, Range of Vision, Snug Fit.
Cressi Frameless F1 Mask with Mask Box Features
Cressi Frameless Mask

Low-Profile Design

Folds Flat for Easy Carrying: Fit in BCD Pocket

High-Grade Silicone Skirt Bonded Directly to Lens

Single Tempered Glass Lens

Low Internal Volume for Effortless Clearing

Double Feathered Edge Skirt

Quick-Adjust Strap Buckles

Buckles Molded Directly to Skirt for Flexible Fit and Reduced Drag

Easy Access Nose Pocket for 1-Handed Ear Equalization

Wide Field of Vision

Wide Split Mask Strap for Improved Seal on Face

Available in Multiple Color Choices

Opaque Version Eliminating Reflective Light, Excellent for Photography or Underwater Hunting
Snorkel Cressi Dry
– Dilengkapi dengan top cover untuk 99% kekeringan apabila terkena hujan, ombak.
– Dilengkapi dengan patended angle agar pembuangan air lebih mudah.
The Cressi Supernova Dry Snorkel has an anti-splash end with a special valve that seals the tube as you dive, almost totally preventing the entrance of water when the snorkel is submerged. The lower end has a corrugated section that has a smooth internal bore which prevents trapping water inside the snorkel tube allowing excess water to quickly drain to the collection reservoir below. The corrugated section also quickly drops-away from the diver's mouth when switching from the snorkel to the Scuba regulator. 
The special water collection r with its large elliptic one-way exhaust valve makes expelling excess water quick and easy. The replaceable angled mouthpiece and corrugated tube section are both made from hypoallergenic silicone adding comfort and function. A quick release snorkel keeper and ergonomic contoured shape make this one great snorkel. Snorkel is available in multiple colors
Cressi Supernova Dry Snorkel Features:
Cressi Supernova Dry Snorkel

Anti-Splash Top

Special Valve Seals Tube when Submerged

Dry Top Design

Corrugated Smooth Bore Lower Tube, Won't Trap Water!

Excess Water Quickly Drain to Collection Reservoir

Easy Clear Purge Valve

Replaceable Angled Mouthpiece

Hypoallergenic Silicone Mouthpiece & Corrugated Tube

Quick Release Snorkel Keeper

Ergonomic Contoured Shape

Available in Multiple Color Choices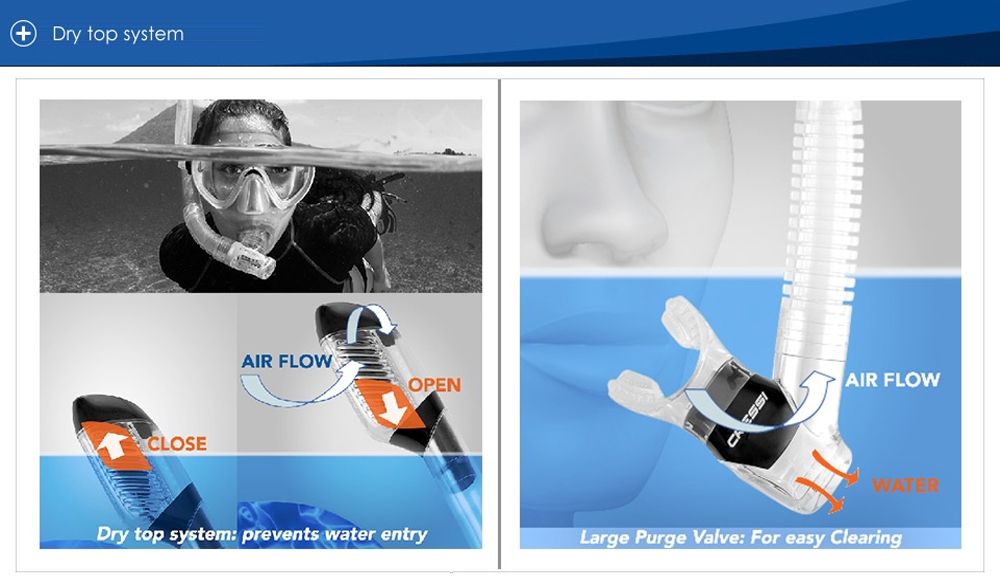 Booties Cressi Isla
The Cressi Isla 3.5mm Boots are a durable nylon 2 neoprene dive boot with a built-in fin strap holder, a ribbed and durable rubber sole for a comfortable and sure-foot grip on slippery surfaces. To provide extra comfort and easy donning and doffing the neoprene rubber used is a super elastic neoprene. The 3mm thickness of boot provides toughness while maintaining warmth. Boots are equipped with strong and durable zippers with sealing flap behind zipper to prevent water seepage and a toe and heel cap for added strength in high wear areas. All seams are glued-and-sewn and the boots top edge is elastic taped and sewn. Boots are available in multiple sizes, and are black in color.
Cressi Isla 3.5mm Boots Features:
Cressi Isla 3.5mm Boots, Black

Durable Nylon 2 Neoprene Dive Boot

Built-In Fin Strap Holder

Ribbed and Durable Rubber Sole

Comfortable and Sure-Foot Grip on Slippery Surfaces

Super Elastic Neoprene: Extra Comfort, Easy Donning and Doffing

3.5mm Thickness

Boot Provides Toughness while Maintaining Warmth

Strong and Durable Zipper Closures

Toe and Heel Cap for Added Strength in High Wear Areas

All Seams: Glued-and-Sewn

Top Edge is Elastic Taped and Sewn

Available in Multiple Sizes
MATERIAL NYLON 2 NEOPRENE
THICKNESS 3.5MM
SEAMS GLUED-AND-SEWN
CLOSURE ZIPPER

Fin Cressi THOR EBS
Brand new design for this extremely effective and yet very easy to use fin. The special arched profile of the fin, combined with the two central ribs promote a significant flow convection effect, known as spoon effect", which stabilizes and boosts propulsion. Two lateral holes discharge the negative forces typically associated with this area and at the same time make for enhanced stability. The blades are molded from two different materials for improved reactivity.
These fins are perfect for scuba diving, whether you are an experienced diver or a novice. The Thor is made with the exclusive 3-material injection system patented by Cressi, which provides an excellent combination of strength, power, comfort, and aesthetics. This version of the Thor come with the standard foot strap with squeeze-style side release buckles. Under blade foot pocket design provides fast transmission of applied energy and great structural rigidity. Fins are available in multiple sizes and colors.
Cressi Thor Fins Features:
Cressi Thor Fins:

Extremely Effective and Easy to Use Fin

Special Arched Profile Combined w/2-Central Ribs:




Promote Significant Flow Convection Effect




Effect Known as Spoon Effect"




Stabilizes and Boosts Propulsion

Two Lateral Holes Discharge Negative Forces & Enhances Stability

Blade Molded from 2-Different Materials for Improved Reactivity

Materials: Plastic and Rubber

Perfect for Scuba Diving, Experienced Diver or Novice

Exclusive 3-material Injection System Patented by Cressi

Excellent Combination of Strength, Power, Comfort, and Aesthetics

EBS Elastic Food Strap Sistem

Under Blade Foot Pocket Design:Provides Fast Transmission of Applied Energy




Great Structural Rigidity

Available in Multiple Sizes and Colors
EBS SYSTEM, Cressi has developed this special strap to meet the needs of the most demanding divers, who need a comfortable fastening for their foot but one that is still practical and manageable.
Its special amply sized slot makes it very easy to put on, even when wearing thick gloves or three-fingered gloves for winter water.
The wrapping section is highly flexible, making adjustments unnecessary, and as a result it's much easier to get all your equipment right in the first few meters of your descent and the fin stays in place against your foot despiten the increase in hydrostatic pressure.
It's adaptable to all Cressi models, both with traditional hook  (Frog, Master Frog, Prolight) and rotating bayonet  (Thor, ARA, Reaction, Frog Plus).
Polypropylene blade: This material, inherited from apnea fins, has as its main characteristic the very fast transmission of applied energy and its great structural rigidity. It is applied to the shovel and inner area of ​​the sole sandwich. He is very nervous and reactive and facilitates a very agile and effective flutter. It has a stress-performance ratio clearly superior to traditional materials (natural rubber or thermoplastic, polyurethane, EVA). Likewise, it has a great resistance to breakage to the point that Cressi guarantees it for life for sporting use.


The inclination of the blade with respect to the foot pocket has increased by 5% compared to traditional diving models. This angulation provides greater efficiency and a more natural foot position during fluttering.
Polypropylene of the high module: Especially reactive, it is applied to the nervaturas of the blade and is responsible for providing rigidity and return to the blade. This material connects the critical point of transmission of energy (the instep) with the nerves in one piece, avoiding the usual loss of energy through excessively flexible components of the foot pocket that produce a heavy, slow and fatigue fluttering the instep .
The two lateral nozzles located in the zone where the flexion starts release the associated negative forces and allow the use of two ribs of high rigidity
Flexible elastomer: It is applied to the foot pocket and the areas that require flexibility and elasticity, since they influence the comfort of the diver: Footrest toe, interior of the sole and area of ​​the instep in contact with the ankle. It is also assigned to the areas that require non-slip capacity: Inserts in the sole (area in contact with the ground) and anti-shock, such as the lateral nerves of the blade. The fusion of both materials is done at the molecular level and its strength is guaranteed for life for sports use.
Central area of ​​the thermoplastic rubber blade of convex section assembled in the polypropylene blade.

Foot pocket reinforced in the upper area by a supplementary thickness and laterally by two extensions of polypropylene from the upper to avoid the dispersion of energy in the process of transmission from the foot to the blade.
Cressi Thor Fins Specifications:
Marterials:
Plastic and Rubber
Blade Type
Vented
Open Heel/Full Foot
Open Heel
Weight [with packaging]
X-Small/Small : 3.8lb
Small/Medium : 4lb
Large : 4.85lb
Available in the Following Sizes:
X-Small/Small , Small/Medium, Large
Available in the Following Colors:
White/Pink , Yellow/Silver, Blue.Silver