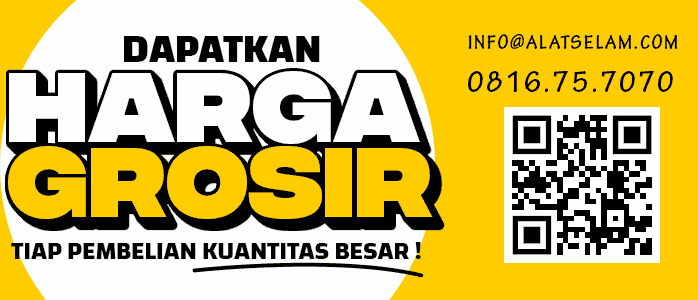 Performance, ergonomic reliability, and ease of maintenance make this regulator a product for true diving professionals. Instructors, guides, dive operators, and researchers will find the answer they need in the Master Ellipse. The first stage stands out from the range of Cressi balanced diaphragm regulators because the mechanism is arranged on an axis perpendicular to the axis of air entry, creating a "T" shape. The advantages of this particular design include better arrangement of the hoses and less space occupied (especially in SC versions for cold water). What's more, this makes it remarkably easy to inspect and access the mechanism to improve maintenance and calibration operations, it uses a larger, high-efficiency conical filter, and the valves are arranged more easily on the tank. The metal body is protected on the surface by a special treatment called PVD (Physical Vapor Deposition), which compared to traditional chrome coatings is exceptionally resilient to the mechanical and chemical wear caused by dives. The DIN fitting has a generous metallic handwheel to make it easier to use in extreme conditions. The Master Ellipse second stage has installed the exceptional and proven Cressi balanced valve to ensure minimum inhalation effort. This valve is paired with a body with metallic parts treated in PVD. What's more, the knob for adjusting inhalation effort is made of a metallic material to guarantee reliability and resistance to blows and scratches.
Technical features:
1

st Stage:
Hyperbalanced diaphragm with Watertight chamber

2 HP 7/16 UNF ports

4 MP 3/8 UNF ports

Operating pressure: 300 bar (4350 psi) DIN Version, 232 bar (3365 psi) International version

Calibration pressure: 10 bar

Body coated with PVD process

High-capacity conical filter in chemically nickel-plated spherical bronze

Removable nozzle in AISI 316 steel

Hyperbalancing system

Anti-pressure drop pneumatic spring

Stainless steel calibration spring with micropeening treatment

Low-friction technopolymer slider shaft

Body protection in polyurethane thermoplastic

Quantity of air supplied: 4500 l/min

Weight, INT version: 720 gr

Weight, DIN version: 602 gr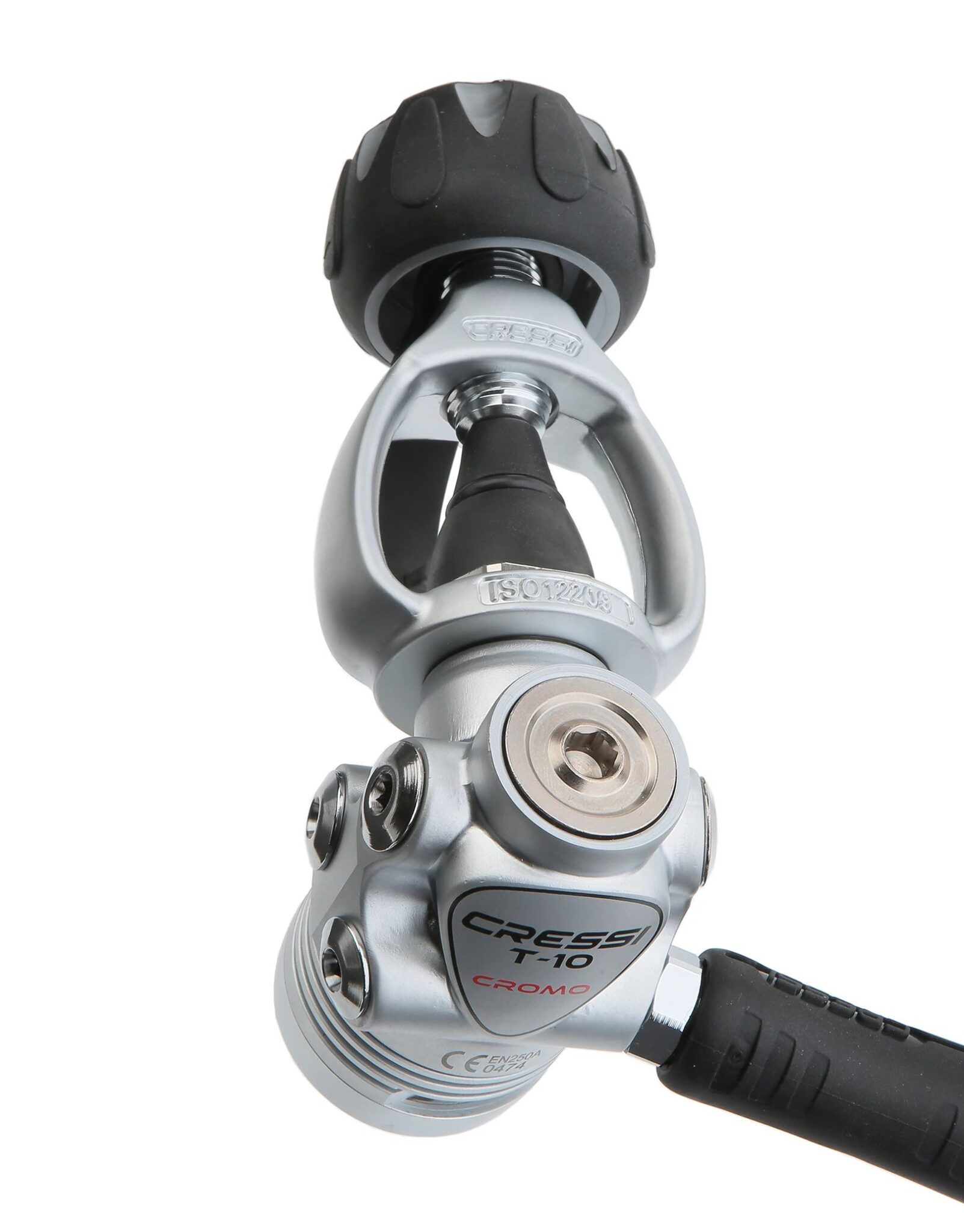 2nd Stage:
Pneumatically balanced

Adjustable Venturi

Adjustable inhalation effort

Patented elliptical diaphragm

Patented low-friction lever

Air delivery system without injector

Adjuster knob coated with PVD process with dual OR

Laser-etched titanium front piece

Internal heat exchanger

Cap opening with Cam-lock

Noise-absorbing technopolymer body

Removable technopolymer deflector

Removable mechanics

Weight without hose: 207 gr
Combination performance:
Average Cracking effort 3.5 mbar

Average breathing effort 0.6 J/l
Jacketed hose extremely light and flexible weight: 153 gr.
CERTIFICATION EN250/2014 FOR COLD WATER
THE T10-SEAL CHAMBER 1ST STAGE is environmentally sealed, protecting it against icing in cold water and against contamination from particulate matter in silty conditions. 
When paired with the Master second stage, which includes an internal heat exchanger, this regulator is an excellent choice for divers exploring the most extreme cold water environments.