NOTE UNTUK PENGIRIMAN UNTUK SHAFT, SPEARGUN:
– Shaft/speargun akan terkena volume saat pengiriman. Contoh: Shaft 155cm akan terkena 8kg dengan packing standard.
– Packing standard kami menggunakan kardus dan diberikan padding. Ada beberapa kasus dimana protection ini belum cukup dan menyebabkan shaft bengkok ketika sampai. Kerusakan ketika pengiriman menjadi tanggung jawab perusahaan jasa pengiriman. Di AlatSelam.Com, kami selalu berusaha untuk memberikan perlindungan kepada barang2 yang dikirimkan termasuk shaft/spear gun. Namun, karena pengiriman ini melibatkan banyak pihak, kami tidak dapat menjamin sebuah shaft datang tanpa bengkok/cacat.
– Apabila anda menginginkan agar barang anda di pack super kuat, kami menyarankan agar dikirimkan mengunakan pipa pralon atau opsi lain menggunakan packing kayu. Opsi packing kayu jelas akan menaikkan biaya kirim paket secara keseluruhan termasuk biaya packing kayu sendiri.

About Cressi Cherokee 100cm Speargun
The Cressi Cherokee Spear Gun has an anticorodal anticorodal black frame with integrated spear guide, grip made of engineering plastic reinforced with glass fiber, and a high or low soft sternal support. Trigger mechanism is made entirely in stainless steel with automatic return and buckling tooth stroke damper. Reversible side-safety mechanism for left or right hand hunters. Reinforced reel with steel pin buckle. Head for double elastic with magnetic spear lock: as soon as the spear is put in place, it is held by two magnets mounted in a watertight chamber. This characteristic guarantees maximum speed of reset without the disadvantages of conventional mechanical restraint systems.
The 28mm (1.1″) frame provides excellent hydrodynamics and considerable resistance to bending. The guns quick loading open muzzle along with the magnetic spear lock combined for rapid reload when on the hunt. The circular 16mm (5/8″) band is equipped with articulated stainless steel wishbone and a 6mm (0.24″) spring stainless steel shaft, heat treated to increase hardness and prevent bending with notches for band. The shaft comes equipped with a widely preferred Tahitian style tip with flopper shaft barb. Assembled with multifilament braided nylon so the gun is ready to go out of the box. Gun is available in multiple lengths from 60 cm to 100 cm (23.6″ to 39.4″).
*INCLUDE 1 Rubber Circular band 16mm , 1 Shaft 6mm And Nylon*
Cressi Cherokee 100cm Speargun Features:
Special, Anti-Corrosion Aluminum Barrel 

Shape of 28mm (1.1″) Frame (Barrel):




Provides Excellent Hydrodynamics




Considerable Resistance to Bending

Barrel in Black Finish
Anticorodal aluminum tube of Ø 28 mm with integral low erosion guide because the rod is only supported on the two external angles. Reinforced low area through thicknesses over sizing. This combination allows the spear gun to maintain an extraordinary management at the same time it has higher rigidity than the one of spear guns with much bigger diameter.
Gun Head Designed for Double Bands

Quick Loading Open Muzzle

Muzzle and Magnets Combined for Rapid Reload w/Hunting

Circular 16mm (5/8″) Bands

Articulated Stainless Steel Wishbone

Notched Shaft for Band Wishbones
Low vision of the headboard.
The muzzle is designed so that if used with dual bands, both work equally without any interference.
French articulated wishbone . This is considered to be the best, safest and easiest hook wishbone due to its angular design and profile of the plate. Stainless steel AISI 304 shafts hardened by ø4 mm with the lock washer and lock nut. High quality caps in Delrin© with threads designed so that threading and unthreading the bands can be done easily by hand, no tools needed
6mm (0.24″) Spring Stainless Steel Shaft




Shaft: Heat Treated to Increase Hardness & Prevent Bending

Includes Widely Preferred Tahitian Style Tip w/Flopper Shaft Barb

Magnetic Spear Lock:




Spear Put-in-Place

Held by 2-Neodymium Magnets Mounted in Watertight Chamber

Guarantees Maximum Speed of Reset

No Disadvantages of Conventional Mechanical Restraints
Rounded wings to position the cord when loading and to prevent interference with coupling the wishbone.
Enhanced and simplified assembly with the barrel to eliminate bending at this point.
Metal mechanism developed 100% by Cressi Italia. It combines stainless steel and exclusive self-lubricating Teflon elements to minimize friction. Lateral stainless steel retractable thread loop.
Guns Release Box: Made Entirely of Stainless Steel

Lateral Guide Line Release with Automatic Return

Automatic Return and Buckling Tooth Stroke Damper

Reinforced Reel Buckle w/Steel Thru-Pin

Dovetail Triggering for Reel

Ring for Line, Sternal Support for Reloading
Detail of the trigger guard's reinforcements and of the integrated rotating lock.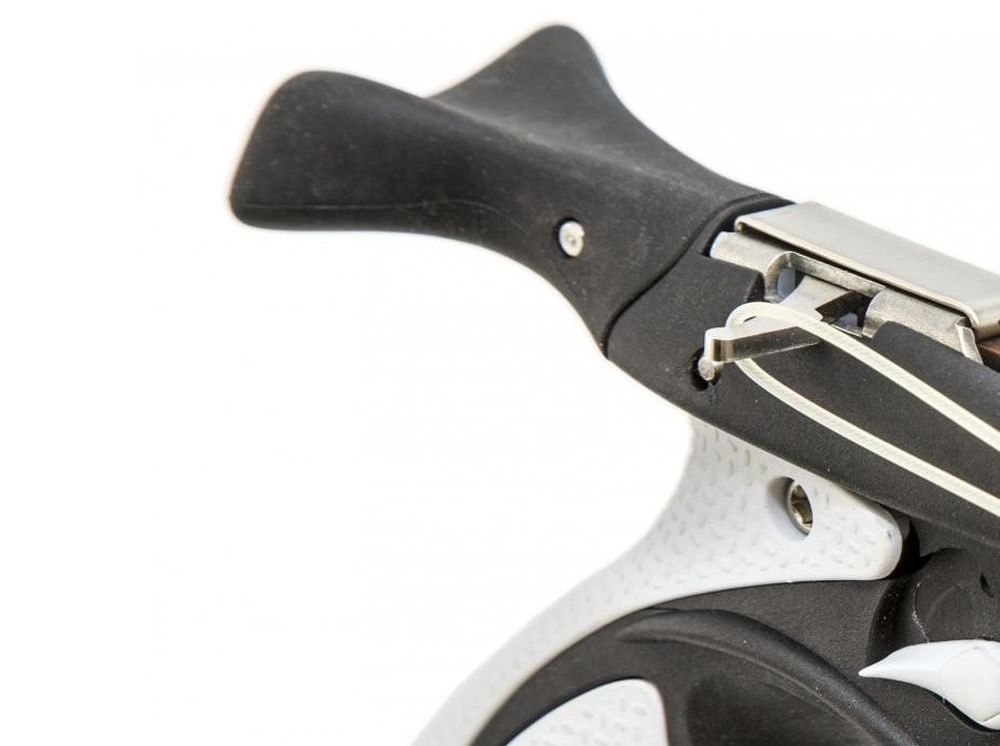 Bayonet reel-anchoring system. Dual guide system that defines the shaft's trajectory after being uncoupled from the mechanism
Smooth rod coupling with the renowned cassette mechanism, tough, reliable and compatible with all types of shafts, tolerant of different heights, finishings and machining. Load assist. Four different line hooks
New anatomical adaptations in the butt to improve the ergonomics and mobility of the speargun