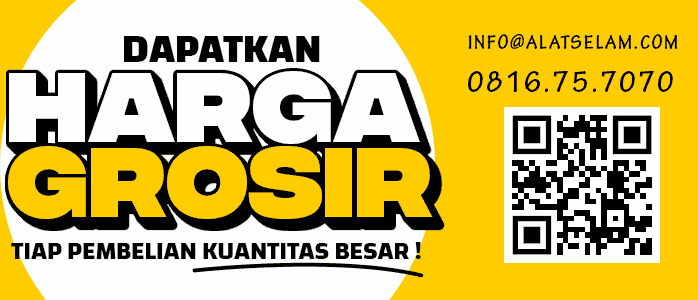 NOTE UNTUK PENGIRIMAN UNTUK SHAFT, SPEARGUN:
– Shaft/speargun akan terkena volume saat pengiriman. Contoh: Shaft 155cm akan terkena 8kg dengan packing standard.
– Packing standard kami menggunakan kardus dan diberikan padding. Ada beberapa kasus dimana protection ini belum cukup dan menyebabkan shaft bengkok ketika sampai. Kerusakan ketika pengiriman menjadi tanggung jawab perusahaan jasa pengiriman. Di AlatSelam.Com, kami selalu berusaha untuk memberikan perlindungan kepada barang2 yang dikirimkan termasuk shaft/spear gun. Namun, karena pengiriman ini melibatkan banyak pihak, kami tidak dapat menjamin sebuah shaft datang tanpa bengkok/cacat.
– Apabila anda menginginkan agar barang anda di pack super kuat, kami menyarankan agar dikirimkan mengunakan pipa pralon atau opsi lain menggunakan packing kayu. Opsi packing kayu jelas akan menaikkan biaya kirim paket secara keseluruhan termasuk biaya packing kayu sendiri.

About Cressi Moicano 95cm Brown Hunter Speargun
The Cressi Moicano Brown Hunter Speargun is the result of continuous fine-tuning and the search for perfection. Special, camouflage color anti-corrosion aluminum tubes eliminate any bending of the barrel, even on the long models and provides stealth while on the hunt. Extremely modern, new generation thermoplastics guarantee very light and non-deformable point and handgrip, for incredible firing precision. The highly compact, hydrodynamic point makes it possible to lower the positioning of the bands, in order to optimize the forward thrust and guarantee perfect visibility and rapid and precise aiming at the same time.
Speargun is equipped with a very gentle shaft release system, ring for the line, sternal support for reloading, dovetail triggering for the reel, the possibility of choosing from a number of different model bands, are just some of its fantastic features. The standard bands are black, highly reactive and quick, with a diameter of 16 mm and articulated wishbone. The Cressi Moicano Brown Hunter Speargun has a 26 mm (1.0″) diameter barrel and comes equipped with a 6mm (.25″) 17.4 PH stainless steel notched shaft with single flopper barb inox pointed tip. Shaft rail guide for added accuracy. This spear gun is available in four lengths of 60cm (23.6″), 75cm (29.5″), 85cm (33.5″) and 95cm (37.4″) depending on your hunting needs. Speargun comes with an owner's manual.
*INCLUDE 1 Rubber Standart band 16mm , 1 Shaft 6mm And Nylon*
Cressi Moicano 95cm Brown Hunter Speargun Features:
Result of Continuous Fine-Tuning and Search for Perfection

Special, Camouflage Color Anti-Corrosion Aluminum Barrel

Camouflage Color Adds Stealth to Hunting

26 mm (1.0″) Diameter Barrel Design Eliminate Bending of Barrel
Barrel Ø26 mm in anticorodal aluminum with an integrated low-friction guide, as the shaft only rests on the two outer corners. The lower part is reinforced by additional thickness. This combination enables the spear gun to remain extraordinarily easy to handle while being more rigid than spear guns that are much larger in diameter
Camouflage barrel in greens and browns. Aesthetically attractive in multipurpose shades for Mediterranean and Atlantic areas.
Extremely Modern, New Generation Thermoplastics, Light Non-Deformable Point & Handgrip

Incredible Firing Precision

Highly Compact, Hydrodynamic Point
Butt derived from the legendary Apache-Comanche butt, very resistant, reliable and appreciated by sports fishermen. Proverbially ergonomic and versatile, it is suitable for every type of fishing and shooting from any position
Thermoplastic non-slip rubber handle in white. Minimized load assist in smooth adherent thermo-rubber
Low Band Position Optimize Forward Thrust, Guarantee Perfect Visibility

Rapid and Precise Aiming

Gentle Shaft Release System

Ring for Line, Sternal Support for Reloading

Dovetail Triggering for Reel
Integrated low-friction guide
Compact, hydrodynamic and minimalist muzzle
Injected plastic elements in brown. Shaft support with two small wings to facilitate loading without interfering with the nylon and optional double loop thread
Retractable minimalist double loop line clip
16 mm Diameter Band w/Articulated Wishbone

6mm (.25″) 17.4 PH Stainless Steel Notched Shaft
Band threads are aligned with the barrel so that the traction is perfectly aligned. The visibility offered by the muzzle is excellent and aiming is precise, fast and intuitive.
The stainless fairlead for the rope or nylon is integrated in the muzzle
French articulated wishbone . This is considered to be the best, safest and easiest hook wishbone due to its angular design and profile of the plate. Stainless steel AISI 304 shafts hardened by ø4 mm with the lock washer and lock nut. High quality caps in Delrin© with threads designed so that threading and unthreading the bands can be done easily by hand, no tools needed
Shaft in 17 4 PH tempered steel 6 mm in diameter. Dark top coat
Dovetail Triggering for Reel

Ring for Line, Sternal Support for Reloading
Bayonet reel-anchoring system. Dual guide system that defines the shaft's trajectory after being uncoupled from the mechanism