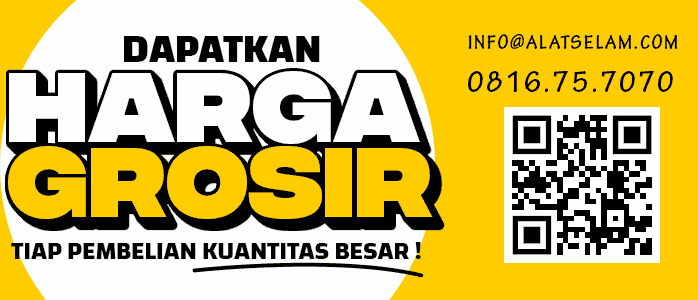 NOTE UNTUK PENGIRIMAN UNTUK SHAFT, SPEARGUN:
– Shaft/speargun akan terkena volume saat pengiriman. Contoh: Shaft 155cm akan terkena 8kg dengan packing standard.
– Packing standard kami menggunakan kardus dan diberikan padding. Ada beberapa kasus dimana protection ini belum cukup dan menyebabkan shaft bengkok ketika sampai. Kerusakan ketika pengiriman menjadi tanggung jawab perusahaan jasa pengiriman. Di AlatSelam.Com, kami selalu berusaha untuk memberikan perlindungan kepada barang2 yang dikirimkan termasuk shaft/spear gun. Namun, karena pengiriman ini melibatkan banyak pihak, kami tidak dapat menjamin sebuah shaft datang tanpa bengkok/cacat.
– Apabila anda menginginkan agar barang anda di pack super kuat, kami menyarankan agar dikirimkan mengunakan pipa pralon atau opsi lain menggunakan packing kayu. Opsi packing kayu jelas akan menaikkan biaya kirim paket secara keseluruhan termasuk biaya packing kayu sendiri.

About Cressi Comanche Pacific 120cm Speargun
The Cressi Comanche Pacific Speargun is a great all rounder spearfishing gun that is top quality at an affordable price. It comes standard with 7 mm shaft and a circular 18 mm rubber power band with lined wishbone which gives you plenty of power, roughly the equivalent to twin 16 mm rubbers. The traditional Cressi Comanche Speargun handle is paired with a modern head to support a dual circular sling.
The Cressi Comanche Pacific is available in five lengths — 75, 90, 100, 110 and 120 cm — to suit all styles and needs of every diver.
The open muzzle allows for a quick and easy loading of the spear and minimises noise when in the water. Closed muzzles can tend to have a bit of a rattle and can in fact spook fish sometimes, the open muzzle does not do this.
Sitting on top of the barrel is a shaft guide which helps guide the shaft out in a straight line to give better accuracy. However a spear gun is only as accurate as the user! The 7mm finned shaft is strong and reliable and can handle the bigger fish.
The Cressi Comanche Pacific Speargun comes with a loading butt which can definitely help stop the gun from slipping out when loading in on your thigh or chest.
The Cressi Comanche Speargun is the 2004 world champion spear gun, and is the result of continuous fine-tuning and the search for perfection. The Cressi Comanche Pacific Speargun is an updated and enhanced design.
*INCLUDE 1 Rubber Circular band S45 18mm , 1 Shaft 7mm And Nylon*
Cressi Comanche Pacific 120cm Speargun Features:
Quick loading open muzzle
New very compact, minimalist and hydrodynamic muzzle designed to minimize band erosion in this delicate area. Dual band possible. The hook for the bands is aligned with the barrel so that the traction is perfectly aligned. The simple stainless fairlead for the rope or nylon is resistance, completely rounded and integrated in the muzzle
Completely rounded muzzle that reduces the angling of the bands to avoid erosion due to friction
The standard bands are black, highly reactive and quick, with a diameter of 16 mm and articulated wishbone. They can be substituted with the more powerful 18 mm diameter S45 bands (included) , or, particularly in the longer models, with the 20 mm diameter, G20 bands.
Circular band S45, diameter 18 mm, with lined wishbone

Fast band S45,high quality in pure black latex, Ø18 mm in diameter and Ø2.5 mm pure Dyneema wishbone with 360 kg resistance
The wishbone assembly system is done manually with a high level of standardized production and systems controls to avoid product irregularities
Rigged barrel with shaft guide, 28 mm diameter

Special, anti-corrosion aluminium tubes eliminate any bending of the barrel, even on the long models.
Integrated low-friction guide on 28mm-diameter barrel in anticorodal aluminum with very rigid circular section, which offers a good compromise between structural resilience, low production costs and ease of movement in every direction underwater. It is a very manageable, agile and multipurpose spear gun
The hook for the bands is aligned with the barrel so that the traction is perfectly aligned
The shafts are available in 7 mm stainless steel, 7 mm stainless steel, 7 mm burnished.
Shaft with fins 7mm mm diameter
Barbed shaft in 17 4 PH tempered steel,  7 mm in diameter. Dark top coat
Very gentle shaft release system, ring for the line, sternal support for reloading, dovetail triggering for the reel, the possibility of choosing from a number of different model bands, are just some of its fantastic features.
Dovetail Triggering for Reel

Ring for Line, Sternal Support for Reloading
Bayonet reel-anchoring system. Dual guide system that defines the shaft's trajectory after being uncoupled from the mechanism
Smooth rod coupling with the renowned cassette mechanism, tough, reliable and compatible with all types of shafts, tolerant of different heights, finishings and machining. Load assist. Four different line hooks.
Integrated, discreet and effective automatically retractable double loop line located on the corner between the trigger guard and the base of the barrel.
Extremely modern, new generation thermoplastics guarantee very light and non-deformable point and handgrip, for incredible firing precision.
Special handle angle to increase the shot's precision
The handle is in anti-slip thermoplastic rubber. It is white, so discreet yet visible on the seafloor
A fisherman used to using Comanche would rarely change his speargun, as it is famously ergonomic and versatile for every kind of fishing and for shooting in every direction
Speargun Extras:
When purchasing a speargun, there are a few extras that we recommend you purchase to complete you kit. A float rope and divers float are the two main extras. The rope is connected to the gun at handle and the other end of the rope is to be connected to the float. This will ensure you will not loose your gun by accidental dropping it, or having a fish steal it! (It does happen.) A pair of gloves is another item that we recommend you purchase also. Once you have shot your fish, trying to grab it and finish the kill can be very difficult without gloves. Fish are not only slippery but also have made spikes and teeth. Gloves will prevent cuts and scratches as well as help your grip.