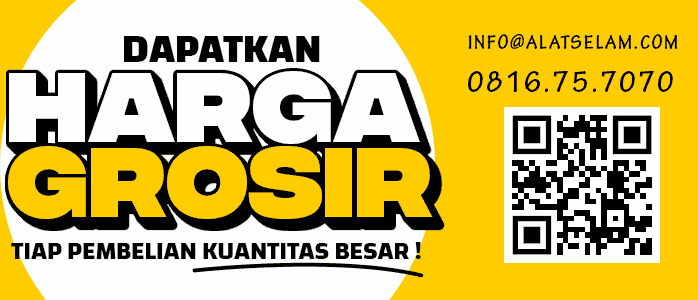 NOTE UNTUK PENGIRIMAN UNTUK SHAFT, SPEARGUN:
– Shaft/speargun akan terkena volume saat pengiriman. Contoh: Shaft 155cm akan terkena 8kg dengan packing standard.
– Packing standard kami menggunakan kardus dan diberikan padding. Ada beberapa kasus dimana protection ini belum cukup dan menyebabkan shaft bengkok ketika sampai. Kerusakan ketika pengiriman menjadi tanggung jawab perusahaan jasa pengiriman. Di AlatSelam.Com, kami selalu berusaha untuk memberikan perlindungan kepada barang2 yang dikirimkan termasuk shaft/spear gun. Namun, karena pengiriman ini melibatkan banyak pihak, kami tidak dapat menjamin sebuah shaft datang tanpa bengkok/cacat.
– Apabila anda menginginkan agar barang anda di pack super kuat, kami menyarankan agar dikirimkan mengunakan pipa pralon atau opsi lain menggunakan packing kayu. Opsi packing kayu jelas akan menaikkan biaya kirim paket secara keseluruhan termasuk biaya packing kayu sendiri.

About Cressi Apache 75cm Speargun
The Cressi Apache Spear Gun is an entry level small and compact gun for small to medium fish or as a second gun when hunting big fish. Cressi is world renowned in the spearfishing scene and has consistently manufactured top spear guns in the industry for many years. This gun is an excellent choice where fishing in holes, around rocks, shallows and where the quarry is in close proximity. The Apache incorporates a closed muzzle, which helps with ease of loading and improved accuracy. The sealed 26mm (1″) barrel is anodized for enhanced corrosion resistance, while the ergonomic molded handle permits easier maneuverability and quick muzzle pointing. The 13mm (0.5″) power band is fitted with a standard stainless steel wishbone and the gun includes the widely preferred Tahitian style tip with flopper shaft barb.
The gun handle has a safety for the trigger mechanism and a line drop. The 6.5mm (0.26″) stainless steel shaft has dual notches for variable loading power or an additional band for more power. The gun is available in multiple lengths from 35cm to 75cm (13.8″ to 29.5″). So if you're new to spear fishing or you need a second gun when hunting big game the Cressi Apache Spear Gun is an excellent choice.
Cressi Apache 75cm Speargun Features:
Cressi Apache Spear Gun

Entry Level Small and Compact Gun

Great for Small to Medium Fish or a Second Gun when Hunting Big Fish

Excellent Choice for Fishing in:

Holes, Around Rocks

Shallows and where Quarry is in Close Proximity

Closed Muzzle for Ease of Loading and Improved Accuracy

Sealed 26mm (1″) Anodized Aluminum Barrel

Anodized for Enhanced Corrosion Resistance

Ergonomic Molded Handle: Permits Easier Maneuverability & Quick Muzzle Pointing

13mm (0.5″) Power Band w/Standard Stainless Steel Wishbone

Includes Widely Preferred Tahitian Style Tip w/Flopper Shaft Barb

Handle Equipped w/Safety for Trigger Mechanism and Line Drop

Shaft: 6.5mm (0.26″) stainless steel

Dual Notched Shaft for Variable Loading Power or Additional Band for More Power

Available in Multiple Lengths: 35cm to 75cm (13.8″ to 29.5″)